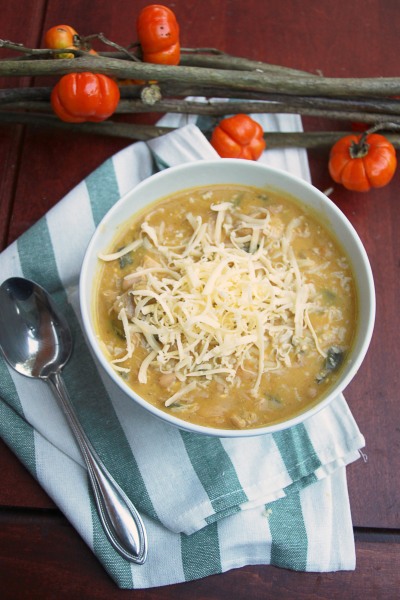 This crockpot easy white chicken chili is what I need right now.
Things have been pretty crazy on the domestic front lately.  The husband has been in a crazy period of working until 2 or 3 in the morning every night. I am also still working my normal, mostly 9-5 job, and I'm doing 100% of the  evening fetching, lunch packing, permission slip signing, homework checking, laundry folding, bedtime reading, nightmare soothing, out-of-bed dragging, and meal planning (though Mr. TDF would want me to acknowledge that he is still taking Thing 1 to school because I cannot do that and still make it to work by 9.)
The end result of all this is that everyone in our household seems to be exhausted.  I can usually get going in the morning (with the help of copious amounts of caffeine) but by the time I get home at night, kids in tow, having done two childcare pickups (and driven for an hour and a half, each way), I'm practically catatonic.  If dinner isn't simple – not only easy, but stupid easy – it's not going to happen, and I will be reduced to the sad, sad state of eating pretzels dipped in cream cheese for dinner (it's happened.  Fortunately, my kids often get fed by the kindness of others, including Thing 1's after school program, my mom, and Trader Joe).
Slow cookers are a lifesaver in this kind of situation. Nothing is more soothing when you're frazzled and exhausted than sitting at your desk, contemplating the hot meal, cooked from scratch, that will be waiting for you when you finally crawl home.  (Of course, nothing kills that buzz more than sitting at your desk at about 2 pm and realizing that you forgot to turn on said crockpot, and that a pot full of partially cooked chicken and beans is sitting and festering on your kitchen counter.  Don't do that!  Learn from my mistakes and turn ON your crockpot. This has been a public service announcement.)
White chili is usually made with white beans and chicken instead of pinto or black beans and beef.  There are no tomatoes and it tends to be made with milder chiles, which makes it a great family meal because it's less "challenging" than traditional chilis.  (Word of warning, though, if your kids are particular eaters, avoid calling it chili.  Thing 1 refused to eat it because of the name even though she loves chicken, beans AND pumpkin.  I pulled out the chunks of chicken and the beans and told her to eat that.)
This easy white chicken chili with pumpkin is the perfect fall food when you are frazzled and stretched too thin.    This version is warm, thick, and creamy, not at all spicy (though if you do not have children, feel free to add spicier chilis like Anaheim or Hatch or Jalapenos, and a little cayenne), with chunks of chicken and beans.  The pumpkin adds a dose of vitamin A, a little thickness and an extra layer of flavor, and just a hint of cinnamon suggests that "pumpkin spice" flavor without being at all sweet.  It takes a little extra time in the morning, and no effort at night.   Serve with a little cheese and maybe some cilantro on top, and you have comfort food at  its finest.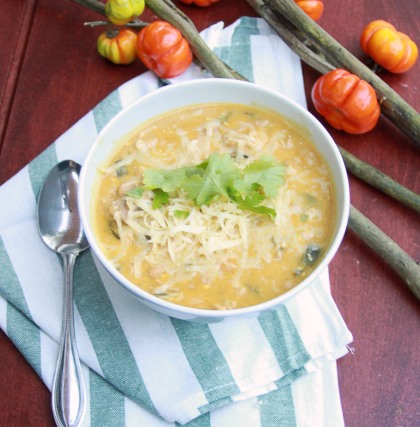 Easy White Chicken Chili with Pumpkin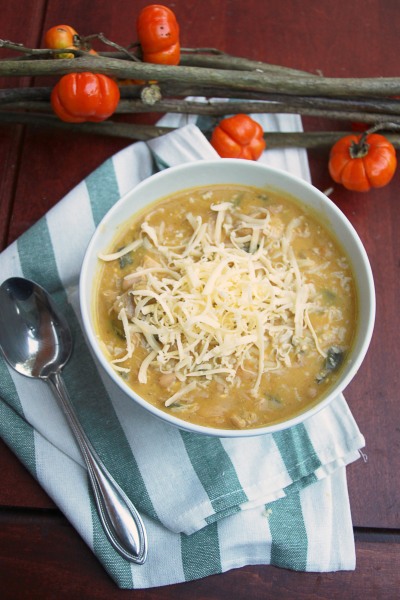 Ingredients
3 Tablespoons olive oil, divided
1 medium onion
2 Poblano Chiles, stems and seeds removed
3 cloves garlic, minced
1¾ lbs. boneless, skinless chicken thighs
2 15-oz. cans white cannellini beans, drained (about 3 cups cooked beans)
1 15-oz. can cooked pumpkin puree
1 Tablespoon cumin
½ tsp. ground coriander
1 tsp. ground cinnamon
2 cups chicken broth
salt
4 oz. cream cheese
2 Tablespoons flour
shredded monterey jack cheese and chopped cilantro for serving (optional)
Instructions
Chop the onions and chiles.
In a large pan, sautee the chopped onions and chiles with the minced garlic in 1 Tablespoon olive oil until softened. Place in a 6 quart slow cooker.
Cut the chicken thighs into bite sized pieces. Sprinkle with a large pinch of salt and cook in a skillet in two batches with the remaining olive oil until lightly browned - there is no need to cook the chicken through. Place the chicken in the slow cooker.
Add the beans, the pumpkin, the cumin, coriander and cinnamon, and the broth in the slow cooker with 2 tsp to 1 T salt (depending on the saltiness of your beans and your broth). Stir together, turn the cooker ON, and cook on low for 6 hours.
About 30 minutes before the end of the cooking time, stir in the cream cheese and sift in the flour (if you use a sifter or mesh strainer to add the flour slowly, it will thicken without lumps.
Serve hot.
Notes
If you have a slow cooker with a timer and you won't be available 30 minutes before the end of cooking, add the cream cheese and the flour about 15 minutes before you want to eat the chili, turn the crock pot up to high, and simmer for 15 minutes.