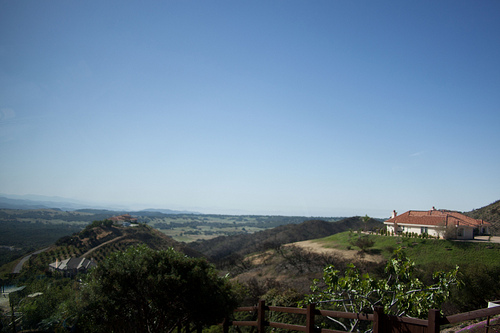 I have heard that if you spend a lot of time researching in a book, or staring at a computer screen, or focusing on what your hands are doing, you need to stop, frequently, and rest your eyes by gazing off into the distance. Looking at the horizon. Thinking big. Going long. Then you can return to your task with renewed focus and less eyestrain.
I like the metaphor.
Blogging (or "digital publishing" as I will now be calling it) is like this. It's so easy to focus on the little things – the aperture of your photographs, how to title your posts to maximize SEO, whether Facebook or Google plus provides a greater social media benefit, the best time of day to Tweet. Plus, you're literally staring at a computer screen. But it's so important to stop, step away from the computer, and focus on the horizon.
Big Traveling Potluck, held this weekend in Murrieta, California, allowed me to do just that. We were in a beautiful place where the sky was bigger than normal, and you could literally see for miles. And we talked about the big things — motivation, inspiration, creativity, community. The mind's horizon and the heart's horizon.
But because the organizers (Maggy and Pam of Three Many Cooks and Erika of Ivory Hut) are, in fact, bloggers digital publishers, they also knocked it out of the park when it came to  details.
And fed us beautiful, fresh, delicious food (thanks in no small part to sponsors like California Avocados, Sabra, California Strawberries, Redwood Hill Farms, KitchenAid, Kerrygold, Whole Foods, and several I'm sure I'm leaving out because I lost my damn program, sadly.)

We learned about local avocado farming (each avocado must be harvested by hand!)

And Ethiopian tea ceremonies.
We got the chance to really talk to each other, and even cook together.

They attended to every detail, including live music, which enthralled Bootsy (whom I toted along to Sunday brunch).
And they brought us beauty, both small:

And expansive:

I hate to say "You had to be there" but you kind of had to be there.
If you weren't there, I do have some takeaways from each of the speakers to share with you. To inspire your own creativity and expand your horizon.
From Melissa Lanz of The Fresh 20: If you're doing what you love, the details will work out. (Note, this is not the same as "taking care of themselves."   You still have to put in the work.  But they will work out.)
From Matt Armendariz of Matt Bites: Be kind to yourself. Step away from it all, and do something different from time to time. Go outside. Play with a dog.
From Helen Jane Hearn of Helen Jane: Respect yourself. Claim your power name. Plan your comeback. Respect your medium. The internet is a new frontier. Also, you can make jealousy a constructive emotion.
From Jeannine Harvey of ONE and Barrett Oliver of FashionABLE: You can make an actual, measurable difference in the world. Even through small actions.
From this random chick from Oklahoma (Oh wait, you've seen her on TV?): Take a risk. Put yourself out there. Don't be afraid to make a fool of yourself. (Ree finished up her talk by singing Ethel Merman. Ree, God love her, is not Ethel Merman. But she sang the hell out of it and brought down the house. That's ballsy, folks.)
And from Maggy, Pam and Erika, their tireless helpers Chris of The Peche and Sabrina of The Tomato Tart, and most of the people I talked to this weekend: Be kind to each other. Support each other. Be free with hugs, listen closely. Creativity can come from without as well as from within.
Don't forget to stop every now and then and look for the horizon.
What inspires your creativity?