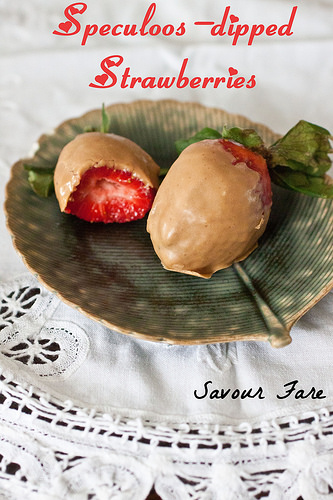 Valentine's Day is around the corner.  Some of us dismiss it as a cheesy Hallmark holiday.  Some of us revel in the traditional chocolate and champagne.  Some are happy to celebrate their loved ones, some are unbearably lonely, and some are just plain angry.  Love does that to us.
I'm no expert, but as I get closer to middle age than youth, I can tell you this about love:  love is surprising.  Sometimes the beginning of love is surprising – it can come when you don't expect it to.  And sometimes the end of love is (sadly) surprising.  But there are a lot of surprises in the middle, too.
The surprises can be good – a grand romantic gesture you never expected from your significant other – or great – the way your heart fills to bursting when a child enters your family, and then fills even more when another child comes along.  They can be bad – discovering that your spouse has been behaving in a way that you never would expect, that shocks and hurts you – or just sad – realizing your relationship isn't where you thought it would be.
Don't mean to go all Richard Curtis on you all – I can get a bit maudlin this time of year – but I hope you can celebrate Valentine's Day with people you love – your spouse, your girlfriends, your children, your family, or your dog (because is there any purer love?  I don't think so.)  And treat them to something a little surprising.
Chocolate covered strawberries are traditional Valentine's Day treats (and Valentine's Day is incidentally when you start getting the good California strawberries), but why not be a little more surprising this Valentine's Day?  These strawberries are dipped in cookie butter (also known as Biscoff Spread or Speculoos Spread), and the gingerbread flavor (enhanced with a little white chocolate and coconut oil for texture) plays beautifully with the strawberries.  As a note – these are firm in the fridge, but don't leave them out too long, or you might have a mess.  On the other hand, a messy Valentine's Day can be pretty fun!

Speculoos Dipped Strawberries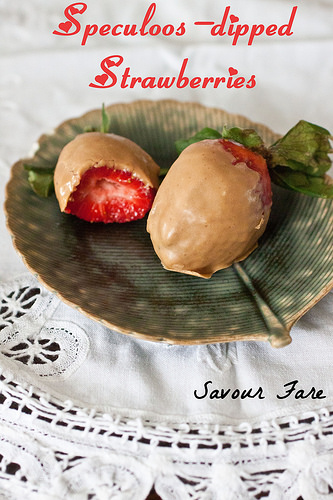 These strawberries, dipped in speculoos spread (or cookie butter, or Biscoff spread) are a surprising twist on the chocolate variety.
Ingredients
½ cup white chocolate chips
½ cup speculoos/Biscoff/cookie butter spread
1 Tablespoon extra virgin coconut oil
12 large strawberries
Instructions
Melt the cookie spread, the white chocolate chips, and the coconut oil together in a saucepan. Let cool.
Dip the strawberries into the cookie butter mixture. Place on waxed or parchment paper, and chill until firm. Serve chilled.
Notes
Try to find white chocolate chips with cocoa butter as an ingredient instead of palm kernel oil. I buy mine at Trader Joe's.