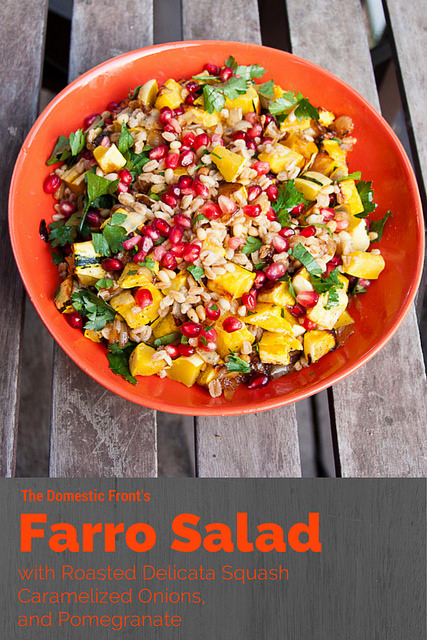 It's November!  Which is the official kickoff to the Holiday Season!  Which, despite all the work and craziness, I love.  I'm totally Crazy Christmas Lady, but Thanksgiving also holds a special place for me – it's the cook's holiday.  No presents, no (required) decorations, no costume crafting or accessory-buying.  Just a cook and a kitchen and a family meal.  Thanksgiving can be what you make of it –  a huge family potluck, an elaborate multicourse feast, or a simple dinner.  I've eaten Thanksgiving dinner in hotels, in restaurants, in rental houses, and in friends' houses.  One year we had just our nuclear family and we made just turkey and stuffing and green bean casserole.  It's just you and the kitchen and a family dinner and thankfulness in your heart.*
*We are choosing to ignore at this time the exigencies of family drama, special dietary requests, bad cooks, being seated at the children's table when you are 25, people who insist on jellied cranberry sauce, store-bought pies, creepy Uncle Amos, and dishwashing.  It's all sweetness and light.
If you are one of those people who are a little intimidated by the demands of a holiday that just requires you and the kitchen, we've got your back at the Domestic Front.  Check out the Thanksgiving Guide  for recipes and tips on setting a pretty table, roasting a juicy turkey (even without a walk-in refrigerator), making a perfect pumpkin pie.   I'm adding to it all this month, and I hope you keep checking in for new ideas on how to make this Thanksgiving the BEST EVER.**
**Here's an idea: plentiful cocktails.
If you're looking for a new side dish to add to your groaning board this year, may I offer up this farro salad?  It's trendy (Farro is an it grain!), it's healthy, and it's super easy and looks gorgeous.  It's seasonal without being heavy, and everyone I've been making it for all fall has asked for the recipe.  So here you go, here's the recipe.  Bring it to your family's Thanksgiving dinner and bask in the admiration.  Or just eat it yourself.  This is a no judgement zone.
If you haven't tried delicata squash, you're in for a treat.  It's a lot like that old favorite butternut squash, but way better because 1) you can eat the skin (NO PEELING); 2) it has a firmer texture, without those weird stringy bits you can get in butternut squash; 3) it tastes even better – with a more delicate, nutty flavor; 4) it's small enough that it's a reasonable portion for two people to eat; and 5) did I mention NO PEELING? (and no gross squash hands).    You just slice them lengthwise, scoop out the seeds with a spoon, and chop.  It takes 2 minutes, and they're ready to roast.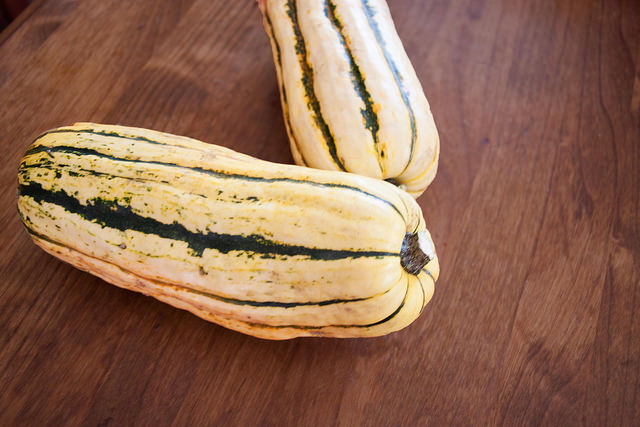 Farro is a whole wheat grain with a lovely chewy texture. If you can't find farro, barley makes an admirable substitute.  If you are looking for a gluten-free alternative, I'd try brown rice.  I make this recipe with pearled 10 minute Farro from Trader Joe's – if you don't have access to a quick cooking farro, you can replace it with a semi-pearled or whole farro – just follow the instructions on your package for cooking time.

Warm Farro Salad with Roasted Delicata Squash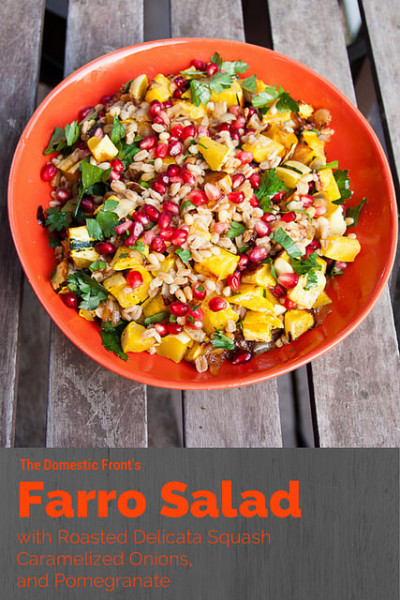 Ingredients
2 med. Delicata Squash
4-5 Tablespoons olive oil, divided
salt and pepper
1 medium onion
¾ cup 10 minute farro
1½ cups chicken or vegetable broth
¼ cup pomegranate seeds
2 Tablespoons roasted pine nuts
2 Tablespons chopped parsley
Juice of ½ lemon
Instructions
Preheat oven to 350 degrees.
Wash the squash, cut them lengthwise, remove the seeds, and cut into roughly ¾ inch cubes.
Toss the cubes with 2 Tablespoons olive oil, season with salt and pepper, and roast on a cookie sheet in the oven for 15 to 20 minutes, or until the squash is tender and the edges are caramelized.
Meanwhile chop the onion, and slowly brown in 2 Tablespoons olive oil, stirring frequently, until the onions are a deep golden brown. I like to cook them at a slightly higher heat than a true caramelize - across between a caramelize and a sautee.
Meanwhile, cook the farro according to package directions with the broth substituting for water.
Combine the cooked farro, the roasted squash, the cooked onions, the pomegranate seeds, the pine nuts and the parsley. Squeeze half a lemon over the salad and toss. If the mixture seems a bit dry, drizzle the remaining 1 Tablespoon olive oil over the salad.
Serve warm or at room temperature.