When we moved to L.A. ten years ago, we were thinking about starting a family, and we wanted to be close to family.  This was a smart move on our part – my mom is tremendously helpful with getting the Nuni to activities and picking her up from school, and my mother in law comes for extended visits.   Because of this family support, we've been able to float by without a regular babysitter, but sometimes we found ourselves in a jam.  My mom was busy or traveling, my mother in law was at home (on the east coast) and we had some event we needed to go to.  Plus, it turns out, people (and  I include myself in this category) aren't always eager to take care of my wild animals.  Trying to develop a roster of babysitters is TOUGH these days – friends guard their babysitters' numbers like they're nuclear codes, we don't regularly run across young adults in our day to day life, and most of our high school-aged neighbors are so busy playing sports and founding nonprofits and doing whatever kids need to do to get into college these days that we've come up short more often than not.
This April we had one of those nights – my mom had been in Italy all winter, and my mother in law had been picking up her slack on a long visit, but then my mother in law went home a few days before my mom was due back, and the gap happened to fall over one of the busiest weekends of the year for us – we had a school fundraiser to go to AND another charity event, neither of which we could really miss.
The school had partnered up with UrbanSitter and offered a discount code, so, desperate, we decided to try it.  I felt a little strange hiring a total stranger to look after my kids, but I was able to find someone local, with good reviews and a lot of repeat customers (a great feature that UrbanSitter offers), and I could do a phone interview, which put me at ease.  Our babysitter came right on time, was flexible when we got home late, and we could pay her by credit card.  It was a great experience.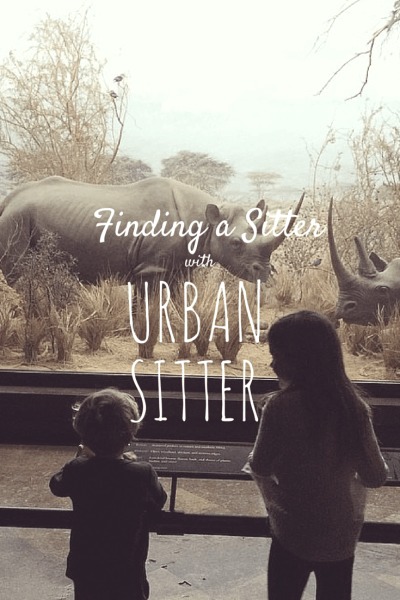 When UrbanSitter and Clever Girls asked me to write a sponsored post about UrbanSitter, I thought it would be a good fit for the blog.  You know I try to write about real life here  – and real life definitely includes those "I haven't had a real conversation with my spouse for three weeks" and "If I don't spend some time away from my children I might actually lock myself in the bathroom and throw away the key" moments.  I like to partner with brands when it's a product I really can endorse that I think would pose some value to you guys, and my previous experience with UrbanSitter (unsponsored) was great, I thought this would be a good fit.
The husband has been working LONG hours lately, so one recent week we decided to plan a date night.  On UrbanSitter, you can find a sitter multiple ways – you can post a job and filter the responses, or you can find specific sitters and offer them jobs (my preferred way).  You can filter sitters by location, by background checks, by rating, repeat visitors, languages spoken, and rate charged (the sitters set their own rates).  Sitters with a quick response time are noted, and if you connect your social accounts, you can see sitters who have been used by people you know.  You can also send an offer out to multiple sitters, and the first one to respond will get the job.  This particular night, since I was planning a Friday night date on a Wednesday afternoon, I looked for someone local and responsive.  I sent an offer to A – a local college student with a great rating and a lot of repeat families. I liked that she lived close and responded quickly – true to advertisement, she accepted the job within an hour.  On Friday night, she arrived promptly, allowing me a little time to finish getting ready (without a 3 year old hanging on to me) before date night.  The kids felt immediately comfortable with her, and we headed out for some couple time.
Knowing the monkeys were in good hands, and we didn't have to speed through our date the way we do when our moms are watching the kids, we elected to go to a local movie theater that was showing Roman Holiday – an Audrey Hepburn Gregory Peck movie I had never seen.  We sat in huge comfy recliners and ordered drinks and food brought to us while we watched.  Fortunately, we managed to stay awake through the movie, but it gave me the idea to hire a sitter so I could take a nap!
After the movie, we still had time we had booked A for, and we decided to walk through downtown Pasadena, looking in store windows and talking.  We ended the night sharing dessert at a great Taiwanese shaved ice place that just opened in the neighborhood.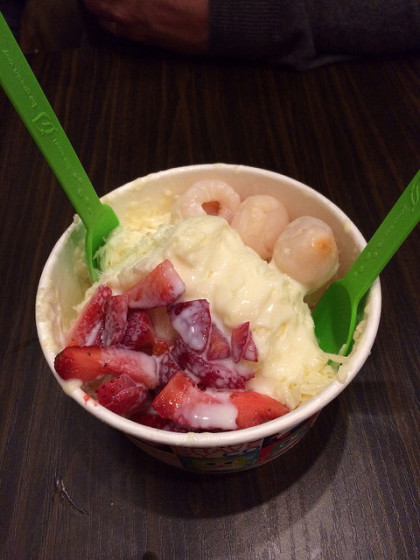 When we got home, the kids were nestled snug in their beds, A was waiting for us, and we didn't have to scramble for cash (or make an extra stop at the ATM) because UrbanSitter takes credit cards!  The whole experience was pleasant and painless, and we got a night out to refresh ourselves.
Both experiences we had with UrbanSitter were easy  – we were able to use it to get out of a jam and again to escape for an evening.  I'm happy to add it to my arsenal of solutions for the crazy life we lead.  If you'd like to try UrbanSitter, they are offering to all readers of The Domestic Front a free month of membership – just sign up for an account and use the code FORFREETRIAL.
I was selected for this opportunity as a member of Clever Girls and the content and opinions expressed here are all my own.