As some of you might know, I got quite sick at the beginning of March, which seriously threw me off my reading (and cooking) game.  I found myself starting and not finishing a lot of books and turning to Netflix instead of the Kindle (helped by the fact that I have not mastered knitting while reading).   Still, a few books made the cut over the past couple of months (and if all my reviews are enthusiastic, that's because I have given up on finishing books that don't excite me), and I wanted to share them with you (in addition to Better than Before, which I also read in March and reviewed separately).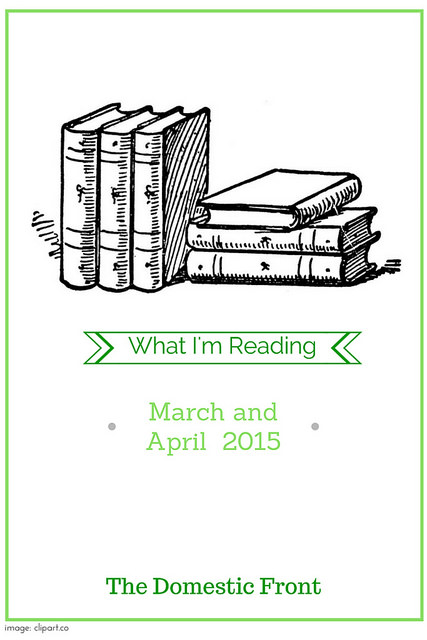 The Royal We by Heather Cocks and Jessica Morgan
This book was super, super fun.  Written by the (very funny) duo behind the blog Go Fug Yourself, this is basically Kate Middleton Prince William fan fiction, if Kate Middleton were an American from Iowa.  It's like reading US Weekly and Bridget Jones's diary rolled into one, and even if you're not a royal watcher (or even an Anglophile), there's enough heart and humor in this book to keep you interested.  I would recommend this as my number one beach read for the summer, and I enjoyed it so much it pretty much spoiled reading for me for a while (which is why this list is so short!)

New and Selected Poems by Mary Oliver
I am not in the habit of regularly reading poetry, but Mary Oliver crossed my consciousness a few times this winter and I was so enamored of her poems, I decided to buy the book.   Her poems are what I want poems to be – illuminating, evocative, beautiful.  She writes about nature and the divine, and so many of her poems make my breath catch.  I've been trying to develop the habit of taking in a poem with my morning cup of coffee, and it's a lovely start to the day.   Here's an excerpt from one of my favorite poems, "The Summer Day":
I don't know exactly what a prayer is.
I do know how to pay attention, how to fall down
into the grass, how to kneel down in the grass,
how to be idle and blessed, how to stroll through the fields,
which is what I have been doing all day.
Tell me, what else should I have done?
Doesn't everything die at last, and too soon?
Tell me, what is it you plan to do
with your one wild and precious life?

The Penderwicks in Spring by Jeanne Birdsall
I've mentioned my love for the Penderwicks before, and this latest in the series did not disappoint.  I listened to the other Penderwicks books with the Nuni in the car, but now that she is older and grown (about to finish 2nd grade! Sniff!) I had to admit that I was the one who really loved the Penderwicks.  This book takes place five years after the Penderwicks at Point Mouette (which I will also admit played no small part in inspiring our own Maine vacation) and Batty, once a winsome be-winged Kindergartener, is now 10.  Her older sisters play a much smaller role in this book than in the others, but it was just as lovely as them too.  I laughed, I cried.  And yes, it was better than Cats.

Three Many Cooks: One Mom, Two Daughters: Their Shared Stories of Food, Faith & Family by Pam Anderson, Maggy Anderson Keet and Sharon Anderson Damelio
Full disclosure:  I am a big fan of the lovely Anderson ladies of Three Many Cooks, who organized my favorite blogging "conference" ever, and Maggy was sweet enough to send me a copy of their book.  Pam Anderson (not of Baywatch), the former food editor for Cook's Illustrated,  is an accomplished cookbook author in her own right and I own several of her cookbooks, so I was expecting another great collection of recipes based on the blog.  Instead, I got a memoir, told from the three perspectives of Pam, Maggy and Sharon, about life in a foodie family and how food brings them together, together with recipes that illustrate the stories.  My own family is a foodie family – the California version of the Southern/New England Anderson clan, and their story told through shared meals resonated strongly with me.  I know the recipes work, because Pam is Pam (and Maggy and Sharon certainly follow in her footsteps), but it's the stories they tell that make me want to get into the kitchen and start cooking.