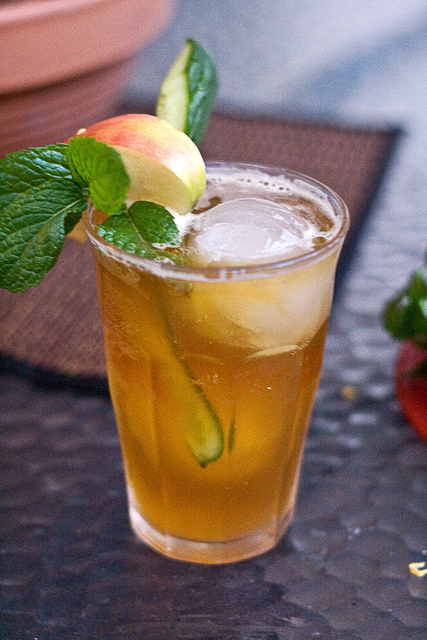 To stretch your summer a little longer, try this recipe for making a Pimm's Cup cocktail at home.
Last week, I was on a staycation. Ken and I had talked about a big vacation this summer — maybe to Ireland, or Spain. The economy took a nosedive, and we thought maybe Vancouver, or Sonoma. Then we bought a house. Which means that the house was our vacation. And our Christmas. And our birthdays. Los Angeles real estate is insane.
If I can't be traveling the world, I will at least be drinking fruity cocktails, because a vacation just isn't a vacation without some sort of exotic libation. I could go with the standard margarita, or the froofy Pina Colada. The weather was a little warm for an Irish whiskey, and much as I love the $4 bottle of Spanish wine I've been buying at Trader Joe's, it doesn't exactly scream "vacation." (More "Oh my GOD the traffic was horrible, I need some wine NOW please.")
Being a raging Anglophile, I like to imagine that I was staycationing not in my modest ranch house with a slightly overgrown backyard, but in my Georgian country house (shall we say Oxfordshire? I do love Oxfordshire), with grounds designed by Capability Brown (and cared for by a team of handsome gardeners, headed by a genuine article of about 80 wearing green wellies). Perhaps I could play a bit of croquet, or retire to the library, or take a stroll down to the sheep meadow. And if you're imagining yourself into this kind of staycation, nothing will do quite so well as a Pimm's Cup.
A Pimm's Cup is the classic English summer cocktail — fruity and fizzy, with a garnish that resembles the over the top hats worn at Ascot and provides your full daily dose of fruits and vegetables. It's Evelyn Waugh and E.M. Forster and P.G. Wodehouse in a cup, with a dash of Nancy Mitford and a side of Vita Sackville-West. It goes down incredibly easily, and it could cause eccentric behavior. Be warned.
A Pimm's Cup is made with Pimm's No. 1, a gin based liqueur that's made with fruit juices and spices and gin and some other secret ingredients. If you don't like gin, don't worry. It tastes nothing of gin. Start with a tall glass of ice, add 1.5 oz. of Pimm's no. 1 and fill with a mixer. The traditional mixer is lemonade (although a Pimm's Cup is sometimes made with ginger beer), which in England is not the American lemonade you can buy for 50 cents at suburban corners. It's more of a lemon soda. Most American recipes call for 7Up as a replacement, and while this may hark back to the original, it doesn't actually make a very good drink. My favorite mixer is San Pellegrino limonata, which has the requisite fizz, and the bonus of a nice dose of tartness and not too much sweet. Garnished with cucumber and mint, apples and strawberries, a Pimms Cup is really the essence of summer.
Just don't drink too many, or you'll actually be thinking your overgrown backyard is designed by Capability Brown. Just be careful — that's not a sheep.