There are times when I'm a fancy cook.  When I take time in the kitchen, slicing potatoes paper thin for Pommes Anna, slowly rendering the fat from the skin of a duck breast until it is perfectly crisp, pounding lemongrass for homemade curry paste, when I make special shopping trips for romanesco or Korean bean paste or saddle of lamb.  And then there is the rest of the time – frankly, most of the time – when life has been a little too exhausting, when the kids have been extra wild, when it's 9 pm and I just want to eat SOMETHING, and yet I still want that something to have flavor and texture  – to be healthful and  interesting and satisfying and nourishing.  And that is when I make this dish – stir fried cabbage, hot sauce, fried egg on top.  So simple, so good.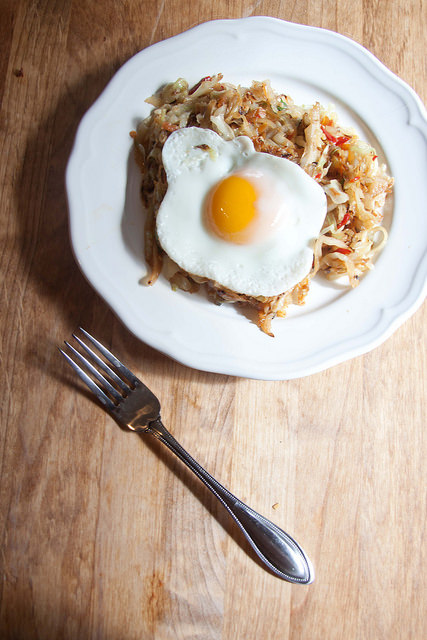 Cabbage is one of my favorite vegetables, and I think it gets a bum rap.  Sure, steamed or boiled cabbage can smell a little off, but sauteed in some hot oil until the cabbage is silky and the edges are just caramelized you're looking at a whole different beast.  It's satisfying without being heavy, and pairs beautifully with all sorts of flavors.
My favorite hot sauce to use here is an Indonesian salsa called Sambal Matah.  I buy it from Trader Joe's, but you can make it yourself.    You can also use sambal oelek, or Sriracha, or even, for a different flavor, tabasco or Mexican salsa.
This is one of my late dinner/lunch alone staples.  I buy shredded cabbage regularly (it's so versatile – slaws and salads and adding crunch to sandwiches as well as stir fries), and the rest are just pantry ingredients.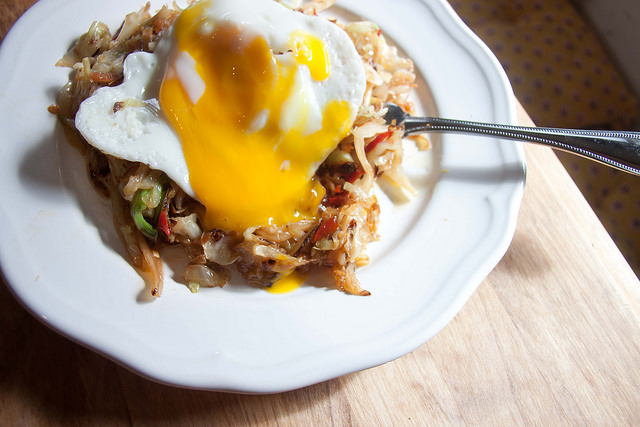 It may not be fancy, but it's pretty darn awesome, anyway.

Spicy Cabbage with an Egg on Top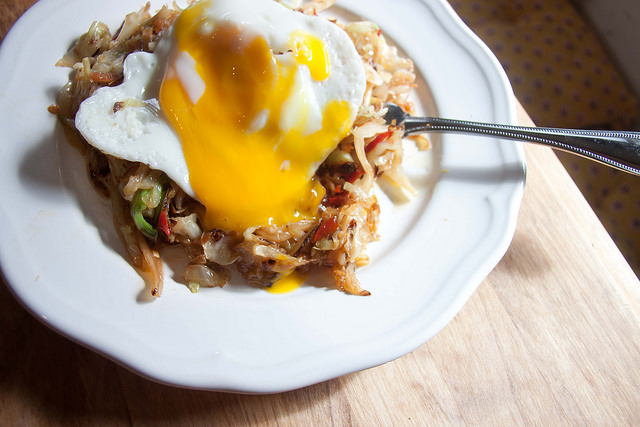 The amounts here are approximate, and servings obviously depend on how hungry you are.
Ingredients
1 Tablespoon olive oil
About 6 oz shredded green cabbage
salt
hot sauce - with the sambal mattah, I use a couple of heaping tablespoons, but with sriracha I'd obviously use less.
1 Egg
Instructions
Heat the oil in a large saute pan. Add the cabbage and cook over medium heat until the cabbage is tender and starting to caramelize around the edges.
Add in your hot sauce and saute for a minute or two more until the flavors are incorporated.
Meanwhile fry your egg sunny side up.
Serve the cabbage with the egg on top.
Notes
Sometimes if I'm really lazy, I fry the egg directly on the cabbage, but I think it's a little better if it's cooked separately.