It's springtime. We Californians have stopped clinging to even a hope of winter (though a late Alaskan rainstorm this week has been very welcome!) and even in Boston, where it seemed like winter would never end, I'm beginning to sense a new hopefulness in their tone. Even though I live in a place where winter is more of an abstract idea, I can't help feeling a little friskier in spring and I start feeling spring cravings – lilacs and peonies and daffodils, pedicures, pink shirts, strawberries, eating brunch outside, earl grey tea parties, and salad. After months of hearty root vegetables and rib sticking brassicas, springtime brings a craving for fresh salads, with delicate, ruffled, lettuces and bright flavors. This butter lettuce or Boston lettuce salad with fresh herbs, radishes and avocados is one of my favorite salads, and it is so perfect for this time of year.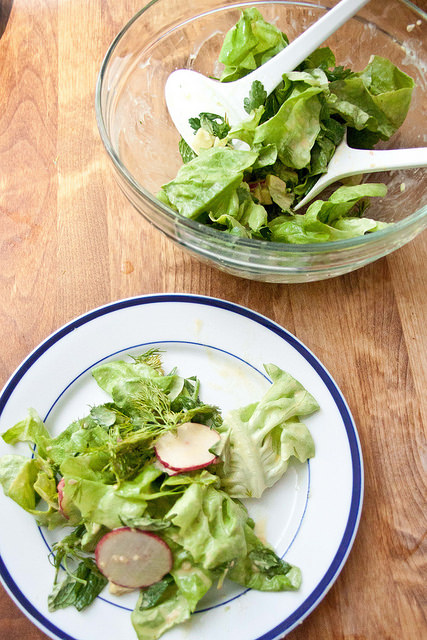 Butter Lettuce (known as Boston Lettuce on the East Coast and sometimes Bibb Lettuce) is one of my favorites for salads – it's mild, crisp without being crunchy, and makes for lovely, delicate salads. Since it's usually sold in full heads with the roots on, it stays fresh much longer in the fridge than most lettuces.  And the pale green color is just what you expect from  a salad – especially in the springtime.
This salad, which I got from Dana, who got it from a friend of hers, who got it from Ashley, makes great use of butter lettuce's best qualities – the mild flavor is enhances the handfuls of fresh herbs, and the crisp texture contrasts wonderfully with creamy avocado and crunchy radish.   It's one of those salads that will up your salad game, and is more than the sum of its parts.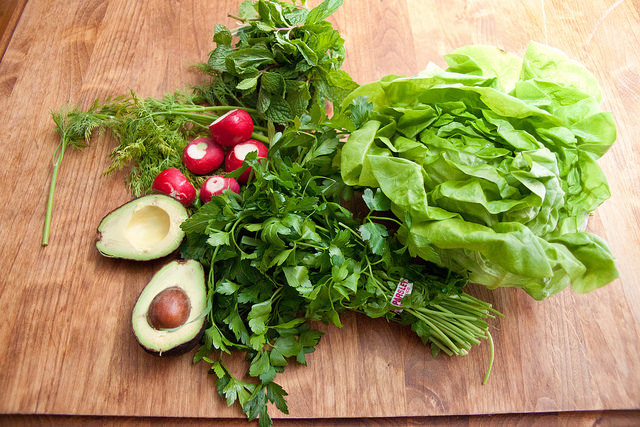 Springtime Butter Lettuce Salad with Herbs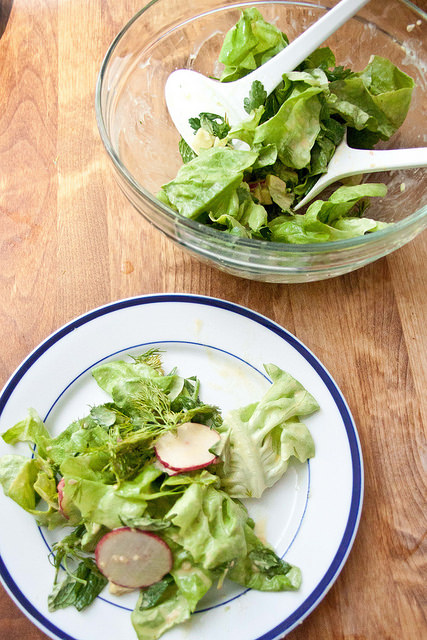 If you have other herbs you like, feel free to substitute or add!
Ingredients
For the salad:
1 head butter lettuce or Boston lettuce, washed and separated into bite sized leaves
4 radishes, sliced thinly
¼ cup chopped fresh dill
¼ cup chopped fresh mint
¼ cup chopped fresh parsley
1 avocado, cut into chunks
Dressing
For the dressing:
1 egg yolk (see note)
3 Tablespoons sherry or red wine vinegar
1 teaspoon honey
2 Tablespoon Dijon mustard
½ cup olive oil
1 shallot, minced
Instructions
Combine all ingredients for the salad in a large bowl.
Combine ingredients for dressing (I usually do this in a mini chopper to help the dressing emulsify).
Dress the salad to your taste (there will be dressing left over - this can be stored, covered, in the refrigerator for up to one week) and toss.
Serve immediately
Notes
Raw egg yolks help the dressing emulsify, but if you are immunocompromised you may want to omit or seek out pasteurized raw eggs, such as Safest Choice.
.