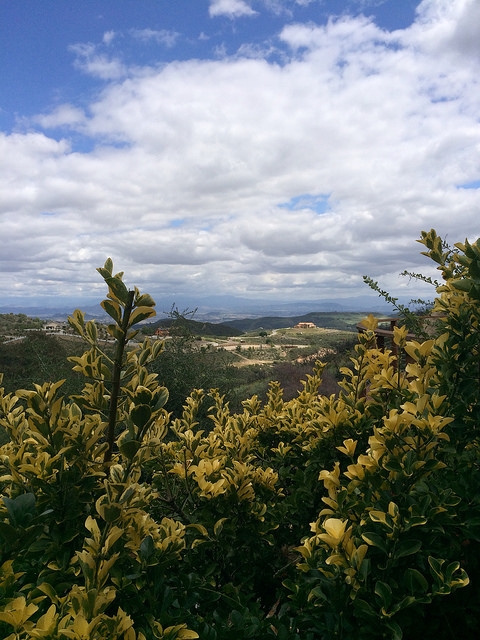 The light filled the room.
The speaker, a slight woman with dark hair and the faintest trace of an accent, was talking about beauty.    I gazed behind her through wide glass doors at a stunning vista of hilltops and trees, clouds chasing the sunlight through the sky.  There was the faintest scent of lavender in the air, and vases full of perfect roses, alliums and hydrangeas dotted the room and the picturesque patio beyond the windows.  It was the most beautiful of settings, and beauty seemed a fitting topic.


This weekend, I attended the second Big Traveling Potluck, in Murrieta, California.  The word "Conference" seems too sterile to describe this event – I see mental images of gray business suits and fluorescent lights.  "Workshop" is better, but is too taxing.  There were workshops – writing and photography and packaging darling gifts of food and love – but the weekend as a whole didn't feel like work.  "Retreat" implies withdrawal and quiet.  We were not quiet.  
Perhaps I'll just return to "Potluck", which is, after all, the name given to this weekend by its creators.  At a Potluck, you bring something to share, and you partake of others' offerings.  It can create great anxiety  –  Will my dish be enough?  Will it be popular?  Will it pale in comparison to the dishes of others?  But in the end the act of sitting down and sharing tends to eclipse any fears.  After all, what is more communal than sharing a table?
I dislike those recaps of blogging conferences that show fabulous pictures of fabulous things and fabulous people that leave you wildly envious that you weren't there yourself.  There were lovely people and lovely things and lovely food, but I can't share that with you directly.  I can't bring you to the Potluck with me, but I can share some of what I brought away with me.  I can give you a seat at the table.
Beauty needs ugliness to make itself known.  The real beauty of blogging isn't in perfection – in the light and the shoulds and the immaculate food and the gorgeous writing, and the SEO and the sponsorships – the real beauty of blogging is sharing the reality.  You may wake up one day and realize that your blog (or your life) don't really reflect the whole you, but you can change course.  Success is defined however you want, and you should celebrate your successes.  Give yourself.  Share yourself.  Be yourself.  
I attended the Big Traveling Potluck last year, and I found inspiration and motivation.  But this year I feel like I found bits of myself that I didn't know I had lost.  I try, here at The Domestic Front, to reflect the reality.  I know you know my life isn't perfect, my food isn't perfect (and we ALL know my photography isn't perfect.  But I don't always share.  In that light-filled room, in that most beautiful of beautiful locations, I realized anew that the beauty is most apparent in the imperfections, and the flaws. That this place should be a window into my life, my whole life, with its messiness and its grace.  This is my place, my space, my story to tell.
I'd like to tell it to you.
Won't you sit at my table?
Note:  my potluck contribution was these bourbon balls, only I gave them a little extra kick by adding 1 tsp each of ground Saigon cinnamon and ginger, and 1/2 tsp. of ground chipotle.  Keeping it real?  They were awesome.