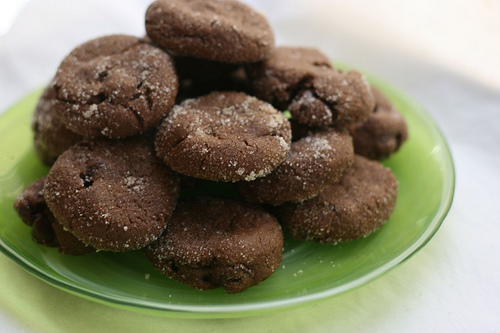 I am rather more-ish when it comes to cookies. You will probably not find me waxing rhapsodic about the simple charms of a basic, not-too-sweet butter cookie. I want a little more going on when it comes to cookies. More flavors, more textures, more zing. And more cookies please.


These cookies are all that AND a bag of chips (no, not literally). They're packed with rich chocolate flavor that's enhanced by chocolate chips, plus they have the warmth of spices and the heat of chilies. They're crunchy on the outside and chewy in the middle. And despite packing enough heat to make you open your eyes when you bite into them, they seem to be universally appealing, as we discovered when we left a plate on the dining room table. The enterprising and surprisingly agile Nuni climbed onto the table, helped herself to three cookies, and proceeded to smear chocolate all over my dining room chairs. Which is why we keep an oilcloth on the table and plan to reupholster those chairs. But I digress.


You can make these in your stand mixer, or if you're like me and your stand mixer doesn't live on your kitchen counter and you're too lazy to pull it off the shelf or even to find the hand mixer in your drawer, you can mix them in a bowl with a wooden spoon and they come out just fine. And I would recommend using excellent cocoa powder — dutch process if you have it (I get mine at Penzeys (which is conveniently near my office)). However, you can use regular chocolate chips and any old honey, since it really contributes texture more than flavor. They're also fantastic to make with kids because the dough doesn't have any raw egg, and can be eaten with impunity.
I will have to warn you though — these cookies carry with them a dangerously high threat of eating the whole plate in one go.

Aztec Spicy Chocolate Cookies
Ingredients
1½ cups plus 1 tablespoon all-purpose flour
1 teaspoon ground ginger
1 teaspoon ground cinnamon
⅛-1/4 teaspoon ground chipotle chili pepper
1 tablespoon cocoa powder
½ cup (1 stick) unsalted butter
½ cup dark-brown sugar, packed
¼ cup honey
1 teaspoon baking soda
1 teaspoon vanilla extract (Mexican, if available)
7 ounces semisweet chocolate chips
¼ cup granulated sugar
Instructions
In a medium bowl combine the flour, spices, and cocoa powder.
In a separate bowl, beat together the butter and brown sugar until the mixture is fluffy. Add honey and vanilla; beat until combined.
In a small bowl, dissolve baking soda in 1½ teaspoons boiling water. Beat half of flour mixture into butter mixture. Beat in baking-soda mixture, then remaining half of flour mixture. Add chocolate chips and refrigerate for about 30 minutes.
Preheat oven to 325 degrees. Line a baking sheet with parchment paper. Roll dough into 2-inch balls, roll dough balls in granulated sugar and place on baking sheets. Flatten slightly. Transfer to oven and bake until surfaces crack slightly, about 18-20 minutes
Notes
Adapted from Martha Stewart