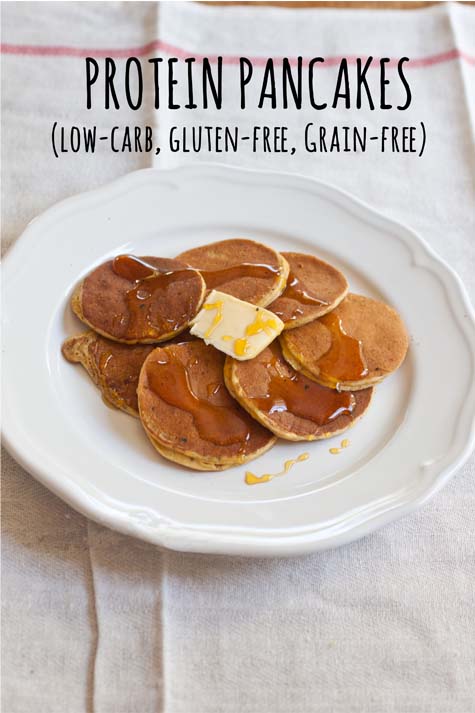 When it comes to mothers, mine is (almost) always right.  But when it comes to these paleo pancakes, I can pull out a little mom wisdom myself.
When I was a little girl, I, being a child of the 80's, wanted nothing more than crap for breakfast.  I watched the beguiling commercials – Super Golden Crisp!  Pop Tarts! Leggo my Eggo!  – and I asked, nay, begged my mother to give me this super-sugary stuff of my dreams for breakfast.  My mother, having come of age in the crunchy late 60's and 70's in California, wisely turned me down.  I had to eat healthy breakfasts, which always included protein.  Cream cheese, peanut butter, whole grain breads – on test days I always had eggs.  Protein in the morning was her mantra.  I, sulking, vowed that when I had children, I would buy Cocoa Krispies for breakfast!
Of course, my mother was right.  One day she gave in to my pleading  and let me have pancakes for breakfast (though it's possible my father had a hand in this disaster).  2 hours later the school nurse called her – I felt awful – headache, stomachache, you name it.   My mother crisply told the nurse to feed me some cheese and lo and behold!  I felt better!  Low blood sugar.  (I wish I could say that from this day forward, I happily ate my eggs and turned my nose up at Lucky Charms, but, sadly, it took many years of collegiate hangovers and maturity before I submitted to her wisdom.)
Now I am a mother, and Karma is an ahole, because I have the same battles with my kids.  Every morning (or every weekend mornings, because weekdays I have learned enough not to ask), the girl says "Please!  Can we have pancakes?  You never make pancakes!" and the boy, who worships his sister, pipes in with his little voice, shouting "Pancake!  I wan' Pancake!" and then adds, hopefully, "Frosting?" (Because cakes have frosting.  I am clearly more relaxed about sugar than my mother was.  Pancakes do not, however.  I'm not THAT relaxed.) And I repeat back to them my mother's mantra, and try to wangle some sausages into them and the whole thing, is frankly, exhausting.
Continue reading Protein Pancakes, or the Importance of Listening to Your Mother.