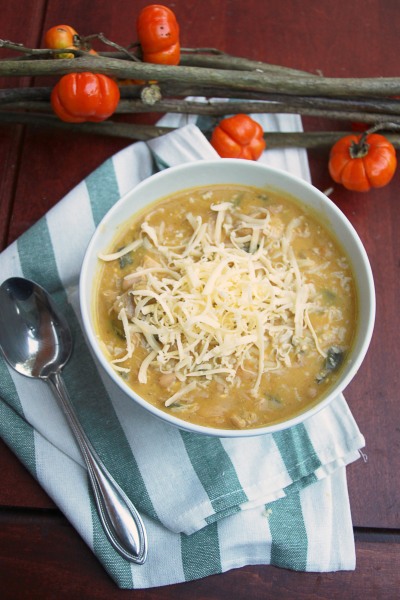 This crockpot easy white chicken chili is what I need right now.
Things have been pretty crazy on the domestic front lately.  The husband has been in a crazy period of working until 2 or 3 in the morning every night. I am also still working my normal, mostly 9-5 job, and I'm doing 100% of the  evening fetching, lunch packing, permission slip signing, homework checking, laundry folding, bedtime reading, nightmare soothing, out-of-bed dragging, and meal planning (though Mr. TDF would want me to acknowledge that he is still taking Thing 1 to school because I cannot do that and still make it to work by 9.)
The end result of all this is that everyone in our household seems to be exhausted.  I can usually get going in the morning (with the help of copious amounts of caffeine) but by the time I get home at night, kids in tow, having done two childcare pickups (and driven for an hour and a half, each way), I'm practically catatonic.  If dinner isn't simple – not only easy, but stupid easy – it's not going to happen, and I will be reduced to the sad, sad state of eating pretzels dipped in cream cheese for dinner (it's happened.  Fortunately, my kids often get fed by the kindness of others, including Thing 1's after school program, my mom, and Trader Joe).
Slow cookers are a lifesaver in this kind of situation. Nothing is more soothing when you're frazzled and exhausted than sitting at your desk, contemplating the hot meal, cooked from scratch, that will be waiting for you when you finally crawl home.  (Of course, nothing kills that buzz more than sitting at your desk at about 2 pm and realizing that you forgot to turn on said crockpot, and that a pot full of partially cooked chicken and beans is sitting and festering on your kitchen counter.  Don't do that!  Learn from my mistakes and turn ON your crockpot. This has been a public service announcement.)