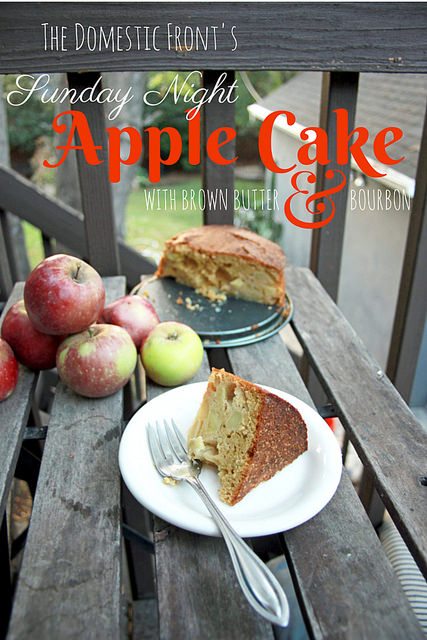 We went apple picking this weekend, which means I have about 20 pounds of apples in my kitchen, which means this easy apple cake recipe is going to be made again soon.
Apple picking is one of those things I used to miss most about living in the northeast.  From the first autumn Ken and I were dating (16 years ago now!)  we used to climb into a car (first a tiny blue Ford Festiva, later a zipcar), drive out into the country, and see some beautiful color and pick apples.  When we moved to Southern California, we thought our New England apple-picking days were done.  But, as I described three years ago, we were mistaken.
It took us three years to go back (a delay I attribute squarely to a curly-headed imp we call Typhoon Bootsy) but we're glad we did.  As we were driving through the Inland Empire (such a glamorous name for a less than glamorous place), listening to the incessant chatter and music of our delightful children (Bootsy is perfecting his Ozzy Osborne version of Kumbaya), we realized that the apple orchards are just as close to us in Los Angeles as they once were in New York.  We pulled up to Stone Pantry Orchards (trees laden with apples!  Close enough to the ground that even the littlest one could pick!)  and proceeded to fill a bag.
Continue reading Sunday Night Apple Cake with Brown Butter and Bourbon