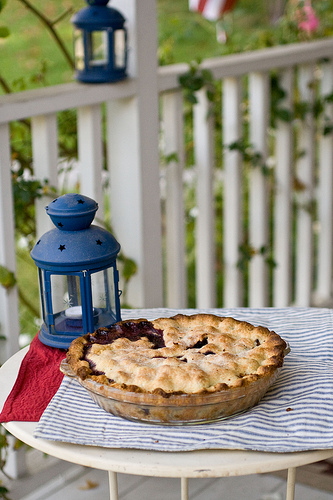 I have discovered the REAL secret to pie. No, not a foolproof, ultra-rich crust (though I've got that), or even a more traditional tender, flaky all-butter crust (although I've pretty much got that down, too). It's not even a pie filling good enough to make a grown man cry. No, the secret of pie is that once you start making it, you get the knack of the mixing and the rolling and the dab of this and the dab of that, it becomes completely addictive. It also becomes easy, which tempts you into dangerous waters. You start messing around, and getting fancy.
I've been thinking about this pie for a while. I think that blueberries and corn sound like an eminently reasonable combination, but every time I mention it to someone, they say "Hmmmm…" I was inspired by this savory corn and tomato pie I made last summer, which I still dream about, and by the fact that corn and blueberries are both native American crops, which make this a perfect fourth of July pie. There are also those lyrics from South Pacific: "I'm as corny as Kansas in August, I'm as normal as blueberry pie…"
Whatever the inspiration, this is a pie to keep. The corn adds its own crunchy sweetness to the soft blueberries, and the native starch in the corn helps set the pie filling. Adding cornmeal to my standard butter crust also enhances the corn flavor as well as adding a nice crunch. The result is an all-American, height of summer pie to end all pies. Only of course, it won't.


Happy pie party! Now go make pie.

Blueberry Corn Pie
Ingredients
For the crust:
10 oz (2 cups) AP flour
2 oz. (1/3 cup) yellow cornmeal
3 Tablespoons confectioner's sugar
1 tsp salt
8 oz. Kerrygold Butter
3 oz. ice water
For the filling:
2 pints blueberries
kernels from 3 ears corn
⅔ cup sugar
zest and juice from 1 lemon
3 Tablespoons cornstarch
1 pinch salt
Instructions
To make the crust:
Combine the flour, sugar, salt and cornmeal in a food processor. Pulse to mix. Add about ⅔ of the butter, in chunks. Pulse until mixture resembles sand. Move to a large bowl, add the remaining butter in chunks and rub it in/flatten it with your fingers. Add the ice water all at once. Mix with a fork, divide into two disks, wrap well, and chill until firm.
Roll out the bottom disk between 2 sheets of plastic wrap, use it to line a 9" pie plate. Chill the plate with the rolled out dough.
Preheat oven to 425.
For the filling:
In a large bowl, combine the ingredients for the filling, and toss. Pour the filling into the bottom crust, then roll out the other disk, cover the filling, seal and crimp the edges, and cut vents in the top.
Sprinkle sugar over the pie crust, and bake at 425 for 20 minutes. Lower heat to 350, cover with foil if the crust is looking brown enough, and bake for an additional 35-40 minutes.