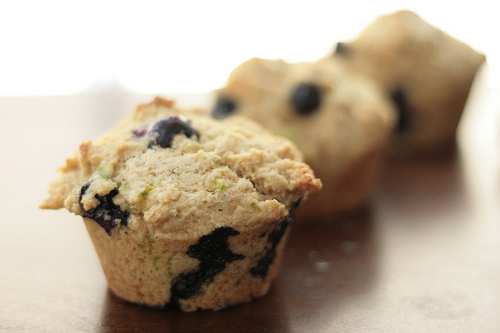 I'm not much of a muffin girl. Despite my rather extreme sweet tooth, I don't tend to like sweets for breakfast, and most muffins are just cupcakes without frosting. And the times I actually want something sweet — elevenses or tea time — a muffin doesn't quite cut it. I might as well have the frosting. Or a cookie. Or a bacon salted caramel brownie.
And it doesn't much help that most muffins are not worth the paper they're baked in. Take the blueberry muffin — what really should be the king of the genre. Most are cakelike, too sweet, with an indifferent texture that has neither the chew of bread nor the tenderness of a good cupcake. The exterior tends to dry at best, sticky at worse, and they always seem to insist on serving ice cold gluey blueberry muffins on airplanes. The thought makes me shudder.
But then I encountered these muffins.


These muffins have made me see the muffin light. These are muffins with STRUCTURE. More satisfying and less sweet than a cupcake, less daunting than a roll. These muffins serve the purpose for which muffins are designed. They have a crisp and craggy exterior, and an interior made tender with the addition of ricotta cheese and tangy with lime zest and fresh whole blueberries.
These are muffins that could stand in for breakfast (with a little bacon on the side), but they're perfect material for elevenses or teatime — sturdy enough and hearty enough for a perfect snack that sustains you through to the next meal. You don't even need the frosting.
And speaking of baking, this Saturday is the National Food Blogger's Bake Sale! I will be joining with food bloggers across the country to sell baked goods to benefit Share Our Strength. Check out the link to find a location near you, and if you're local to Los Angeles come by the Grove.

Blueberry Lime Muffins With Ricotta and Food Blogger Bake Sale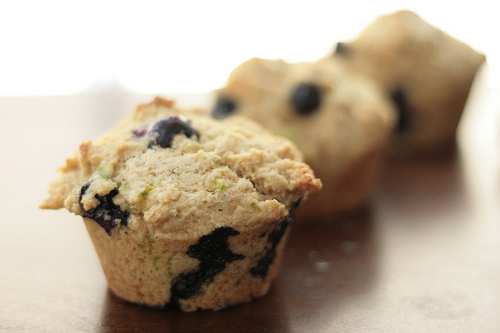 Ingredients
¾ c ricotta, preferably at room temperature
2 large eggs, preferably at room temperature
½ tsp vanilla extract
1 stick salted butter, melted and cooled
⅔ c sugar
Finely grated zest of 1 lime
1 c. all-purpose flour
1 c. white whole wheat flour
2 teaspoons baking powder
¼ teaspoon baking soda
½ teaspoon salt
1 to 1⅓ cups blueberries
Instructions
Preheat the oven to 400 degrees. Prepare a muffin tin with Baker's Joy or line with paper muffin cups.
Whisk the ricotta, eggs and vanilla together, then stir in the melted butter.
Rub the lime zest into the sugar with your fingertips until the oil from the lime combines with the sugar, and it's moist and clumpy. Add in the flour, baking powder, baking soda and salt. Add the ricotta mixture and stire with a good wooden spoon or spatula -- don't worry if the batter is lumpy and more of a dough than a batter. Fold in the blueberries.
Using your hands to grab clumps of batter, fill the muffin molds, and bake 20 to 25 minutes, or until the muffins are golden and a toothpick inserted into the muffins comes out without liquid batter. Cool each muffin on a rack and enjoy warm.
Notes
Adapted from Dorie Greenspan