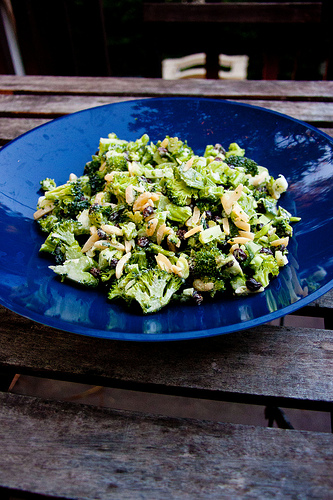 I have discovered that one of the keys to eating more vegetables is having more vegetables available. And by "available" I do not mean sitting, happily dirt-encrusted, at the Farmer's Market. Or even in the depths of my crisper drawer. I mean washed, prepped and ready to eat.
Crudites are the obvious answer, but it gets boring eating crudites. I mean, carrot sticks, in addition to winning the lifetime achievement award for "the only vegetable kids will reliably eat" have the unfortunate connotations of "diet food." And even ranch dressing doesn't help, as I've found my tolerance for bottled salad dressing has waned as I've gotten older. (Was that an unbearably Paltrow-esque and precious thing to say? I'm clearly channeling my inner GOOP. It's just, well, goopy). We could (and have) roasted large amounts of vegetables on the weekend for snacking on the rest of the week, but that takes quite a bit of foresight. Salads are clearly another great answer, but lettuce can be a wee bit delicate for the depths of my crisper drawer, and don't even think about dressing it in advance.
Broccoli salad, now, there's the ticket.  It has the advantages of sturdiness, and anything with broccoli imparts that aura of good health.  My kids will sometimes eat it (though the Nuni's BFF complained that it was "spicy".  Five year olds find currants to be "spicy."  Be warned.)  I can make it one day and the leftovers are perfect for noshing the next day, and the next.

I started making it because I saw this broccoli slaw recipe on Smitten Kitchen, but well, I don't love the stems, and I developed an aversion to raw onion during this last pregnancy that hasn't gone away, and then one day I was out of mayonnaise, but I always keep yogurt in the house, and I happened to have some currants in my cupboard and – well, that's how recipes are born. This is a good one, though. The yogurt dressing is a nice foil to the vegetable flavors of the broccoli – tangy and slightly sweet (if you find yourself with mayonnaise but no yogurt, you can substitute the dressing from this kale salad (and vice versa). The almonds add a nice crunch, and the scallions add flavor without overwhelming. It's a nice dish to keep in the fridge and eat some for lunch, or a snack, or if you don't have time to prep separate vegetables for dinner. It's eminently noshworthy.
Broccoli Salad with Currants and Almonds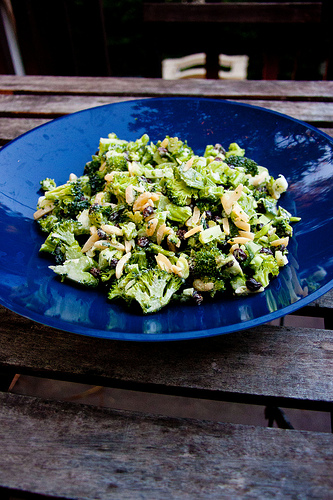 Ingredients
For the salad:
1 bag prepared broccoli florets or 1 bunch broccoli
3 scallions
⅔ c. dried Zante currants (you can use raisins, or dried cranberries as well)
½ cup slivered toasted almonds
For the dressing:
½ cup 2% plain greek yogurt
¼ cup orange juice
2 T sugar
1 pinch salt
2 T olive oil
1 T vinegar
Instructions
Clean the broccoli. Roughly chop the florets (if you are lazy and stem-averse like me) or roughly chop the florets and slice up the stems (if you are hearty and crave more roughage, or are frugal).
Chop the scallions, and toss with the chopped broccoli, the almonds and the currants.
Combine all the ingredients for the dressing. Taste it - is it salty enough? Sour enough? Sweet enough? Dip a piece of broccoli in it and see if you like it. Season to taste.
Pour the dressing over the broccoli mixture and toss to coat. This will keep in the refrigerator, covered up to 1 week.