Do you love the smell of a freshly cut Christmas tree, but hate the hassle of dragging it home from a lot?  Have you ever wanted a real Christmas tree, but feared it would be too dry by Christmas eve?  I've got the solution for you – buying a Christmas tree from online vendors.  The tree is cut, shipped and delivered to your door.  I've ordered a Christmas tree online for the last several years, and I can share tips, experience, and vendor reviews.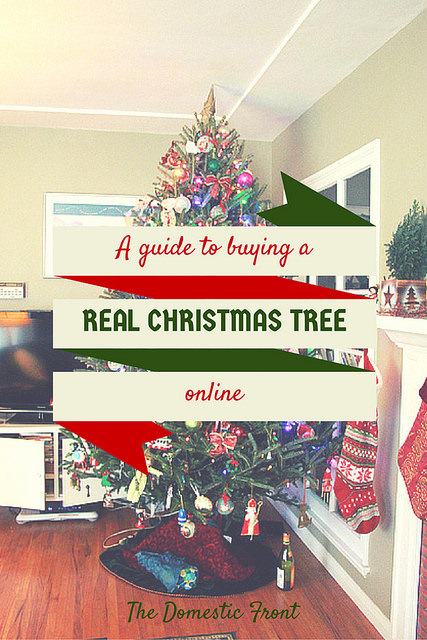 I know, I know, it's only November.  You're still in Thanksgiving mode, you're enjoying Fall, you're not ready for Christmas.  But this post is timely, and if you plan ahead a teensy bit and order your real christmas tree online in November you will have a happier and less stressful December.
My family has always celebrated Christmas in a big way.  It was my dad's favorite holiday, and we go big with parties, with presents, with Christmas dinner,  with cookies, and with decorations.  The focal point of our Christmas decorations every year was always the tree – it had to be big, it had to be straight, and it had to be real.  I know terrific advances have been made in artificial tree technology in recent years, but in my mind, nothing beats a real Christmas tree.  It brings some of the outdoors in, it smells like Christmas, and it's a wonderful and short-lived holiday traditional.  Real Christmas trees are grown as crops (we're not clear-cutting forests here) and are a renewable, recyclable resource.  You can read more about real Christmas trees at the National Christmas Tree Association (including helpful information on tree varieties.)
When I was a kid, we went to a local "cut your own" Christmas tree farm early every December.  We'd wander through the farm, taking deep breaths of the piney fragrance, and try hard to pick a tree that was tall enough and straight enough without any big gaps or lopsided features and met my father's EXTREMELY exacting standards.  Once we'd find our tree, the tree farm owners (and their college student employees) would cut down the tree and tie it to our car.  We'd drive very slowly for the 5 or so miles to our house, and then my parents would get in a big fight about getting the tree into the stand and into the house (ah, memories!)    The tree would stay fresh and beautiful well into January. When Ken and I moved to LA in 2005, I dragged him away from law school exams to go to that same tree farm with me.  Sadly, 2005 was the last year for our little local tree farm, and there weren't any good replacements.  We tried buying from the ubiquitous "lots" that sprang up all over town, but the trees weren't as pretty and were dry as a bone by Christmas – fear of fires puts a real damper on the Christmas spirit.
Then, in 2007,  with a newborn baby and NO desire to fight the crowds for a crappy tree, I discovered that you could order a Christmas tree online.  The tree arrived within a designated week I chose, having been cut a few days before, and was really beautiful.  That started a new tradition for our family.  A "do I need to add one more activity to the busy holiday season" tradition.  A tradition where in November, I order the tree online and it appears on my doorstep early in December and stays fresh and fragrant until twelfth night in January.   The working mom tradition.   Sure, we miss the option of picking out the tree in the lot, but the trees I've gotten online have been the prettiest, fullest, straightest, most symmetrical trees I've had.  Even my father would approve.
The process is simple.  We like to get our tree up fairly early in December – we often have a holiday party early in the month, and we want the tree up for that.  We also like to enjoy the fragrance and that happy Christmas feeling for as long as possible.  Sometime in November, I go online and order a tree for delivery during the first week of December.  Sometime during that week, the tree arrives on our front doorstep, tied and boxed.   We pull the box indoors (easier than trying to get the full tree through the narrow front door!) open it, untie the ties, give the tree a fresh cut (if we think of it – we don't always), and get it into the stand.  The tree will drink a lot of water for the first week or two, but stays pliable and green into January.  We usually take down the tree in time to participate in our city's curbside recycling program, which turns the trees into mulch and wood chips which is used to save water at City parks and is available to residents.   The cost is comparable to a lot tree (about $150 for a big tree) – even from Home Depot.  We've ordered from a few different vendors over the years – here's a review of the real Christmas tree online sellers we've or my parents have used (with photos of the trees where I have them).
My favorite vendor has been for many years now Weir Tree Farms – a small family farm in New Hampshire.  The trees we have gotten from Weir have been absolutely beautiful – perfectly shaped (the shape of a live Christmas tree has a lot to do with the shearing practices of the grower), perfectly straight, and very full.   The trees have always arrived promptly within the 3 day window I've designated.  One year I called them, concerned that I hadn't yet received a shipment notification on the tree I had ordered.  It turned out that I had never placed the order, but Christy Weir helped me out and put a tree on the truck for me that day – it arrived a few days later.  Terrific customer service, beautiful trees.
Tree sizes:  Trees come in six sizes, from 3 to 9 feet.
Tree varieties:  Balsam Fir, Fraser Fir, and Fralsam (Unique to Weir, a cross between a Fraser and a Balsam, with a great scent and good needle retention.  All of the pictured trees are Fralsams)
Origin:  New Hampshire
Delivery Window:  3 day windows, between November 19th and December 20th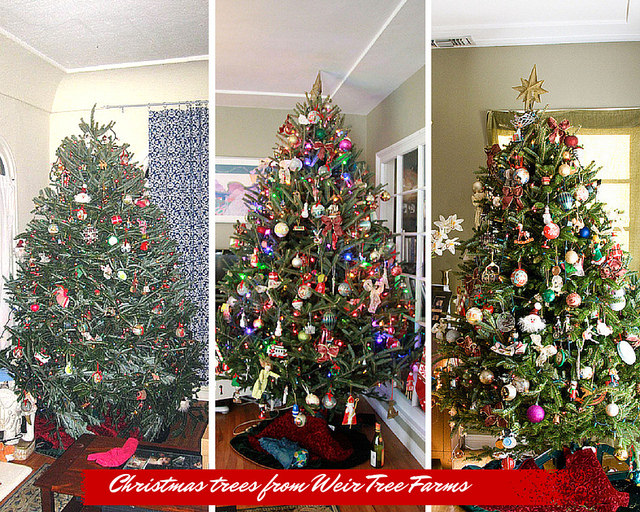 Hammacher Schlemmer, home of extremely pricy gadgets, may seem like an odd place to get a Christmas tree, but I've ordered from them several times (including that first tree, in 2007) and the trees have been fresh and beautiful.  I like Hammacher because they offer a "slim" tree, which is a great option if you live in a small house or an apartment.  We've had no problems with customer service, and the trees have been fresh and fragrant.
Tree sizes:  Trees come in five heights, from 5′ to 9′, in both full and slim varieties (the pictured trees are slims)
Tree varieties:  Fraser Fir
Origin:  North Carolina
Delivery Window:  1 week window, between November 16th and December 20th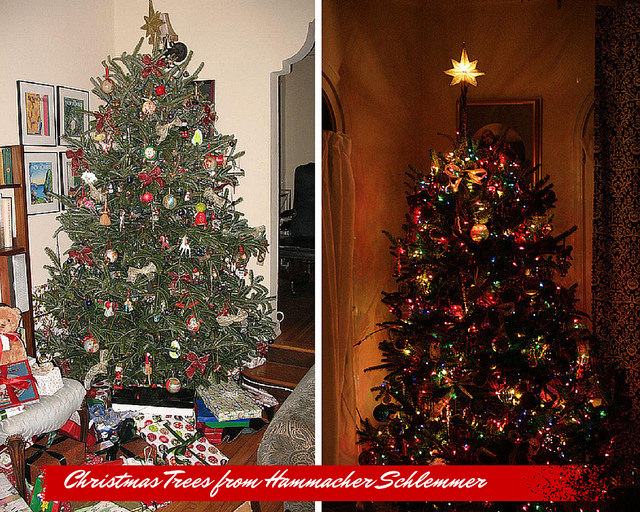 My mom got a Groupon to Five Star Christmas trees last year, and it was fine.  The tree arrived promptly, was fresh and was nicely symmetrical.  It was a little on the small side (the 7-8 foot tree was closer to 7 feet, which feels small in a room with tall ceilings like her living room) and they only do delivery during one week (and only to certain zip codes).
Tree sizes:  Trees come in three heights, from 5 to 8 feet.
Tree varieties:  Fraser Fir
Origin: Five Star is based in Utah, but they partner with various farms
Delivery Window:  Only during the week of December 1
4.  Green Valley Christmas Trees
I ordered a tree from Green Valley Christmas Trees last year because I thought I'd try a tree from Oregon, being on the west coast and all.  Green Valley has a nice selection of trees, including the Noble Fir which are widely available in lots around here and have a particular "Christmas smell" since my aunt and grandmother got them every year, and layered Noble Firs which display ornaments beautifully. Unfortunately, they originated the shipment on the date I specified, but it didn't actually ship for nearly a week, which was a problem for us as we were having a large holiday party the first weekend of December.  I tried to call and cancel the order several times (before it was on a truck) but was unable to cancel the order, and refused delivery when the tree eventually arrived (4 days after our party).  (We bought a tree at Home Depot.  It was just as expensive and totally brittle by Christmas eve).  I did eventually receive a refund, which was nice, since the delays may have been a problem with FedEx, but it took some time, and the whole experience left a somewhat sour taste in my mouth.
Tree sizes:  Trees come in six heights, from 3.5′ to 9′ (Balsam and Nordmann start at 5.5′)
Tree varieties:  Fraser Fir, Balsam Fir, Noble Fir (both full and layered), Nordmann Fir
Origin:  Oregon
Delivery Window:   You choose a shipment date, weekdays from November 10th through December 17th (be wary of timing – they now have a lot of language saying there are no guarantees of arrival times).  Shipment dates cannot be changed once an order is placed.