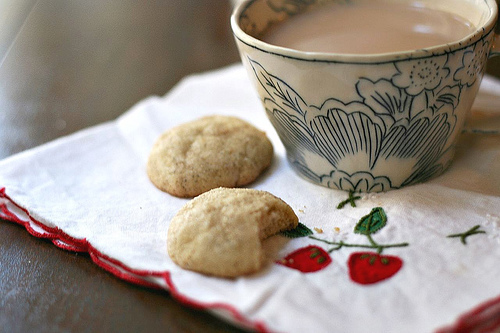 There's this idea when it comes to baked goods, especially in America, that more is necessarily better. More gooey, more sweet, more creamy, more decadent. And while I am IN NO WAY coming out against gooey, over the top desserts, sometimes you want some restraint. Just a little sweet, with subtle flavors. Something restful. These cardamom orange teacakes hit just that spot.
I developed the recipe after getting my hands on a proof copy of Michael Ruhlman's terrific new book, Ratio
, which purports to break down many classic recipes of cooking into their component ratios, by weight. This is a terrific concept – knowing the fundamentals really encourages the amateur cook to feel comfortable with experimenting, and it's really a "cook book" – one that teaches the reader to cook, rather than a collection of recipes. In my opinion, though, some of the ratios work better than others. I'm willing to believe that pie crust or choux pastry is always built on the same ratio, but I was more skeptical about cookies. Ruhlman gives a ratio for "Basic butter cookies" (1 part sugar, 2 parts butter, 3 parts flour) and then proceeds to give recipes for several other types of classic cookies that break this ratio, which is hardly universal. Still, it's a starting point, and it does encourage experimentation. I was intrigued by Ruhlman's description of these simple, not too sweet cookies, but I wanted to see if I could turn them into something a little more me.


I started by making the "Basic Butter cookies", using salted butter (my preferred butter for baking), white sugar and white flour. No vanilla, no salt, no leavening. (I did add a touch of water, as my dough was pretty dry – this may have contributed, in all fairness to texture issues). As I expected, they were a bit flat. Texture unremarkable, taste not so interesting. To tart them up a bit, I turned to an invaluable cookbook, Shirley Corriher's Cookwise
which contains detailed information about the role different ingredients play in cookies (spread, texture, lightness, etc.) I tinkered (and went through a few batches, the nice thing about the Ratio is I could test a few cookies at a time) until I came up with a cookie that was light, not too sweet but sweet enough, a little crunchy, a little tender.
I added cardamom, one of my favorite spices, a little orange zest and vanilla for flavor, eggs and baking powder for lightness, and a little extra sugar for tenderness. Finally, I rolled them in cardamom and sugar, snickerdoodles style, for a nice crisp exterior. The finished cookies are still small, not too sweet, but pleasing to the palate, and perfect with a cup of tea. And because they're not too rich or sweet, you might just want more. And more.

Cardamom Orange Teacake Cookies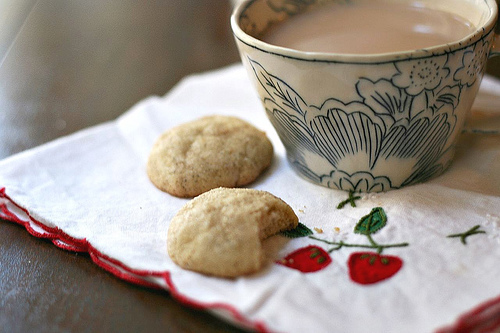 Ingredients
3 oz. sugar
4 oz. butter
1 egg
1.5 t orange zest
1 t cardamom
1 t vanilla
1 pinch salt
1 t baking powder
6 oz. flour
Extra sugar and cardamom for rolling.
Instructions
Cream the butter and the sugar. Add the eggs, vanilla and flavorings, and beat to combine. Add the salt, baking powder and flour, mix until just combined. Chill the dough for about 10 minutes.
Preheat the oven to 350 degrees. Line a cookie sheet with parchment paper. Mix cardamom and granulated sugar in a 1:3 ratio (1 part cardamom to 3 parts sugar). Form dough into balls the size of large olives, and roll each ball in the sugar spice mixture.
Bake for 18-20 minutes, or until the cookies are very lightly browned. Enjoy with a cup of tea.
Notes
(Note: my egg weighed approximately 1.5 oz. So the basic ratio of these is 1 part egg :2 parts sugar: 2⅔ parts butter: 4 parts flour)