I love having a Christmas season that's full of magic for my kids. We decorate the tree, bake cookies, wrap packages, throw parties. But the sense of festivity and abundance can go overboard. I was so focused on the joy of giving to my children that I had forgotten to cultivate that same joy in them. When my 7 year old daughter handed me the American Girl catalog with nearly every item circled, and told me that's what she wanted for Christmas, I knew it was past time to talk about the MOST important thing in the Christmas season – giving to others.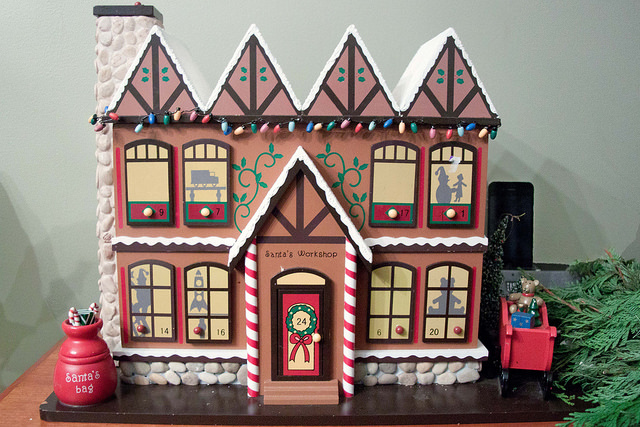 We have a wooden advent calendar, with small drawers — 1 for each day in December before Christmas. Each drawer contains a tiny wooden ornament that we hang on a small decorative tree as we take them out of the drawers. In past years I've added a piece of candy or a sticker to some drawers, but this year I decided to do something different. This year, on certain days I added a small, rolled piece of paper with a fun, family Christmas activity we could do that day. Things like "Trim the tree" (But mom, it's already the right shape!), or drive around town and see Christmas lights, or watch a Christmas movie as a family. After my experience with the toy catalog, I added another scroll: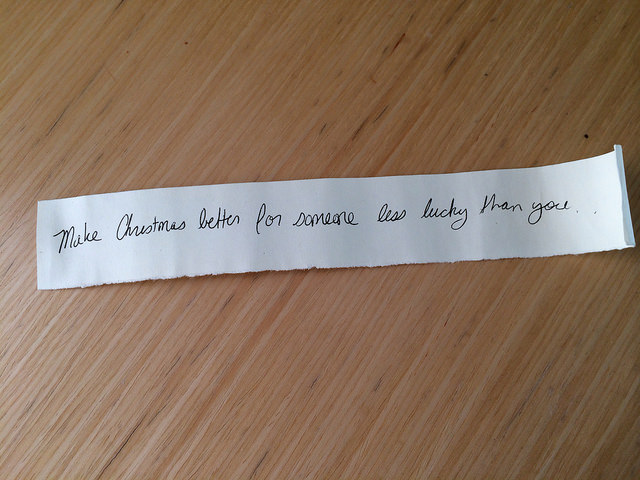 This prompted a conversation about how lucky we are – we have a loving family, we have enough money for food and for presents, we have a warm house and a lot of love.  Some kids don't have parents, some kids don't have family, some kids don't even have enough money for the nightly (and morningly) bottles of milk demanded by the Nuni's little brother.  It wasn't a long conversation, but I could tell it stuck with her.  That day, we went to the store and she used her own money to buy toys for kids who didn't have any families.  (We later donated them to Toys for Tots).  And since that day, she's made lots of references to how lucky we are, and how we can help other people.
Raising children to be high achievers is great – raising them to get good grades, to be friendly and outgoing, to have good self esteem and polite behavior are all things we strive for as parents.  But raising my children to be good people  – to want to help others – is something that  I personally think is the most important task I have as a parent.
The holidays are a time of giving, and toy drives are everywhere.  But some families don't even get to toys, because they don't have food on the table.  My kids are both milk drinkers.  I love that when they're picking at their meals (frequently) or making a beeline for the cookies, I can give them a big glass of milk and know they're getting 8 grams of good quality protein in every serving, calcium, potassium, and Vitamin D.  I know that when they've had a big glass of milk with a good breakfast, it will set them up for a more successful day – it gives them the tools to be the high achievers I know they can be.
But to be good people, I want them to help other kids have the same opportunities to have full bellies, and strong bones.    That is why my family is partnering with Clever Girls and Milk Life to share and contribute to the Great American Milk Drive.   This Christmas, instead of leaving cookies and milk for Santa on Christmas eve, we're just leaving cookies and a glass of water, and giving the milk to kids who really need it.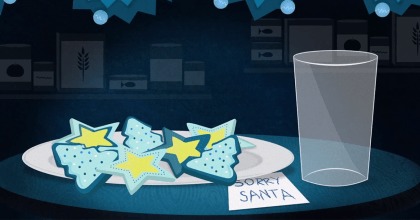 Many families with children rely on food banks to help feed their families, but those food banks can't always provide milk – an easy way to get high quality protein and nutrients into even the pickiest of kids.  America's dairy farmers and milk companies are partnering with Feeding America to change that.  For every gallon of milk donated from now until December 31, Milk Life will match the donation and make milk multiply – to date over 194,000 gallons of milk have been donated to date.  You can donate here and your donation will be matched.   You can even enter your zip code to ensure that your donation will have a local impact and will  help the families using food banks in your community or state.
You can also give with your voice.   Share this video, and for every share, a one-gallon donation will be made for food banks served by Feeding America.
The joy of giving to others is a value I hope to instill in my children and one that I try to embody myself.  This Christmas, we will be giving Santa's milk to the Great American Milk Drive.  Won't you join us, and make Christmas a little better for those who aren't as lucky?
I was selected for this opportunity as a member of Clever Girls and the content and opinions expressed here are all my own.