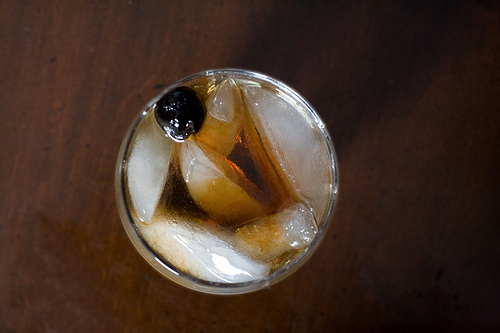 It's crunch time for Thanksgiving. You've probably planned your menu, done your shopping and begun cooking. All I can offer at this point is courage. Liquid courage. Chances are, at some point this weekend, between the family and the food and the football and the Friday sales, you will need a drink. And chances are, with the Christmas season coming up, you'll need more than one. And so I present to you that most hallowed of cold season classic cocktails: The Manhattan.
I tasted my first Manhattan, appropriately enough, in Manhattan, at a tiny Greenwich Village restaurant, and I was hooked. A little sweet, but not too sweet, a little spicy, with warm herbal notes from the bitters — this cocktail tasted like autumn leaves and fireplaces and tailgating and all of the good things about fall and winter. And you can add to that the glamour quotient of drinking a very classic cocktail — you are never embarrassed by ordering a Manhattan, whether you're on a date, at a client lunch, at a party with friends or meeting your inlaws for the first time. It's the little black dress of cocktails.
Over the years, I've tasted a lot of Manhattans, and I've gotten picky enough that I prefer to mix them at home (though if you're in Los Angeles, Cole's in Downtown LA has the best classic Manhattan I've had in a restaurant in recent memory). I prefer them made with rye whiskey, instead of bourbon (rye is the traditional whiskey for a Manhattan– it's also more flavorful and spicier, with a finish nicely smoothed by the Vermouth). My favorite rye is Rittenhouse, which has the bonus of being relatively inexpensive, but Piketown, which has a smoother, lighter flavor and is similarly cheap, is a nice alternative. I've tried different Vermouths as well — Martini & Rossi is fine, Punt y Mes is good, with a slight bitter edge, but if you can find it, my money is on Vya Vermouth, which has an herbal profile almost more like a fine liqueur than a vermouth. Some people like a "perfect" Manhattan, which has equal parts sweet and dry vermouth, but my personal opinion is that the perfect Manhattan is made with sweet vermouth only. Finish it off with bitters (Angostura, always. I've tried orange bitters and they're just not as good). Many bars serve Manhattans shaken with ice and strained into a martini glass, but I'm a klutz and I like my lowballs, on the rocks.
You can put a maraschino in for garnish, but I prefer amarena cherries in syrup — they are wildly expensive and totally worth it.
This may not be the perfect Manhattan, but I've come to realize the perfect Manhattan exists only in my mind. This is pretty darn close. When you're in need of a little extra holiday cheer, mix yourself a Manhattan. And after a few of them, trust me, EVERYTHING will seem perfect.
Cheers!

The Best Manhattan Cocktail-
Ingredients
2 oz. rye whiskey (try Rittenhouse or Piketown)
1.25 oz. sweet vermouth (try Vya)
3 dashes Angostura bitters
2 amarena cherries
Instructions
Combine first three ingredients over ice in a lowball glass. Stir gently, and garnish with amarena cherries.