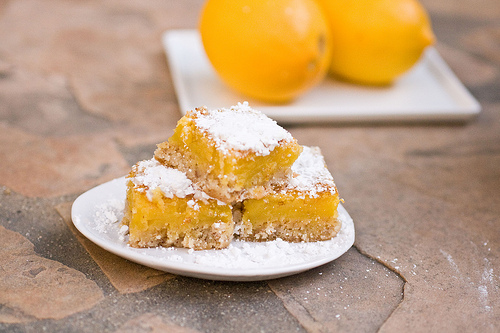 I'm back chickadees! And it's a new season.
This winter has been the winter of my discontent. It was cold and wet, inside and out. But a change of seasons does bring a change of perspective — flowers are budding, the sun is shining, the birds are singing, and happiness is a little easier to find.
I've missed you this month, though. I find myself, even on hiatus, constantly writing blog posts in my head. If everything that went through my head went on this page I'd be posting 8 times a day. But the break was good, refreshing. I cooked without taking pictures of what I ate. And I spent time with the Nuni, and Ken, and a stack of good books, and a garden.
One of the beauties of living in Southern California is that it's perfectly normal to have fruit trees in your garden. We were lucky to have 2 ornamental plums, 2 peaches, a pineapple guava tree and a fig tree already planted when we moved in. We brought our potted Meyer Lemon and Bearss lime, and this winter we've been very busy planting a veritable orchard — apricots, more peaches, greengage plums, persimmon, quince, grapefruit, tangerine, navel orange. And this spring they have obliged us by bursting into bloom. I look forward to a summer of jam.
Our older trees are already bearing fruit, and we got a bumper crop of Meyer Lemons this year. Thinner skinned than regular lemons, they are also more aromatic and less sour. I've been using them in salad dressings and any place else where I'd use lemons, but some were so fat and juicy they deserved something special, like these lemon bars. Perfect whenever you need a little sunshine, these are a little softer than traditional lemon bars and less tart, more floral. Springtime in a cookie.
Recipe: Meyer Lemon Almond Bars
Adapted from Ina Garten
Ingredients
For the crust:
8 oz. (2 sticks) butter, at room temperature
1/2 cup granulated sugar
1 cup flour
1 cup almond flour
1/2 teaspon almond extract
pinch salt
For the lemon filling:
6 large eggs
1 1/2 cups granulated sugar
2 tablespoons grated Meyer lemon zest
1 cup freshly squeezed Meyer lemon juice
1 cup flour
Powdered Sugar, for dusting
Instructions
Preheat the oven to 350 degrees.
For the crust:
Cream the butter and the sugar together until fluffy. Add the flour and the salt and mix until just mixed.
Grease a 9 X 13 baking sheet, dump the dough into the sheet and press into a crust. Chill for at least 30 minutes, up to a couple of hours.
Bake the crust for 15 to 20 minutes, until lightly browned. Leave the oven on.
For the filling, mix the eggs, sugar, lemon juice, lemon zest and flour until combined, with no lumps.
Pour over the crust and bake for

30 minutes

, or until the filling is set.
Let cool to room temperature, cut into squares and dust with powdered sugar.