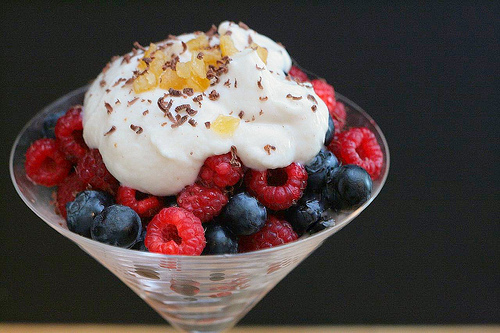 Some recipes sneak up on you. You get a cookbook or a magazine, you read through it in a leisurely fashion, maybe try a recipe or two, and set it aside. A few months later, you pick it up again, notice a picture that looks tasty, and forget about it. Fast forward a few months, and you finally make the recipe and think it's only OK. And then you start to crave it and it finally, finally becomes part of your repertoire.
Then there are recipes you fall for at first glance – bam. You see it and your mind starts racing around the possibilities and you can't wait to get into the kitchen and try it out.
This is one of those.

I don't remember what I was googling, but I came across a google book of Richard Sax's Classic Home Desserts, and I started idly paging through it. I saw this recipe and not only did I immediately decide to make it I decided to buy a copy of the book on the basis of this recipe alone. (And the book is totally worth it — a classic indeed, and full of delightful historical tidbits as well as a whole collection of killer recipes).
I'm not sure why this appealed to me so much. I was never a cannoli eater until I moved to Greenwich Village and discovered the joys of a freshly filled cannoli from Rocco's on Bleecker street. Delicious though cannoli may be, they tend towards the heavy side — I can get indigestion just looking at the fried shell.
Happily, this recipe provides all the deliciousness of a cannolo (namely, the filling) but the heaviness is up to you. I've served it atop fresh berries, where it's wonderful, but it would be a terrific accompaniment to a plain cake, baked apples, or even some fried pastry shells. It takes seconds (and a food processor) to whip up, and can be flavored any number of ways (I tweaked Richard Sax's recipe a bit to make it taste more like Greenwich Village cannoli filling, and added a little shaved chocolate and candied orange peel as garnish for verisimilitude). It is, in short, as the title of the cookbook promises, a classic, and has become part of my repertoire.

Cannoli Cream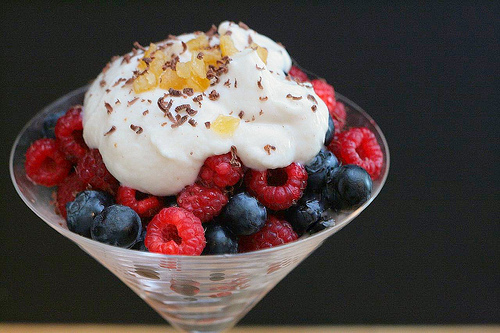 Ingredients
2 cups ricotta cheese (fresh is best, but whole milk is essential. Low fat ricotta never loses its graininess)
2 T milk or cream
⅓ c. sugar, or to taste
1 tsp vanilla
2 T marsala
½ tsp. cinnamon
chopped candied orange peel and shaved chocolate, to garnish.
Instructions
Place cheese in a food processor and process briefly. If it seems dry, add milk or cream. Add sugar and vanilla and continue to process until the mixture is smooth and creamy. Mix in marsala and cinnamon, taste and adjust the flavorings.
Serve over berries, poached pears, baked apples, pancakes, french toast, toasted poundcake, gingerbread, or whatever your imagination leaves you to.
Notes
Adapted from Classic Home Desserts by Richard Sax