I'm currently on hiatus from The Domestic Front. While I am gone, I am republishing posts which originally appeared on my companion blog, Savour Home. This post was originally published in July 2010.
Look at me. I went and started a blog and promptly abandoned it and didn't post anything. In my defense, between the initial excitement of "we're buying this house" and "we live in this house and can decorate it any time we please" there is a large stretch of not seeing the house while you sign millions of papers and pay vast sums of money, then packing all your earthly belongings, then moving said earthly belongings, then unpacking said earthly belongings and finding a place for them in said house. We are not at all finished with the latter step, but I'm beginning to see the bones of Stratford House, and to feel as if I actually live there. So I can start to plan.
Let's start with the library. Ken and I are book people. Which means we have a lot of books. When I say we have a lot of books, people don't really understand that we're not talking about two bookshelves in our bedroom. In the above referenced move of all our earthly possessions, we packed approximately 100 boxes. And of those 100 boxes, approximately 40 of them contained books. (I would guess that another 40 or so contained kitchen items, which leaves us with 20% of our non furniture possessions counting as something else, mostly junk.) Forty boxes of books is a lot of books. There are probably some bookstores in New York that have fewer books than we do.
And don't start on me about culling my books or converting to "shudder" ELECTRONIC READING. I love my books. I love the way they look, I love picking them up and reading them at random. Ken and I are bibliophiles. We acquire books and we collect books, and in my humble opinion, a home without books feels soulless, like a hotel, or worse, an institution.
As a confirmed bibliophile, it's probably no great surprise that I have always dreamed of having a library. And although we have a 1700 square foot ranch house in Southern California, which doesn't naturally lead one to think "library" the way a Palladian manor house in Oxfordshire, or even a Colonial Saltbox in Connecticut would, I wasn't about to let that stop me. You see, Stratford House is blessed with what was shown on the house plan as a "family room" in addition to a "living room". Now, most people (read, my parents, and Stratford House's previous owners, who were in my parents' generation) assumed that the "family room" was the perfect place for the television. But in this day and age, who really needs a formal living room? The last thing I wanted was a room in our small house that didn't get use, and a living room that's used solely for entertaining (which we don't do much of) or holidays (which, by their very nature, come rarely) seemed a silly waste of space.
So instead of the "living room" and the "family room", we have a living room, which is actually for living. The television is in there (able to be tucked away into its armoire should entertaining or holiday making happen), we actually sit there, and the room is used, and used well. That leaves the family room with a wealth of possibilities.
So it's going to be my library. The desk and computer will go in there (all the best libraries have computers nowadays, anyways), and most (but not all) of our books. It's a room for reading, for studying, for working. And it has quickly become my favorite place to read the newspaper in the morning, or to browse the shelves at random.
I haven't got the internet set up yet, so I don't have photos to show of the actual room, or my decorating plans for it, but I thought I'd leave you with a few images of inspirational libraries.
My favorite library, possibly ever — The Linonia & Brothers reading room at Sterling Memorial Library at Yale. I spent mucho time there in college, curled up on one of those faded leather chairs (I've heard the room has since been renovated). Now, Stratford House is missing a few elements of the L&B — notably the soaring Gothic architecture. But I think we can capture the FEEL of it.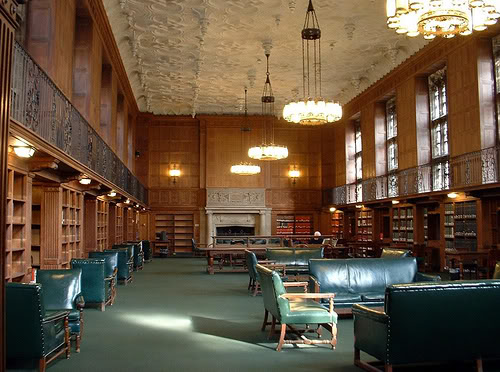 via flickr user Chi Vu
Another home library in Southern California — this one part of Lisa Borgnes Giramonti's Bloomsbury Life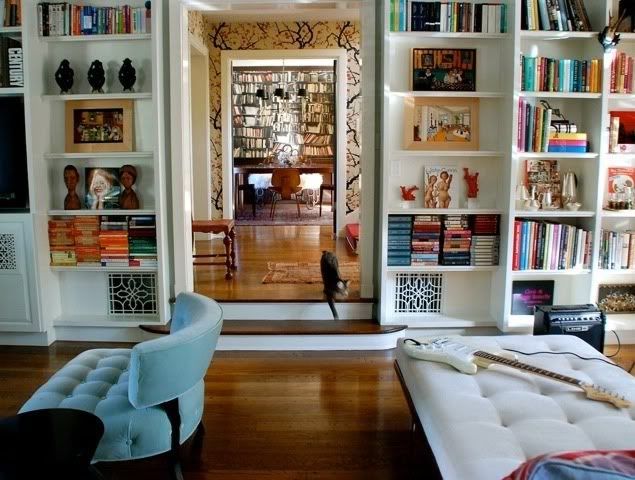 From Domino Magazine (via Habitually Chic)

Francois Halard (via Habitually Chic)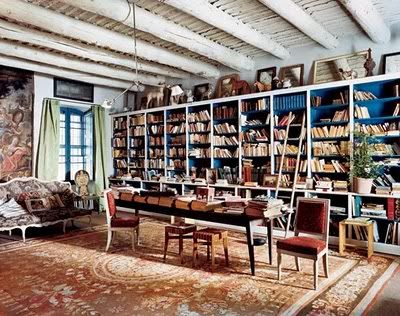 Now go home, and read! Have a lovely weekend, my lovelies.