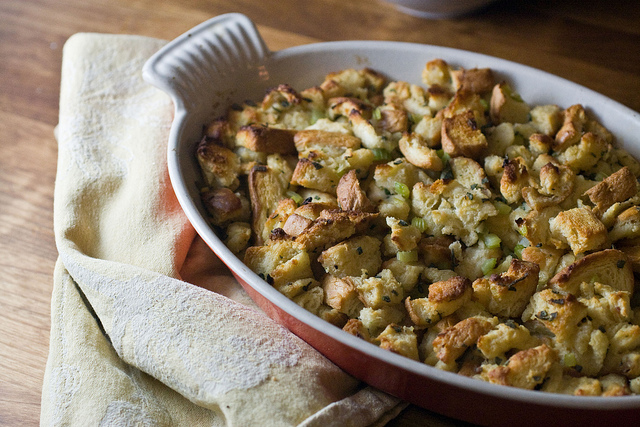 My father didn't just love tradition, he loved ritual. He wouldn't just visit the same city over and over again, he would stay at the same hotel, visit the same restaurant, and order the same dishes off the menu. He was especially particular about holidays: not just turkey gravy and stuffing — GIBLET gravy and this bread stuffing. (Although he called it dressing, even though he also insisted on stuffing the turkey with it.) If we were eating Thanksgiving dinner at someone else's house, my mom always had to roast her own turkey (usually for charity) so we could make giblet gravy and bread stuffing. The man was obsessed.
Thanksgiving morning would see our family gathering around the kitchen table. My father and I would each have a cutting board and a knife — my mother would be standing at the stove, presiding over a large pan of sauteeing vegetables. Dad and I divided up the chopping duties — I took celery and onions, he cubed the loaves of white bread. The kitchen smelled of sage and onions, and we would snitch bits of stuffing — a crust of bread, a cube dipped in the oniony, celery sage butter, before it was ceremoniously added to the turkey, when the smell of poultry and sage would sneak out from the kitchen and fill the whole house.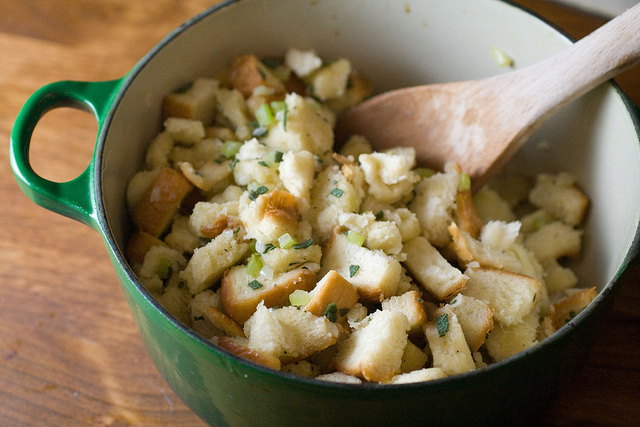 The whole process of making the stuffing was so ceremonial to me that I never even attempted to make it outside of Thanksgiving. This is the third Thanksgiving I've written about on The Domestic Front, and I haven't yet shared with you the most important part of the meal — the sacred stuffing. And yet, this is the first Thanksgiving we'll be celebrating without my dad, and I know he would want the gospel of stuffing (or dressing, OK, Dad?) spread to the masses. And without the ceremony of Thanksgiving morning, without the turkey to stuff and roast — the stuffing proved surprisingly simple to make. Why hadn't I been making this at least monthly? Why wait until Thanksgiving every year?
Well, contrary to my father's expectations and often desires, things change. This stuffing will be on our Thanksgiving table — I hope it will be on yours. And it will be on my table far more often in the future, if only to evoke the memories of two cutting boards, two knives, and a family tradition.

Mike Wheeler's Sacred Stuffing, er. dressing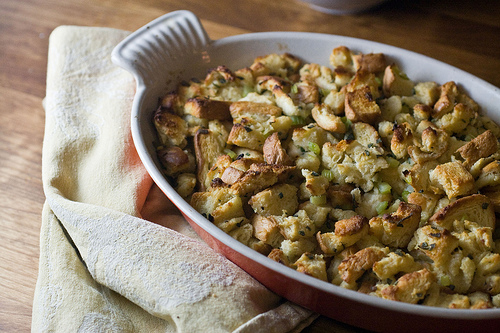 My dad would insist that you stuff your turkey with this, but since most advice now points against stuffing your turkey, and I found I quite liked the crisp top and lack of sog involved in baking it separately, dressing it is. This will make enough to stuff a 15 lb turkey -- omit the stock.
Ingredients
2 large loaves white sandwich bread (pick a bread with some heft -- not like Wonder bread, but not french bread or ciabatta or artisanal sourdough either. I like Milton's brand Country White.)
1 cup salted butter
1 cup minced onion
1 cup chopped celery
1 teaspoon salt
1 teaspoon white pepper
5 tablespoons minced fresh sage
1 cup chicken stock
Instructions
Preheat oven to 350 degrees.
Cut bread into 1 inch cubes, set aside into a large bowl.
In a large and deep skillet (a wok is great), melt butter over low heat.
Add onion and celery. Saute until the vegetables are translucent, but try not to let them brown
Add the salt and pepper and fresh sage, and cook until the sage is fragrant.
Toss the bread cubes with the butter vegetable mixture, using your hands to make sure all the bread is coated in buttery goodness. Tip the entire thing into a baking dish, and pour the stock over it. Bake covered at 350 degrees for 30 minutes, uncovering in the last 5-10 minutes of cooking to let the bread crisp.
This can be made ahead -- just add the stock right before baking and bake right before serving.