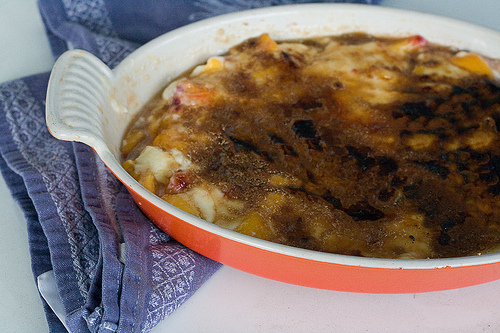 This is not, as you may have divined, one of those recipes that yields beautiful food. Each bit is not an aesthetic delight, and this is not going to grace the cover of any food publication that I know. But what it is is this: deeply, deeply delicious. And EEEASY. So easy that just writing easy was not sufficient.
When Deb over at Smitten Kitchen (which remains to this day on my list of most inspiring food blogs wrote this post about this raspberry gratin I was intrigued. I love variations on berries and cream, and this, with the caramelized sugar, is really the poor man's creme brulee (or given the price of raspberries on the open market, the very very rich man's creme brulee.
Now I LOVE raspberries, but I hold them in such reverence that dimming their flavor with (really, a lot of) sour cream seemed like a bit of a cruel fate. But then, I was visiting one of my favorite vendors at the Hollywood Farmer's Market and their crazydelicious (and very reasonably priced) Tra-Zee peaches called out to me. A ripe peach is delicious and exquisite but not quite the valuable commodity that fresh raspberries are. And nobody can deny that peaches and cream are a classic pairing. And besides, this dish is an excellent way to use those perfect ripe peaches that may have gotten a little squished or bruised on their way home.
I peeled the peaches — to do this the proper way involves slitting the skins in a large cross and blanching them in boiling water, but if you are lazy (like me) and have a good peeler (I have both a Kuhn Rikon Original Swiss Peeler
and an Oxo Good Grips Swivel Peeler
) you can take the peels off by hand. I also added bourbon to the cream, because I've never met a Russian who will turn down a little extra firewater kick, and the whole thing took MAYBE five minutes.
Five minutes to this kind of deliciousness? I'm sold. This is going to be part of my repertoire all summer long. Pretty be da&*ed.

Peaches and Cream Russian Gratin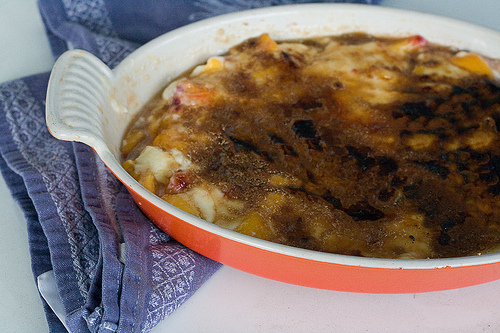 Ingredients
3 Large ripe peaches, peels removed and cut into bite sized chunks.
1 pint (2 cups) sour cream
2 T bourbon
1 cup brown sugar
Instructions
Combine the bourbon and the sour cream in a gratin dish. Fold together the sour cream mixture and the peaches, top with brown sugar. Pop under the broiler (watch it carefully! This burns FAST) until the sugar is bubbly. Eat while warm, when the brown sugar is wonderfully crunchy and grainy, then let the leftovers (if any) sit in the refrigerator where you'll end up with this wonderful peachy cream with liquid brown sugar streaks.
Notes
Adapted from Smitten Kitchen