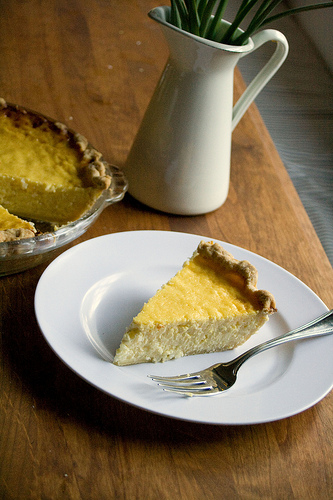 I used to be afraid of pie. The rules about cold hands and precise handling, the rolling and the cracking and the patching and the shrinking – it all gave me hives. But now? I'm over it. I can honestly say that I make a pretty darn good pie crust. What changed?
1. My tools. I swear by my French Tapered Rolling Pin
, for fuss free rolling.
2. My techniques. I roll out between sheets of parchment or plastic wrap. I use this method for making pie crusts in the food processor, but it's even better if I keep back about a third of the butter and mix it in by hand before I add the water, rubbing it in with my fingertips, flattening globs of butter into flakes. Then I add the water by hand, too.
3. My ingredients. I get better results if I use European butter — my favorite is Kerrygold Irish butter. It has a higher fat content than most American butter, and a better butter flavor. Shortening and oil may yield a more tender crust, but what you're giving up in the butter flavor is, IMO, not worth it.
4. My attitude. This is the most important piece. Pie crust doesn't intimidate me any more. I just make it, chill it, roll it. If it cracks, I patch it. If it shrinks, I shrug it off. Pies don't have to be perfect. In fact, they're better if they're not. And nobody refuses homemade pie.
This rice pie is a creamy pie that's part of the traditional Easter meal in parts of Italy. And it could be an Easter dessert for you. The ingredients are easy to find and relatively inexpensive. It slices beautifully, and travels well, and tastes best after chilling and then about an hour out of the refrigerator. Best of all, it's glorious homemade pie with homemade pie crust, and you really can't go wrong with that.
Rice Pudding Pie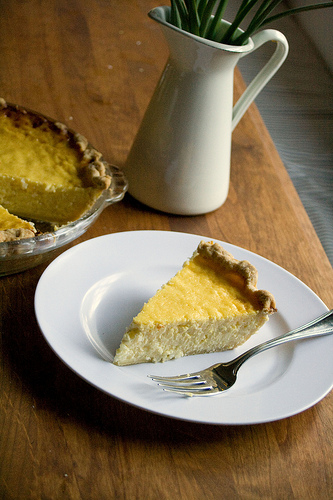 Ingredients
For the pie crust:
9 oz. plain flour
pinch salt
6 oz. Kerrygold salted butter
3 oz. ice cold water
For the filling:
¾ cup short grain white rice
2½ cups milk
½ tsp. salt
½ tsp. lemon zest
3 large eggs
8 oz. (about 1 cup) fresh, whole milk ricotta, drained in cheesecloth (or coffee filter) lined sieve or colander about an hour
¾ c. sugar
1 cup heavy cream
1 tsp. vanilla extract
Instructions
Instructions
For the crust:
Combine flour, salt and about ⅔ of the butter, cut into pieces, in the bowl of a food processor. Pulse about 9-10 times in short bursts, until the mixture resembles coarse, damp sand.
Tip it into a bowl, and rub the rest of the butter in with your fingertips, pinching and flattening pieces of butter until it is incorporated.
Add the water all at once, stir with a fork, and dump the whole mixture onto some plastic wrap. Flatten into a disk, and chill for about an hour.
Roll the dough out between two pieces plastic wrap or parchment, making sure to roll from the center out.
Being careful not to stretch the dough, transfer into a deep, 9" round pie plate, and carefully lift the dough into the corners.
Form the pie crust and crimp the edges, according to the directions in this post. Prick with a fork all over, and chill for about 15 minutes.
Preheat the oven to 350. Line the piecrust with greased foil, fill with pie weights, and bake until set, or about 8 minutes. Carefully remove the foil and weights, and bake the crust for another 6 minutes, or until pale gold and slightly dry looking. Cool the pie crust.
For the filling:
Preheat oven to 350, or leave the oven on after prebaking the crust.
Bring a pot of water with a pinch of salt in it to a boil. Boil the rice about 10 minutes, or until slightly underdone. Drain.
Combine the drained rice with 2 cups of milk, the lemon zest and the salt, simmer over low heat until the rice is cooked through, about 20 minutes (most of the milk will be absorbed).
In a large bowl, beat the eggs, milk, ricotta, sugar, cream and vanilla together until smooth. Add the cooked rice and milk and stir until combined. Pour into the cooled prebaked crust.
Bake until the filling is firm, about 40 minutes. (it's OK for there to be a little wobble in the middle).
Cool, chill in the refrigerator, and serve with a little cinnamon sprinkled over the top.