We've talked about the turkey, we've discussed the stuffing, we've offered how-to's on hosting, but now let's turn our attention to a key element of your Thanksgiving dinner: cocktails! This cocktail, which I have dubbed "Turkey Day" (because why not?) combines traditional elements of a Thanksgiving dinner – turkey (bourbon), sage, cranberry, and just a little bitterness for a complex and not too sweet drink you'll be drinking all fall and winter.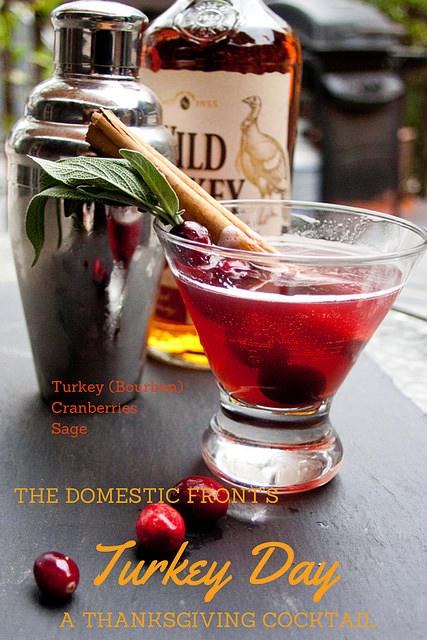 Maybe because I'm the WASPiest of WASPs, but I really think that no family gathering is complete without a dose of alcohol.  Wine is traditional at Thanksgiving  dinner, of course, and my family pours champagne liberally at every festive occasion.   But there's nothing like a good cocktail to get the party started, to make everyone feel festive and loving, to prime the appetite and to get grandma truly loopy.
My cousin who is the family's mixologist (literally – she's a professional mixologist) has recently abandoned us for greener pastures in Texas, so I turned my mind to a cocktail that would be a perfect addition to Thanksgiving dinner.
I generally think that the ideal fall cocktail is the Manhattan, and Manhattans are always great, but they're also very high in alcohol, and I wanted something a little lighter.   I also wanted something that would be more in keeping with the "theme", and incorporated some of the classic Thanksgiving flavors like cranberries and sage. I decided to use Wild Turkey bourbon, because it's not Thanksgiving without turkey (they should hire me to write their ad campaigns) but also because it's a great bourbon for the price – smooth and spicy and not too sweet.
The muddled sage adds not only flavor but also a note of bitterness that's essential in a good cocktail – which should be designed to spark the appetite, not dull it.   The bitterness also helps balance the sweetness and acidity of the cranberry juice. Plus, what's a family dinner without a good dose of bitterness?
The result is a cocktail that's not too strong and not too sweet and serves as a great opener to a holiday celebration.
Turkey Day Cocktail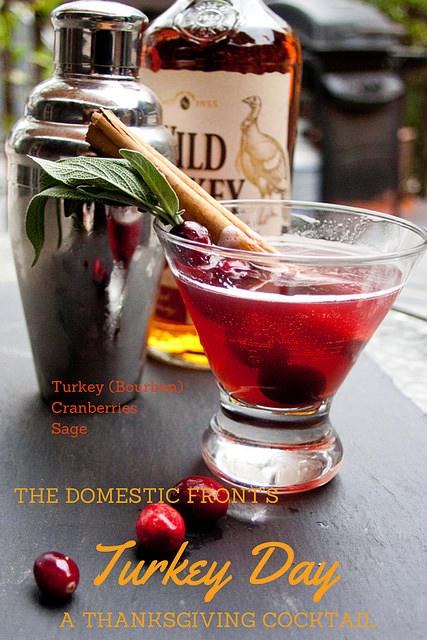 Ingredients
5 fresh sage leaves
2 oz. Wild Turkey 101 proof bourbon
2 oz. cranberry juice cocktail
2 dashes angostura bitters
Ice
Fresh sage, cranberries and cinnamon stick for garnish (optional)
Instructions
In the base of a cocktail shaker, muddle the sage. Add bourbon, cranberry juice and bitters, shake to combine, then add the ice and shake until chilled
Strain into a cocktail glass and serve garnished with fresh sage, cranberries and a cinnamon stick stirrer