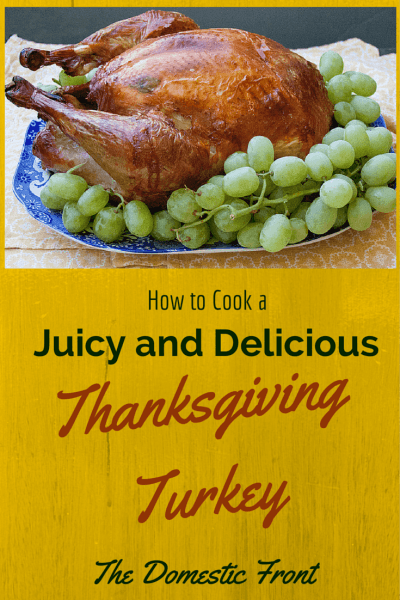 Do you want your Thanksgiving turkey to be the star of the show rather than a dry disappointment?   Do you want to learn how to brine a turkey without wrestling with giant tubs of salt water and worrying about giving your guests salmonella? Do you want a Thanksgiving turkey that tastes like turkey, even with a frozen bird?  Read on.  I've got the solution for you.
Hosting Thanksgiving dinner can be awfully anxiety producing. First, there's the worry about seating logistics – is your table big enough for your number of guests? Do you have enough chairs? (Here's a tip — don't seat anyone who has graduated from high school at the kid's table). Then there's the anxiety about what to serve — Uncle Jim insists on green bean casserole but Cousin Imogen hates mushrooms. Your husband always had mashed potatoes when he was growing up, your brother prefers roasted potatoes and your great aunt Cassie (who isn't really your aunt but everyone calls her aunt anyway because she went to summer camp with your grandfather's sister) thinks potatoes have no place on the table, only parsnips. But nothing creates as much anxiety as the traditional centerpiece of the Thanksgiving table: the turkey.
When I was a kid, nobody really liked turkey. I remember many Thanksgivings of tasteless Butterball birds, on the dry side, that you dressed up with fancy cranberry sauce and  politely choked down a slice before digging into the bread stuffing. When I started hosting my own Thanksgiving dinners, I, armed with this newfangled thing called the internet, set out to make a delicious, juicy turkey that would be a pleasure to eat — a true centerpiece. I read all of the literature — I tried flipping the bird halfway through cooking (have you ever tried flipping a hot turkey? No fun), Tenting it with foil (the bird was very juicy — so juicy it fell apart in the oven and couldn't be carved), lathering it with butter (great, crispy skin, but the meat was still decidely blah) and finally the current conventional wisdom, a wet brine, which involves immersing the turkey in a salt water bath for a few days prior to roasting, assuming that the water will seep deep into the turkey's core. The wet brining was quite a daunting proposition — finding a tub big enough to hold a turkey and the brine, finding a place to put it in the refrigerator (because you don't want to leave a turkey brining at room temperature), and then roasting it only to discover that the turkey was juicy and flavorful, but the brine really cured the turkey, giving it a slightly watery texture and a flavor closer to ham than the roast turkey of my dreams.
How to Brine a Turkey
Luckily for you all, though, I have discovered the secret to how to brine a turkey to yield a flavorful, juicy and EASY turkey, and it doesn't require an industrial walk in refrigerator — the dry brine. I learned about the dry brine from Judy Rodgers in the fantastic Zuni Cafe Cookbook
. A dry brine — which involves salting the meat well in advance of cooking, which first draws the juices out of the turkey due to osmosis, then draws the seasoned juices back in — is the secret to my favorite roast chicken recipe, served at the Zuni Cafe in San Francisco. I reasoned — if the method delivers a delicious, juicy, flavorful roast chicken, then why shouldn't it work on turkey?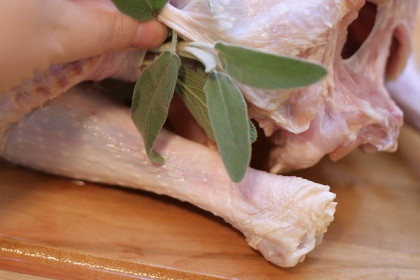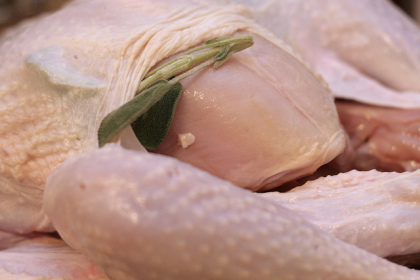 And it does — the skin is gloriously crisp, the meat is firm but not dry, and every bite is seasoned, not bland. Best of all, it tastes like turkey, not like ham, not like some proprietary blend of spices you can get at Crate and Barrel or from Alton Brown, but like roast turkey the way you always suspected it should taste, but it never did. This works fantastically on an organic, free range heritage bird, but it will also yield a lovely, juicy turkey from your grocery store's freezer.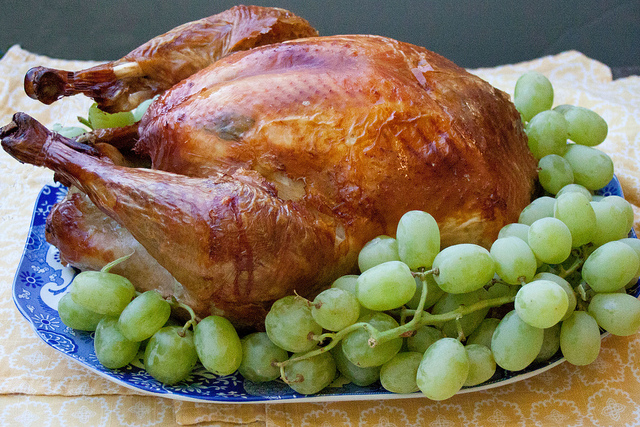 Dry Brined Roast Turkey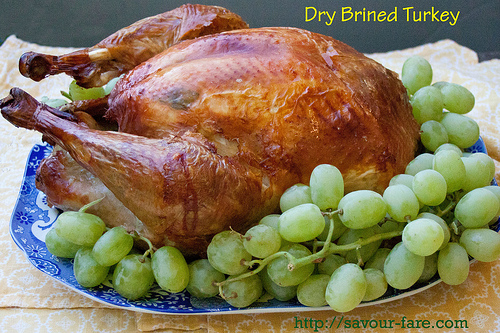 Ingredients
1 8-12 lb turkey
Fresh Sage
Kosher Salt
Instructions
To prepare this turkey, 2-3 days before Thanksgiving, make sure your turkey is defrosted, if you're using a frozen one, and remove the giblets. Rinse and pat dry, both inside and out. Fold the wings under the body. Then use your fingers to create pockets between the skin and the meat on the breast and the thighs. Take sprigs of fresh sage and insert them into the pockets (this is optional, but I think sage is wonderful with turkey and is one of the quintessential Thanksgiving flavors).
Then you take kosher salt and rub it into the turkey. Start with about 1 T of salt per every five pounds of turkey, but you can use more, particularly if you like things a little salty and you're not stuffing the turkey. I rub it into the underside first, then turn the turkey over and rub it into the breast side. Place the turkey on a cookie sheet (since there is some juice runoff, a sheet with a lip works best) and loosely tent with foil (you want good airflow). Then refrigerate for 2-3 days. (A 10 lb turkey was perfectly brined in just 2 days. A larger turkey might take 3. If you're reading this and it's the day before Thanksgiving, do it now. Just know that it won't be quite as delicious).
When you're ready to roast the turkey, preheat the oven to 450. It's nice but not necessary to let the turkey come to room temperature. I tied the drumsticks together with kitchen twine because I think it makes a nicer table presentation, but it's not necessary. Then place the turkey in your roasting pan, and roast. An unstuffed turkey at 450 degrees will take about 8 minutes a pound, but the best way to measure is to have a thermometer in the thigh reach 160 degrees. I have a thermometer similar to this one that stays in the turkey during roasting and beeps when it reaches the preset temperature. This 10 lb turkey took about an hour and 20 minutes. (The USDA recommends 180 degrees, but salmonella is dead after 30 seconds at 160 degrees, and 180 is WAY overcooked.) (Note that this is for an unstuffed turkey. There are different rules about stuffing, which should be cooked to 160 degrees, which means the turkey will most likely be overdone).