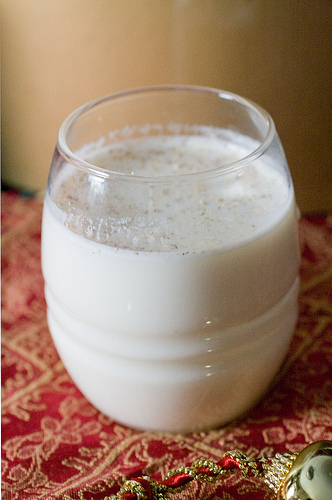 It's time for celebrating! A year has passed that has had its ups and downs, but now we have a whole new year in which to make mistakes, achieve great things, laugh a lot, love a lot, and cook!
I don't know if you remember last year's foodie resolutions, but I've been going back to them this year. Shall we review?
1. I'm going to try 3 new foods I've never tried before (not 3 new recipes, 3 new FOODs. These are reasonably difficult to find.)
I did this! I had durian custard at a dim sum restaurant last spring, geoduck at , and pandan as part of my Thai Market adventures.
2. I'm going to make the perfect Manhattan.
To the extent this is possible, Check
3. I'm going to make a croquembouche.
Yep. I didn't take photos though, but this was my mom's birthday cake this year.
4. I'm going to memorize a recipe for biscuits.
I found a good recipe, but failed to memorize it.
5. I'm going to add at least 3 vegetarian dishes to my regular repertoire.
Check on this. Among more pedestrian fare, I made Jaden's Garlic Butter noodles, substituting tofu for shrimp, several times.
6. I'm going to cook a meal from at least one cuisine I've never attempted.
Well, I didn't go for a cuisine I've never attempted, but I did do a deeper exploration of a cuisine I had cooked from this year.
7. I'm going to shop at ethnic markets.
Check.
8. I'm going to cook with seasonal ingredients.
I'm not at 100%, but cherries in December just seem wrong.
9. I'm going to eat a boatload of strawberries.
Of course! This is a gimme.
10. I'm going to make jam.
Not as much as I would like, but I did make This.
So, now for 2011.
1. I will eat food I've grown in my garden.
This will take cooperation from Ken, our resident gardener. Santa was kind enough to stuff his stocking with heirloom fruit and vegetable seeds to get us started.
2. I will make my own bacon.

3. I will incorporate more healthy dishes in my repertoire.
I often fall prey to the siren song of bacon, butter and cream. While there's nothing wrong with these foods, in moderation, sometimes it's nice to eat something a little lighter.
4. I will cook less, and photograph more.
I want to take the blog not in a new direction, but a more focused one. Rediscover the real purpose of The Domestic Front, if you will. Less time cooking special projects for posting, more time posting about what we really eat.
5. I'm going to shop at farmer's markets.
I already do this, but nothing wrong with renewing my commitment.
6. I will eat more vegetables.
7. I will bake bread.
I have no plans to take over my family's bread consumption, but I like the rhythm of it.
8. I will eat ripe tomatoes all summer long.
Eight seems like a good number, doesn't it? And so I leave you to the last dregs of 2010 with a cocktail recipe for a quieter celebration — hot milk punch. The recipe was given to me by an old friend from my glee club days, who looks dapper in tails and makes a mean cocktail. He's a true Southern gentleman, through and through. It's more restrained than eggnog, more festive than hot chocolate, more comforting than a hot toddy. I like this to drink by myself, with a good book, by a roaring fire, on a quiet evening. But the recipe can be expanded, and made into a communal affair.
Happy New Year!
Recipe
Hot Milk Punch
1 fl. oz. gold rum (I've also made this with dark rum, bourbon and rye)
1 fl. oz. calvados (you can substitute brandy or cognac)
2 teaspoons sugar
8 oz. hot milk
pinch of mace, for garnish (can also be served with nutmeg)
Combine all the ingredients into a mug or sturdy glass, and enjoy.