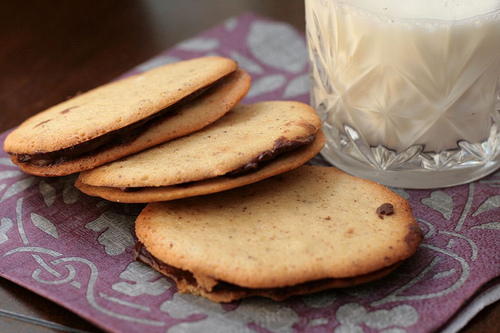 I am woefully behind in posting my Daring Baker's challenge this month, and I am woefully behind in doing it as well. But this weekend I finally screwed my courage to the sticking point and set to work.
The July Daring Bakers' challenge was hosted by Nicole at Sweet Tooth. She chose Chocolate Covered Marshmallow Cookies and Milan Cookies from pastry chef Gale Gand of the Food Network. If you haven't picked up on it, these are both recipes for popular commercial cookies – Mallomars and Milanos. While I do love a good Mallomar, and they are nearly impossible to find in California, I have always had a soft spot for the Pepperidge Farm Milanos, and decided to try my hand at those (with the bonus that they were much simpler, and did not involve making marshmallows, which is not difficult exactly, but is very, very messy. At least in my kitchen.)
Of course, being in the dog days of summer and feeling somewhat lackadaisical, I mixed up the recipe techniques quite a bit (I've linked to the original recipe below, and posted my changes) which resulted in chewy, buttery sandwich cookies that were nothing like Milanos (mostly in texture – these were NOT crunchy) but tasted fantastic all the same. They certainly disappeared in my house. I was lucky I got to take any pictures.

Brown Butter Sandwich Cookies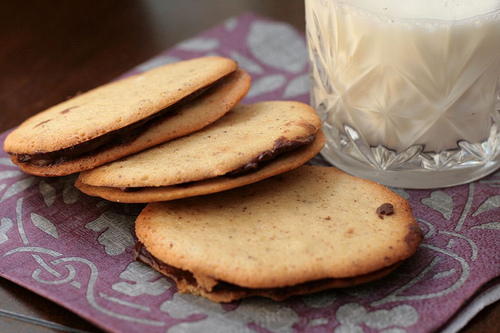 Ingredients
For the Cookies:
6 ounces salted butter
2.5 cups powdered sugar
6 egg whites
2 T vanilla extract
1½ cups all purpose flour
Cookie filling, recipe follows
Cookie filling:
4 ounces semisweet chocolate
1 ounce butter
Instructions
For the cookies
In a small saucepan, melt the butter, and cook, over medium heat, until the butter is fragrant and has taken on a rich nutty brown color. Set aside and cool. Beat the egg whites until frothy, add the powdered sugar, vanilla and brown butter and beat until combined. Add the flour, stir until just mixed, and spoon mixture onto cookie sheets lined with parchment. Bake at 350 degrees 10-11 minutes, or until the edges are golden brown.
For the Filling:
Melt the butter and the chocolate together over low heat until smooth.
To assemble the cookies:
Match up cookies until you have reasonably matching pairs. On one side of each pair, brush a layer of chocolate to edges of cookie. I like to keep the chocolate relatively thin so it doesn't overwhelm the flavor of the brown butter. Sandwich together with pair.
Notes
Note: the original Gale Gand recipe can be found here: http://thedaringkitchen.com/recipe/mallows-and-milans-cookies I will admit that several cookies got eaten in my household before I got around to sandwiching them at all. If you have more self-restraint than we do, you might want to double the filling recipe.