The night my father died, I made dinner. It was a new recipe I was trying, a salad of roasted root vegetables, topped with a salmon filet, broiled in mustard. It was in the oven when my mother called, asked my husband to head to their house – my father had fallen again, and she needed help getting him up. He had been in and out of the hospital this fall, with complications from the flu, all complicated by his emphysema. The long periods of inactivity had cost him strength in his legs and he had fallen – more than once – had got back up, and kept going. That night was no different. I finished making dinner, fed the Nuni. Ken called me, told me he was going to help my mom get my dad upstairs. I put the Nuni down, and waited for my husband to come home. And instead I got a phone call. That my dad had collapsed, that the paramedics were there. I raced over to my parents' house, and held my mother's hand. As the paramedics came downstairs with somber faces. As the funeral home took away my father's body. As we drank many many glasses of scotch, in shock and in disbelief and in his honor.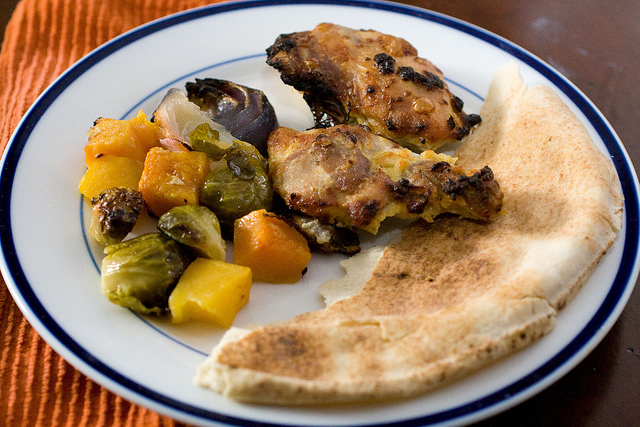 I didn't eat that dinner. Everything from before is before, and this is now, and everything is different. As my mother said, "How will I ever feel like cooking again?" Friends and family have come out of the woodwork, offering company and comfort and solace and meals. But we have found ourselves, my mother and I, slowly drawn back into the kitchen. Soothed by the solace of stirring, the rhythm of chopping and kneading. There is something so concrete about cooking. It is a task that requires active involvement, and concentration, so that your mind does not wander to other things, other images.
I was not prepared for the physicality of grief. It hangs inside you, like a small dense singularity. You feel like something is sitting on your chest. It is exhausting to carry around this weight, to struggle against being consumed by it, and every night I find myself collapsing into bed, worn out by the effort of grieving. I was not prepared for the fact that grief is a feat of endurance. That you need your resources to power through, that a night of lost sleep, or a day of poor eating, can be distastrous, and end in torrents of tears.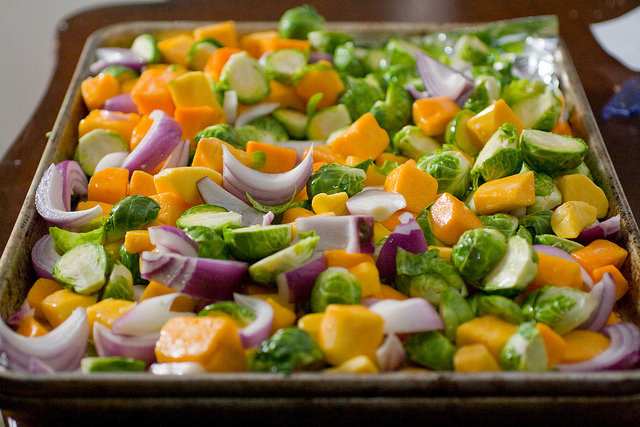 This dish, from Food and Wine, is nourishing. It takes the effort you want to put into it — whether that is the precision of cubes of squash, perfectly peeled sprouts, ora rough chop of unpeeled vegetables, blasted in a hot oven. It can be expanded to feed many or last for a week as leftovers. It is wholesome, with vegetables and chicken, yogurt and spices, and comforting, with the sweetness of onion and squash, the plain and unchallenging chicken resting atop. It offers the blessings of straightforwardness — there are no secret ingredients or tricky techniques. The chicken and vegetables shine on the plate, uncloaked by the platitudes of a rich sauce. It's a dish that doesn't make things better, but it does provide you the resources to keep on.

Curried Chicken Pan Roast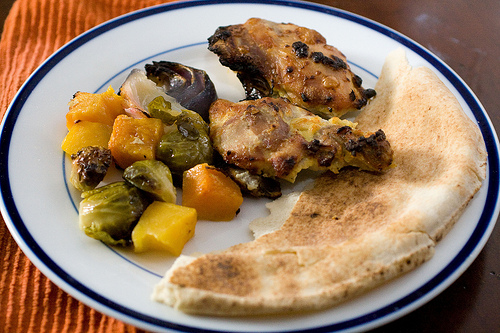 Adapted from Food and Wine You can use peeled and cubed butternut squash here, as the original recipe calls for, or kabocha or delicata with the skin still on, cut into chunks.
Ingredients
1 pounds winter squash in 1 inch cubes
1 pound brussels sprouts, halved
2 large red onions, peeled and root and stem ends removed, and cut into vertical wedges
½ cup neutral oil, such as grapeseed or canola, or olive oil if that's what you have, divided
Salt and pepper
½ cup plain Greek yogurt
1 tablespoon minced fresh ginger
2 large garlic cloves, minced
2 teaspoons Madras curry powder
2 pounds skinless, boneless chicken thighs
Pita bread or Naan, for serving
Instructions
Preheat the oven to 450°.
Toss the squash, onion, sprouts and ¼ cup of the oil. Spread onto a half sheet roasting pan lined with foil, and season liberally with salt and pepper.
Using the same bowl, combine the ginger, garlic, curry powder, yogurt and remaining ¼ c. of oil and stir to mix. Toss the chicken in the yogurt mixture, and arrange on top of the vegetables.
Roast for about 45 minutes, until the vegetables are tender and the chicken is browned. Serve with pita bread or naan.