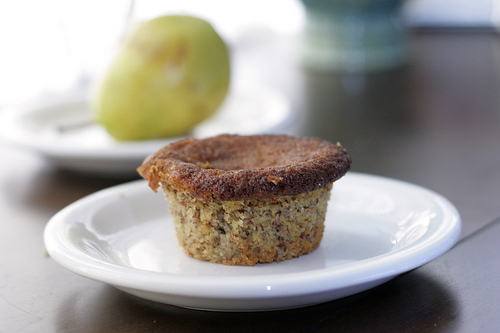 The Nuni just started preschool a few weeks ago. My baby is growing up! Generally she's very happy and excited about school, because there are not one, but TWO slides and also there is a play kitchen. This new development does bring with it all sorts of new questions, such as "How many changes of clothes do I need to send each day because she will get the clothes she wore to school covered in paint?" or "Is it normal for a two year old to talk about kissing all the boys in her classroom?" or "Why does she keep telling the teachers that other kids' jackets are hers?" The most important question of all, though, is what to provide for that time-honored ritual – the after school snack.
I pick Nuni up from school right at the start of rush hour, and our trip home can be LONG, so I have to make sure I'm carrying something that can be eaten in the car, which means that has a low choke risk (because I'm a paranoid parent) and ideally, some good fat and protein, since my skinny minnie has been running around all day (did I mention there are TWO slides?). Cheese is the obvious answer, but it's often rejected — I wanted something that would be appealing but still pack a nutritional punch. When talking with Stephanie of Wasabimon and Karen of Fickle Feast about gluten free baking, I got the idea to use nut flours to up the protein content in a standard muffin, which also has the added bonus of turning the standard muffin into something else entirely.


These pear and almond muffins are part muffin, part pastry (the base is very similar to frangipane, and the pear and almond combination is a classic French patisserie flavor) and part cupcakes (at least if you have a toddler who is obsessed with cupcakes). They're sweet but not too sweet, rich, and incredibly moist from the pear and the almonds, with a pleasant grainy texture that comes from both the pears and the almond meal. Plus, they're gluten free, so if you know someone who is allergic to gluten or otherwise avoids it, these are a perfect sweet treat. Even if you're not avoiding gluten, these are pretty perfect sweet treat. In fact, it was awfully hard to save them for the Nuni and not eat them all myself, but that's parental love for you. She was thrilled with her afternoon cupcakes, as the crumbs all over the back seat of my car can attest.
Gluten Free Pear Almond Muffins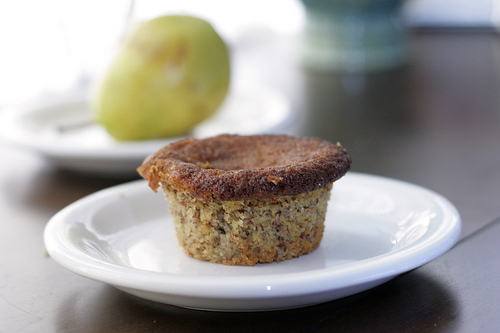 Ingredients
¾ cup ricotta, preferably at room temperature
2 large eggs, preferably at room temperature
½ teaspoon pure vanilla extract
1 stick (4 ounces) salted butter, melted and cooled
⅔ cup sugar
2 cups almond flour or almond meal (I buy this at Trader Joe's and it is inexpensive, but you can also make your own by grinding almonds with some of the sugar in a food processor)
2 teaspoons baking powder (Rumford's brand is Gluten Free)
¼ teaspoon baking soda
½ teaspoon salt
2 ripe bartlett pears, peeled and cut into ½ inch chunks.
Instructions
Preheat the oven to 400 degrees. Prepare a muffin tin with butter and flour/bakers joy/paper muffin cups.
Whisk the ricotta, eggs and vanilla together, then stir in the melted butter.
In a large bowl, combine the sugar, almonds, baking powder, baking soda and salt. Gently but quickly fold in the ricotta mixture. Lumps are OK. Add the pears.
Divide the batter evenly among the muffin molds, slide the pan into the oven and bake 20 to 25 minutes. Test a muffin with a toothpick -- it should come out clean.
Notes
These muffins don't store beautifully at room temperature for more than a day or two, so if you plan to eat them over the course of a week I would keep them in the refrigerator.