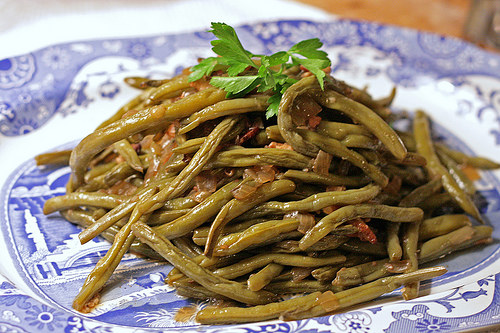 I love entertaining — planning a menu, choosing the flowers, setting the table, conversation with friends. Unfortunately, neither I nor any of my friends have the time for an actual dinner party these days. What with jobs that keep us until all hours of the night, and kids with strict schedules and elaborate bedtime rituals (mine just took an hour and a half to go to bed — she was convinced there were "scary robots" in her room) we're lucky to have a quick coffee break or lunch date these days.
So when Kelsey, the Naptime Chef, whom I had the pleasure of meeting at Blogher Food invited me to a virtual dinner party, I was THERE, wineglass in hand. A dinner party that doesn't require me to clean my house first? Count me in.
Even better, this dinner party is for a good cause. We're celebrating the release of Park Avenue Potluck Celebrations a cookbook edited by the wonderful Florence Fabricant which benefits Memorial Sloan Kettering Cancer Center, a leading institution on cancer research and treatment. I'm relatively young but I have several friends who have dealt with cancer, some who have won their battles, some who are still fighting, and one who lost, but all of them have been helped by the type of research carried on at Sloan Kettering.


It helps that this cookbook has all sorts of great recipes like the one below for green beans that cooked all night (and if you want additional recipes from the cookbook and the virtual dinner party, check out Kelsey's blog). These green beans may not look pretty, but they make your house smell divine, and they taste how green beans SHOULD taste, with the smokiness of bacon, the sweetness of onion, all balanced by good vinegar. They don't take much active prep time, and they reheat beautifully (if you make it that far. I admit to eating several cold straight from the fridge.)



So if you're looking for a cookbook to give as a gift this holiday season, think about making this the one. It's for a good cause, after all. Pull up your chair to our virtual dinner party and raise a glass. I'm toasting to knowledge, to friends and to family. To S, S, G and to J. To life.

Slow Cooked Green Beans
Ingredients
2 ounces smoky bacon, diced
1 medium onion, diced
2 pounds green beans, trimmed
6 tablespoons white wine vinegar (cider vinegar also works)
Salt and freshly ground black pepper
Instructions
Preheat the oven to 200 degrees.
Place the bacon in a 3-quart oven proof pan over medium heat. Add the onion and cook until the bacon and onion are lightly browned. Stir in the beans, vinegar, and 1 cup water and bring to a simmer. Season to taste with salt and pepper.
Place in the oven, and bake, covered, for at least 2 hours (I ended up cooking for 3, but the first two were uncovered, which slowed the cooking process), basting from time to time, until the beans are very tender.
Serve immediately or remove from the oven and reheat just before serving.