Does anything say "fall" more than apples? One of my favorite rituals when I lived in New England and New York was to hit the apple orchards every September, picking my own apples, sampling different varieties (my favorite was the New York empire apple) and filling my sacks (always multiple sacks) with dozens of sweet, juicy, crunchy apples. The aroma would fill my dorm room or apartment, and I would be supplied with snacks for weeks to come. Sometimes I would turn the apples into an apple cake, or applesauce, or baked apples, but mostly the apples were the perfect snack: sweet and crunchy and portable.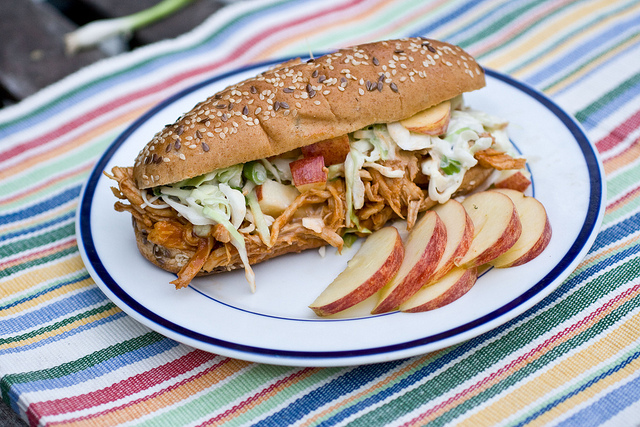 Now that I have a small person running around the house, apples are even more of a staple. The Nuni thinks nothing of grabbing an ever present apple out of the fruit bowl, and since they're so healthy — full of soluble fiber and vitamin C, with built in portion control, I keep them around all the time. They're also great to pair with other healthy snacks, like cheddar cheese or peanut butter.
When Kitchen Play and the U.S. Apple Association asked me to develop a healthy and family-friendly entree made with apples, I was thrilled. Apples are a great snack, sure, but their crunch and nice balance between tartness and acidity makes them a great addition to many savory foodstuffs too. I elected to make a barbecue pulled chicken recipe using apple cider and apple cider vinegar, paired in sandwiches with a crunchy coleslaw that's brightened with chunks of sour sweet apples. The ones I had available were Gala apples, but this would be great with any firm and crunchy apple — my beloved empires, fuji apples, or even granny smith.
This is a great recipe to share with the family. The Nuni ate it up and pronounced it "yummy", my husband loved it, and my mom asked for seconds. It comes together quickly, and makes great leftovers for brown bag lunches the next day.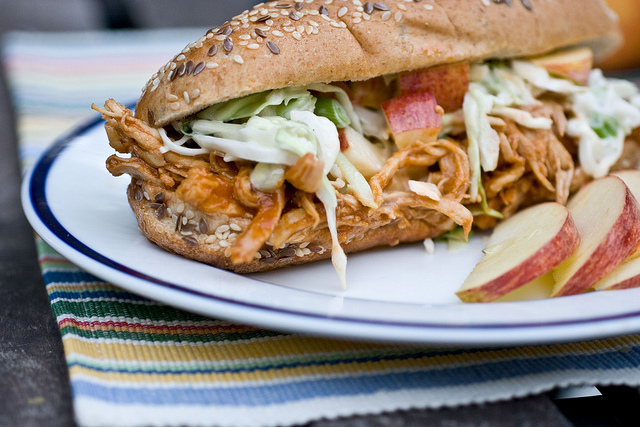 Apple Cider Pulled Chicken Sandwiches with Apple Slaw
Ingredients
For the chicken:
½ medium onion, finely chopped
1 T butter
1 cup apple cider, divided
½ c. apple cider vinegar
½ c. ketchup
2 T mustard
2 T brown sugar
pinch salt
½ tsp cajun seasoning
1 lb boneless skinless chicken breasts
4 whole wheat rolls
For the slaw:
1 apple (the vinegar helps prevent browning of the apples, but you may want to toss the chopped apple with lemon juice if you're not going to eat it right away)
3 scallions
1 lb shredded cabbage
¼ c. apple cider vinegar
⅓ c. mayonnaise
1 T. sugar
salt
Instructions
Prepare the chicken:
Put onion and butter into a large deep saucepan or dutch oven. Cook over medium heat until the onion is translucent. Add ½ cup apple cider, vinegar, ketchup, mustard, brown sugar, salt and cajun seasoning into pan and bring to a boil over high heat. Add chicken breasts and additional apple cider to cover, cover the pan and cook over low heat for about 15 minutes, or until the chicken is cooked through. Remove chicken from pan, shred with 2 forks, and return chicken to the sauce in the pan.
Meanwhile, make the slaw
Chop the apple into small chunks, and finely mince the scallions. Combine the apple, scallions and cabbage into a bowl. Add the vinegar, mayonnaise, sugar and salt to taste.
Assemble the sandwiches
Open 4 whole wheat rolls. Fill each roll with shredded chicken, drizzle some excess sauce over the chicken, then top with the slaw and serve.
I'm writing this post and creating this recipe as part of a partnership between Kitchen Play and The U.S. Apple Association. They have compensated me for my time and cooking expenses but my opinions and tastes are my own.