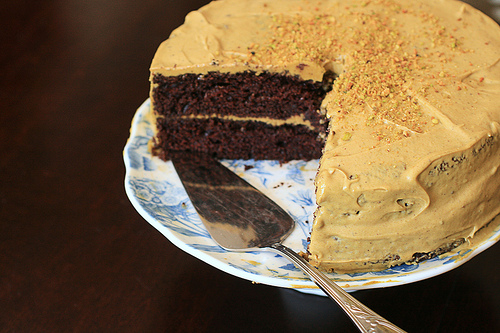 Early fall kicks off birthday season in my family. Somewhere in there, my darling girl turned FOUR. When I started this blog, she was not yet two, a round cheeked, lisping toddler, and now she is a full blown kid, with opinions and ideas and a personality all her own. Also in there, I turn, well, let's just say considerably older than four, and leave it at that.
I am of the school of thought (and trust me, the Nuni shares this with me) that in order to properly celebrate a birthday, you need cake. Not pie, not pudding, and not even cupcakes. But an old fashioned, frosted layer cake. And it's nice to have a simple one you can whip out of your oven for just such occasions.
This is the easiest, most foolproof chocolate cake recipe I've ever made. I remembered an old internet acquaintance who happened to be one of the best bakers I've ever "met" making an offhand comment that her go-to chocolate cake recipe was a Black Magic cake. It was invented by Hershey's, requires no fussy chocolate melting, or butter creaming. It's just wet ingredients, dry ingredients, mix, pour into pans, and boom, you're left with a meltingly moist cake. The cocoa powder and the coffee add that deep dark chocolate flavor, and the cocoa, coffee, oil and buttermilk all make it wonderfully moist. This is the cake to make for anyone's last minute birthdays.
And because every cake deserves to be tarted up with frosting, I made this intensely flavored roasted pistachio buttercream frosting. The color is real, not artificial, from eight ounces of pistachio nuts. The frosting is very soft and fluffy at room temperature, but firms up nicely in the refrigerator, so plan accordingly, depending on how firm you like your frosting. The key to getting the frosting really smooth is to grind the nuts in the food processor for a good long time. I used olive oil in the frosting, because I thought the green color and peppery flavor would add a nice kick to the frosting.
Foolproof Moist Chocolate Layer Cake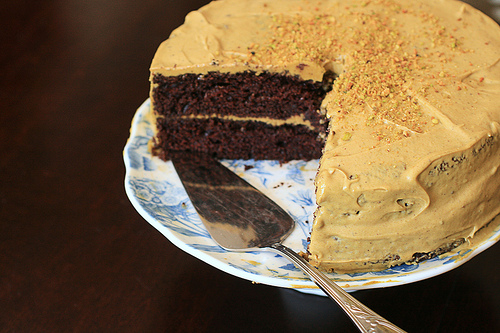 Ingredients
2 cups sugar
1-3/4 cups flour
¾ cup cocoa powder (not dutch processed)
2 tsp baking soda
1 tsp baking powder
1 tsp salt
2 eggs
1 cup buttermilk
1 cup strong black coffee
½ cup vegetable oil
1 teaspoon vanilla extract
Instructions
Preheat oven to 350 degrees. Grease and flour (I used Baker's Joy or an equivalent product) 2 9-inch cake pans.
In a large mixing bowl (or the bowl of your stand mixer), combine the sugar, flour, cocoa, baking soda, baking powder and salt, and whisk to combine.
Add eggs, buttermilk, coffee, oil and vanilla, beat for about 2 minutes. The batter will be thin. Divide evenly between the pans (if you're bad at eyeballing, a kitchen scale helps admirably with this) and bake for 30 to 35 minutes, or until a toothpick inserted into the middle of the cake comes out clean (or with a few crumbs, no batter).
Cool the cake layers in their pans for about 10 minutes, then turn them out and cool thoroughly before frosting and assembling.
Notes
Cake Recipe thanks to Hershey's.
Pistachio Buttercream Frosting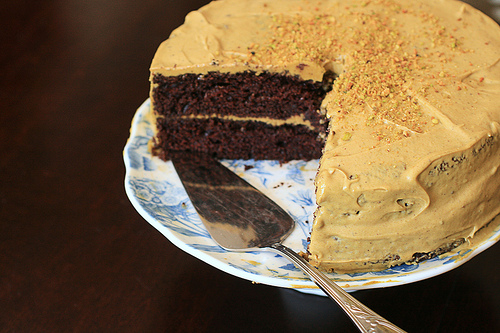 Ingredients
8 oz. roasted unsalted pistachio nuts (I buy them shelled from, you guessed it, Trader Joe's)
2 T granulated sugar
6 T powdered sugar, divided
1 tsp olive oil
3 T honey
1 cup unsalted butter
Pinch of salt, to taste
Instructions
In a large food processor, process the pistachios and the granulated sugar until very fine. Take out a few tablespoons of the ground pistachios to decorate the cake, and set aside.
Add 2 T powdered sugar and the olive oil, continue processing until the nuts are smooth. Add the honey, and continue to process until the paste is smooth to taste, and not grainy. Add the butter and the remaining powdered sugar and beat until combined. Chill.