So let's talk about bacon. Apologies to my Muslim, kosher and vegetarian friends, but I'm going to level with you — Bacon is good stuff. Smoky, salty, a little sweet, with an edge that can only be described as "porky". And the aroma! The smell of bacon frying is one of the most intoxicating scents in the world. It makes your mouth water just thinking about it, doesn't it?  Take that bacon thought and add sweet chocolate and deep, dark, slightly salty caramel and you get the ultimate in guilty pleasures – these bacon salted caramel brownies.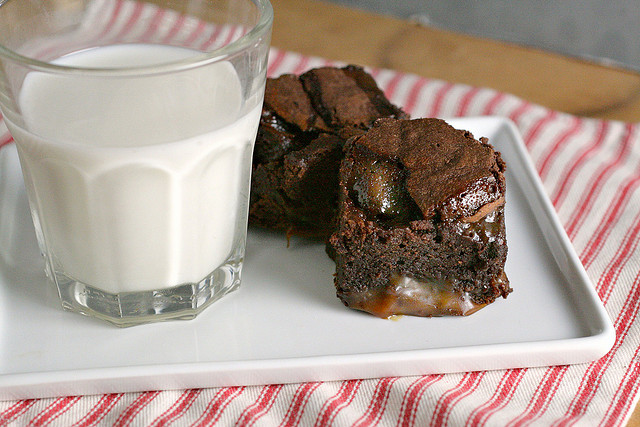 Bacon has also become ubiquitous. Whether it's "home cured pork belly" at a fancy restaurant, or hiding in vegetables, pastas, or chicken noodle soup, bacon has become the it ingredient. It's even showed up in desserts — the maple bacon doughnut at Voodoo Doughnut in Portland, Oregon was probably one of the earliest examples, but a quick browse through Tastespotting will reveal recipes for bacon brittle, bacon snickerdoodles, bacon cupcakes and even bacon macarons. I wish I could be all foodie snob and turn up my nose and say "Bacon is so DONE. It doesn't actually go with EVERYTHING," but the truth is that I, too, have been seduced by the beast. You may have noticed bacon popping up in recent and not-so-recent recipes, but I have never crossed into the dark side to feature bacon in a dessert.
Until now.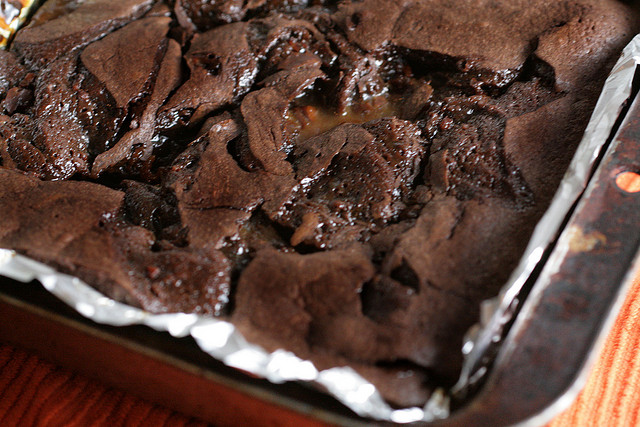 Bacon Salted Caramel Brownies. You may be skeptical. I was. Bacon in a dessert? And a chocolate dessert? Bacon doesn't make EVERYTHING better. But my friend Rebecca happened upon this particular flavor combination when a colleagues dulce de leche brownies were put into a lunchbox with a bacon sandwich, and the aroma of the bacon flavored the brownies. "You must make these," she said. And the idea struck a chord in my mind. Bacon Salted Caramel Brownies. Maybe it was a Twitter chat hosted by Scharffenberger chocolate, or a girlfriend telling me that David Lebovitz had told her that if she were going to try any one of his recipes, it should be the Dulce de Leche Brownies, or Alice Currah's Bacon Caramel Bar recipe, but Bacon Salted Caramel Brownies appealed to me, and I couldn't get them out of my head.

I started by frying some bacon, with its crisp crackle in the pan. And then I added it to my favorite salted caramel recipes, and infused the caramel with the scent and flavor of the fried rashers. And then I added the bacon (although it was all I could do not to eat the caramel covered bacon all on it's own. And then, I made Mr. Lebovitz's excellent brownies recipe, and added thick, rich dollops of salty, sweet, slightly bitter caramel, all suffused with the smoke and meatiness of bacon. These aren't just brownies any more. And they're not a novelty dessert. They're something else entirely.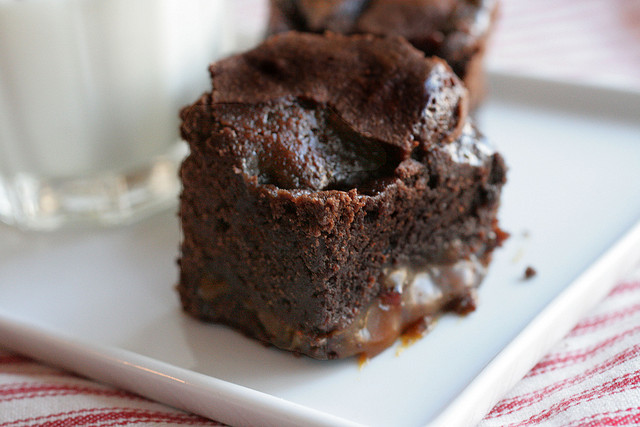 Bacon Salted Caramel Brownies
Ingredients
Recipe: Bacon Salted Caramel Brownies
Summary: Adapted from David Lebovitz, Inspired by Rebecca
Ingredients
For the salted bacon caramel:
2 slices bacon
½ c. heavy creamv
1 c. sugar
6 T. salted butter
For the brownies:
For the Brownies:
8 T salted butter, cut into pieces
6 oz. bittersweet or semisweet chocolate, finely chopped
¼ cup unsweetened Dutch-process cocoa powder
3 large eggs
1 c. sugar
1 tsp. vanilla extract
1 c. flour
Instructions
In a small saucepan, fry two slices of bacon until crisp (I find it's easiest to do this when the bacon is cut in half). Remove bacon, set aside, reserving bacon grease in the pan. Add cream to hot pan and let cool. When bacon is cool, crumble or chop finely.
In a larger pan, heat the sugar over high heat until the mixture is liquid and a deep amber color. Add the butter and the cooled bacon cream all at once, and stir until the butter is melted. Add the chopped bacon and let the mixture cool thoroughly.
Preheat the oven to 350 degrees.
Line an 8 inch square pan with two sheets of aluminum foil that covers the bottom and sides of the pan. Grease the foil with butter or a little Baker's Joy.
In a large microwaveable bowl, melt the butter and the chocolate together in the microwave (start with 30 seconds, and stir thoroughly, then microwave for 10 seconds at a time, stirring between each bout of nuking, until the chocolate is melted and incorporated into the butter) (You can also melt them together over the stove). Add the cocoa and whisk until smooth, then add in the eggs, one at a time, and the sugar, vanilla and finally the flour. Stir only until combined.
Scrape half of the batter into the prepared pan. Then drop about a third of the bacon caramel, evenly spaced, over the brownie batter in the pan. It doesn't have to cover the whole batter, but should be in splotches. Spread the remaining brownie batter over the top, then drop spoonfuls of the remaining caramel sauce over the top of the brownies and swirl.
Bake for 35 to 45 minutes
Cut into small pieces and enjoy the gooey, salted caramel bacon goodness.
And a housekeeping note, congratulations to Carole, #45, the winner of the
Auberge of the Flowering Hearth
. Check your email, Carole!