don't know what it says about the general depravity of my childhood that when I think back to my favorite Christmas cookie growing up, it has to be bourbon balls.  I loved that aromatic whiff of bourbon, the soft chew with that crunch of sugar crystals.  They were a specialty of my French Canadian grandmother, Memere, and I begged her to make them every Christmas.  I love these so much that when the L.A. Times held its first inaugural Christmas cookie recipe contest, I entered these bourbon balls – and won!  These no-bake Christmas cookies are the real deal.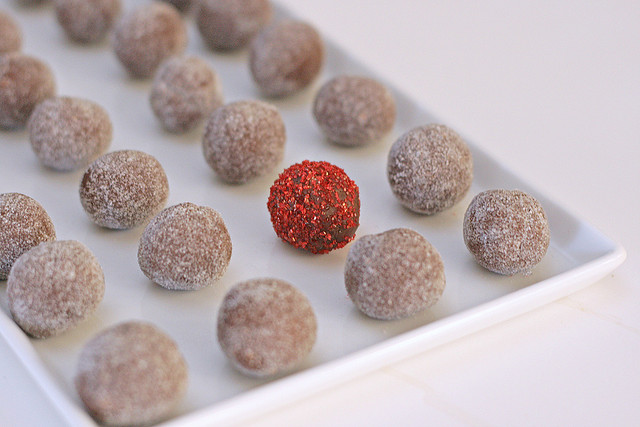 When Memere used to make these, I'd look forward to them with eager anticipation. One year she decided to stop making them, (holiday cookies aren't really my grandmother's thing) and I attempted them myself (with my mom's supervision — my childhood wasn't THAT depraved) but sadly the proportions of the recipe were off, and they failed miserably, so I went bourbon ball-less. Until about 7 years ago, when I discovered this recipe. I've made bourbon balls every December since.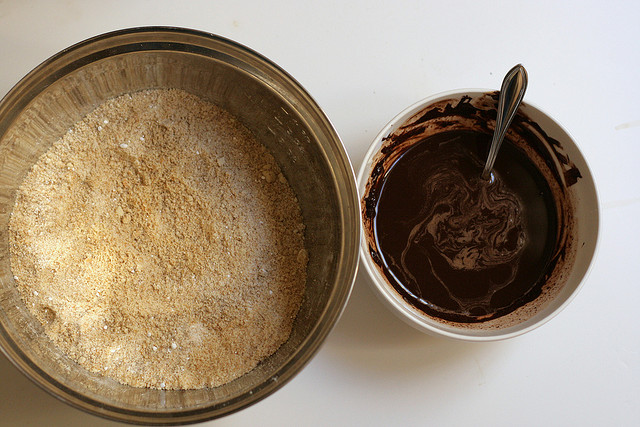 The irony is, of course, that as an adult, bourbon is not my liquor of choice — I much prefer scotch or rye and will go so far as to substitute one of those in a cocktail traditionally made with bourbon. But there's something seductive about the way it pairs with chocolate and I wouldn't make these with any other liquor. (That's my hangup though – feel free to substitute rum or brandy or even orange juice but understand that these are called bourbon balls because they contain bourbon and I make no guarantees of the tastiness of any other liquid choice).
They're really more of a confection than a cookie — there's no baking involved. And while I won't deny that they are quite boozy when first made, they do mellow after a day or two and the bourbon flavor melds with the chocolate, vanilla and pecans. They keep for about a month, so they're also a great gift for the holidays, and they come together quickly.
You just might want to avoid giving too many of them to children. Although they might ask or even beg for more.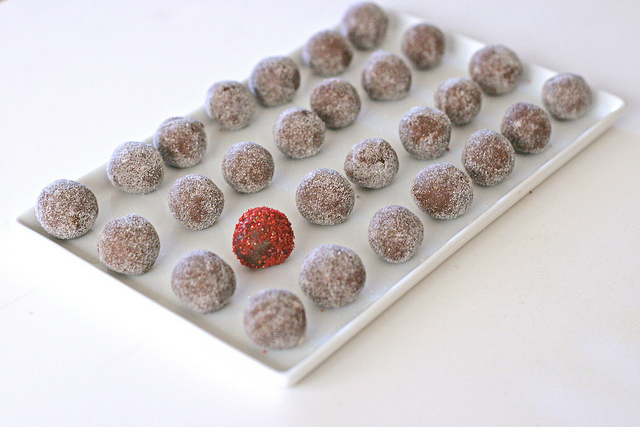 Bourbon Balls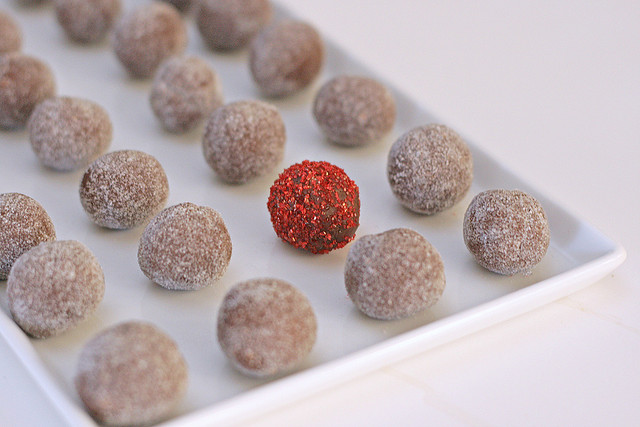 Ingredients
10 oz. Nilla wafers or graham crackers, crushed into crumbs (about 2.5 cups crumbs -- I grind them up in the food processor)
1 c. pecan halves, ground finely in a food processor
½ c. powdered sugar
6 oz. chocolate chips
½ c. bourbon
3 T. golden syrup or light corn syrup
Instructions
Combine cookie crumbs, ground pecans and powdered sugar.
In a microwaveable bowl, microwave the chocolate until it's melted (I usually do it for 30 seconds, then in 10 second intervals, stirring between each interval, and stop before they're totally melted because they'll melt as you stir). Add in bourbon and corn syrup and stir to combine (the chocolate will seize a bit and the bourbon won't incorporate well. Just do the best you can).
Add the chocolate mixture to the crumbs mixture, and stir until thoroughly combined. Chill at least 30 minutes.
Pour some granulated sugar into a dish. (For the red bourbon ball, I used red sanding sugar, but it didn't adhere to the cookies as well as the regular granulated sugar, and it also didn't taste quite as good). Form the chocolate mixture into small balls the size of grapes, and roll each ball in the sugar.
These will store for up to a month in a lidded container.