I don't know if I have an old fashioned palate, or if it's my inner historian, or if I'm just plain curious, but whenever I hear about a recipe or a dish that is extinct my mouth starts watering. I love poring through old cookbooks and finding recipes for foods that you just don't see today — prune whip, creamed chipped beef, blancmange, Welsh rabbit. But this particular forgotten dish — Nesselrode Pie — piqued my interest like no other.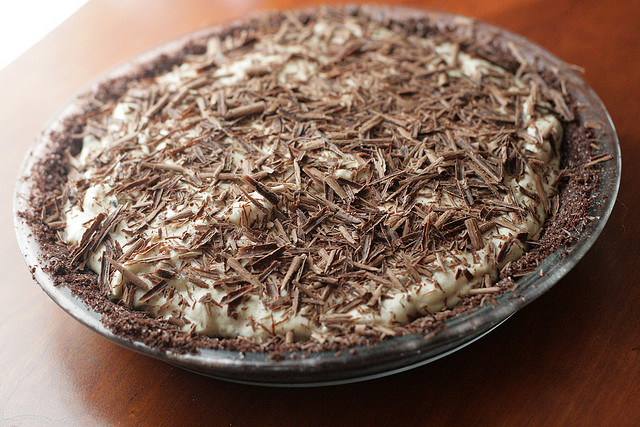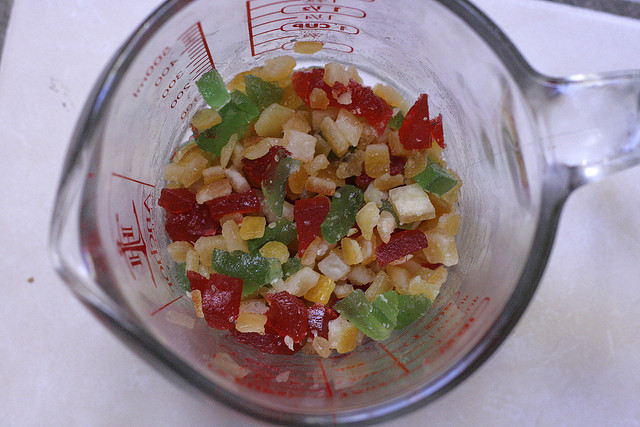 If you've been reading this blog over the past few weeks, you may have noticed that I am drawn to holiday recipes that feature booze or candied fruit peel or chocolate, so when I heard about Nesselrode Pie — a cream pie flavored with rum and candied peel and garnished with chocolate — I pretty much thought that I may have found the ultimate holiday dessert. Traditionally, Nesselrode (named after Count Karl Nesselrode, a 19th century Russian diplomat) featured candied chestnuts or chestnut puree (also traditional to the holidays) but for whatever reason (probably largely related to the shocking labor and therefore expense associated with candying chestnuts), Nesselrode Pie, which was popular in New York in the 1940's and 1950's, became associated with candied fruits (no chestnuts) and rum.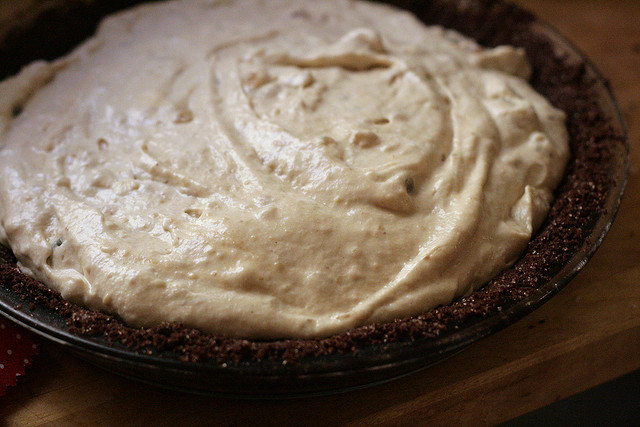 Most of the recipes I could find featured a product called "Nesselro", which contained candied fruits (including cauliflower, which supposedly mimicked the texture of chestnuts) in a rum flavored syrup, which I though I had tracked down a few years ago at the Vermont Country Store but which sadly seems to be unobtainable. Instead, I scoured the internet for recipes and combined them into one I thought would be a decadent holiday pie and an excellent alternative to the pumpkin and pecan you see this time of year.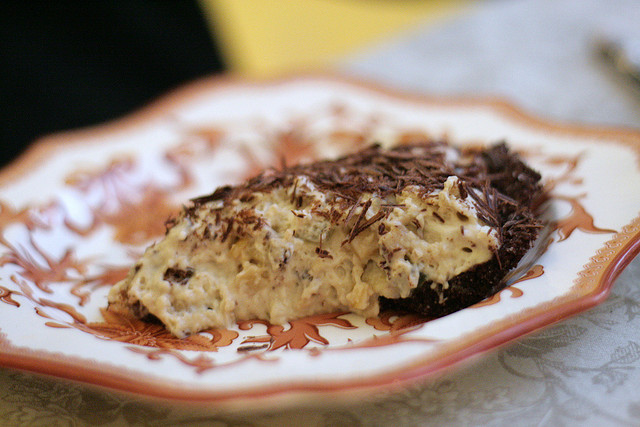 I can't promise that it's authentic — I've never tasted another Nesselrode Pie. But I can say that when my mom tasted it she said "This tastes like my childhood." And I can promise that if rum and fruit and chocolate float your boat, this will be the holiday pie for you.

Nesselrode Pie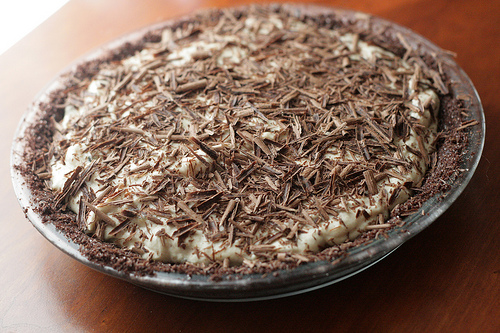 Ingredients
For crumb crust:
1½ c. chocolate cookie crumbs (I used Trader Joe's chocolate cat cookies)
2 T sugar
½ c. butter
For the filling:
½ cup finely diced candied fruit (I used red and green pineapple for color and texture and candied orange peel)
⅓ cup rum
1½ c. heavy cream, divided into ¾ c. and ¾ c.
3 egg yolks
2 T sugar
1 tablespoon gelatin
⅓ cup cold water
½ c. sweetened chestnut puree
1 teaspoon vanilla
3 egg whites, beaten until stiff
Instructions
For crumb crust:
Process sugar and crumbs in food processor.
Melt butter, combine with sugar and crumbs.
Press into a 9 inch pie plate until firm (I use the bottom of a glass to press it in.
Bake at 325 degrees for about 15 minutes, let cool.
For the filling:
Pour rum over the fruits, let macerate for at least one hour.
Bring ¾ c. cream to a simmer. Beat egg yolks with sugar until pale yellow. Whisk in part of the hot cream, then return the eggs to the remainder of the cream and whisk over low heat until the mixture is thickened. Fold in chestnut puree.
Meanwhile, sprinkle the gelatin over the cold water in a small bowl. When the gelatin has absorbed the water and the custard is thickened, whisk the gelatin into the cream and eggs mixture. Refrigerate until firm.
Break up the firmed custard with some vigorous stirring. Beat the egg whites until stiff and whip the remaining cream. Fold the macerated fruits (with the rum), the whipped cream and the beaten egg whites into the chestnut custard mixture. Pour into the prepared pie shell.
Chill until firm, and garnish with curls of chocolate.