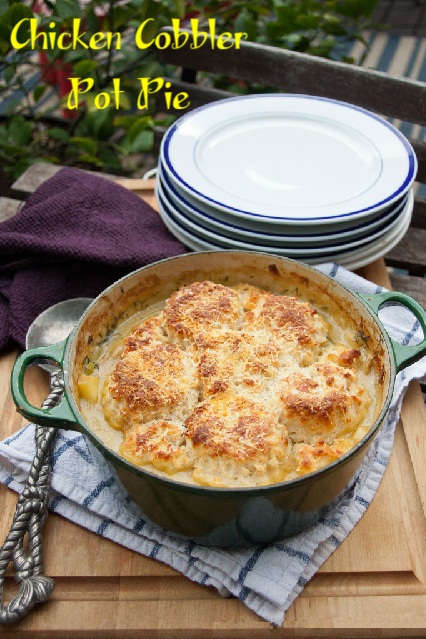 There are things I love, but I'm too lazy to make them often. Chicken and dumplings – a relatively simple dish — just seems exhausting to me. Cooking all that chicken! Making that soup! (Fortunately, my mom makes it relatively often, and usually invites me to share.) Then there are dishes that could be fairly straightforward to make, but that just don't appeal to me. In this corner is chicken pot pie. I always want to like it — what's not to like? Chicken, vegetables, gravy … but I always imagine it sitting like a lead weight in my stomach. (I think it's the combination of pie crust and gravy. There's a reason fruit pies are classic). During our recent spate of cold(ish) weather, I was mooning about what comfort food I'd like to make, and it hit me. A cross between Chicken and Dumplings and easy Chicken Pot Pie — chicken, vegetables, gravy, all topped with a savory parmesan biscuit cobbler topping. And this is the real genius part — it's made with rotisserie chicken, so it's EASY. I had to pat myself on the back.

I started my pot pie filling with the standard onions and celery in butter, but instead of carrots (good) I added parsnips (better, with a nutty, haunting flavor, but you can sub in carrots in a pinch). Added the flour for thickener, chicken broth, some fresh dill (if you don't like dill, add some thyme instead), grated parmesan and your chopped up cooked chicken. (In full disclosure, I baked up some chicken quarters I had in the freezer (40 minutes at 400) and shredded those, but rotisserie chicken would work just as well). Then the topping is some quickly thrown together buttermilk biscuit dough. Since the filling is already cooked and hot, you only need time in the oven to cook the biscuits through, and dinner is on the table. (You can also make the filling ahead of time, chill in the refrigerator, and warm it on the stove before adding the topping and baking.)
The end result is as satisfying as I had imagined — creamy, savory gravy, fluffy light biscuits, and a less-than-exhausted cook. That's comfort food I can get behind.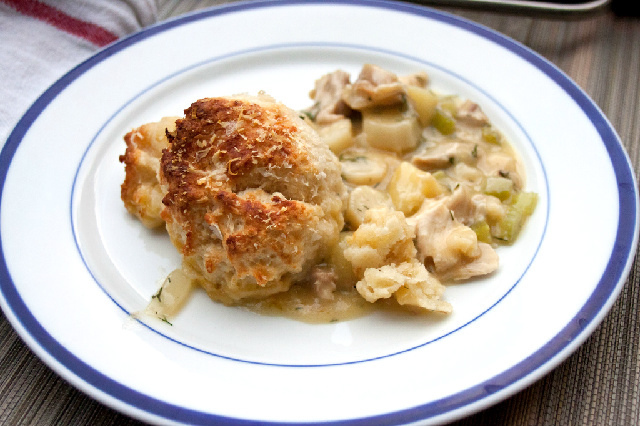 Chicken Cobbler Pot Pie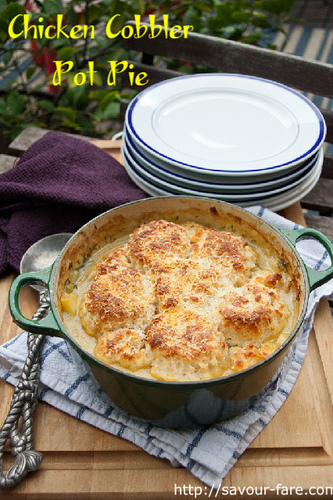 Ingredients
Filling
3 Tablespoons butter
1 cup diced parsnip (you can substitute carrots)
1 cup diced potato
1 cup diced celery
1 cup diced onion
3 Tablespoons flour
pinch salt
3 cups chicken stock (A note about chicken broth/stock -- I use almost exclusively the organic, free-range but not low sodium chicken broth from Trader Joe's. It is deep golden and very chickeny - the next best thing to homemade (both the nonorganic and low sodium versions are anemic in comparison.) A decent supermarket brand is Kitchen Basics.)
3 cups cooked cubed/diced/shredded chicken
3 Tablespoons fresh dill (can substitute in fresh thyme to taste -- probably closer to 1-2 tsp.)
¼ c. grated parmesan
Topping
1 cup flour
1 tsp baking powder
½ tsp baking soda
pinch salt
¼ c. parmesan plus more for topping
4 Tablespoons butter, cut into cubes
⅔ cup buttermilk
Instructions
Preheat the oven to 400 degrees.
Filling
In a 2¼ quart dutch oven, melt the butter, add the vegetables and a pinch of salt, cover and cook, stirring frequently (you can take off the cover to stir) until the vegetables are almost tender (about 3-5 minutes). Add the flour and stir to coat the vegetables. Cook for a minute longer.
Add the broth and cook, stirring frequently, until thickened. Add the chicken, parmesan and dill.
Topping
In a large bowl, mix the flour, baking powder, baking soda, salt and parmesan. Using a pastry cutter or two knives, cut the butter into the flour mixture until the mixture is crumbly.
Stir in the buttermilk, and mix until the mixture is a damp dough and the flour is incorporated.
Pat into a rough circle, about 1.5 inches tall, and cut into rounds.
Place the rounds on top of the pot pie filling (fill in any gaps with scraps) and sprinkle a couple additional tablespoons of parmesan over the top.
Bake at 400 degrees 20-30 minutes, or until the biscuits are deep golden.