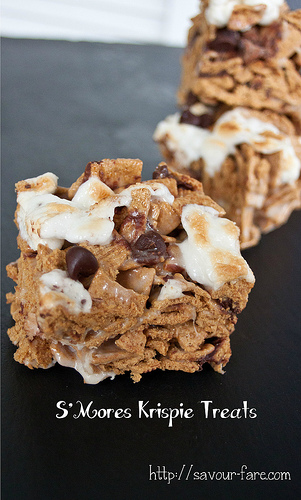 Well, we've survived our first PTA bake sale. The Nuni is in kindergarten this year, and we decided to make the leap to public school, and in California with its constant budget crises, it's a real leap of faith.* Our neighborhood school has struggled in the past — our zone is pretty socioeconomically challenged, but it's turning around, due in no small part to the efforts of the parents, who raise money for playground equipment, art and science education, classroom supplies — all those things we took for granted when we went to school. I figured I'd pay my dues, maybe bake something once in a while, and toddle off to my full time job, letting the PTA moms work their magic.
Then my husband signed us up to be chairs of the hospitality committee, and lo and behold, we weren't just baking for the fall bake sale, we were RUNNING the fall bake sale.
Now, I've been involved in a few food blogger bake sales, and they are wondrous. Hand pies, Momofuku Milk Bar creations, bacon wrapped grissini, butterscotch budino, homemade bread. PTA bake sales are different. The customers at PTA bake sales are kids. Healthy living and Michelle Obama aside, what kids want is sugar, and lots of it. They don't care about how many hours it took to make something. Kids want to maximize their sugar per dollar value, so the bigger the better. They also like candy (presumably on the theory that candy contains the densest concentration of sugar), or anything resembling candy — our biggest sellers were chocolate dipped marshmallows that looked like ghosts. Cupcakes are also a hit – the more frosting, the better.

If you find yourself in charge of a bake sale, here are the lessons Ken (who did the actual selling) imparts (in his words):
1) they like bigger things overall, subject to exceptions;
2) they will snap up unwrapped brownies that they can see instead of brownies in baggies (even cute Halloween baggies) that obscure the brownie goodness;
3) they love cute crap: exhibit a) put chocolate eyes on a marshmallow peep, dip the bottom in chocolate and put yellow/orange sprinkles on the chocolate and put the whole thing on a stick, and people will pay as much as they will pay for a cupcake three times the size; exhibit b) put a mini-hershey bar and a graham cracker and a marshmallow in a plastic bag and call it a s'more and voila, major seller;
4) but kids LOVE cupcakes — biggest seller by far — bonus points for cupcakes made to look like pandas by use of white icing and chocolate chips;
5) they simply do not go for oatmeal-raisin cookies when things like brownies and fudge and cupcakes are on offer;
6) sprinkles make almost anything sell better;
7) nobody likes pound cake (except for one random kid who bought nine slices when I dropped the price on them — I think he thought he had hit the lotto);
8) cake-pops, even cute ones, do less well than expected, because of rule number one;
9) they LOVE rice-krispie treats — bonus if they have candy in them;
10) sugar cookies without sprinkles are a dead end, whereas shiny sprinkles will triple sales (see rule 6).
These S'Mores Krispie Treats were my contribution to the bake sale. They are easy to make. They are big. They have visible chocolate AND marshmallows. They recall not one but two favorite childhood treats — S'Mores and Rice Krispie Treats. And they are sweet. They are very sweet. My husband called them diabetic shock in a convenient bar form. In other words — PERFECT bake sale fodder. And they got snapped up (though not as fast as those little ghost pops, but I don't have the patience to make those.)
Despite the overwhelming sweetness, there's something very appealing about these — the gooeyness, the blend of sugar and salt, the pop of chocolate — that makes them pretty irresistible. Even if you're not five years old.

S'Mores Krispie Treats: the Bake Sale Sweet Spot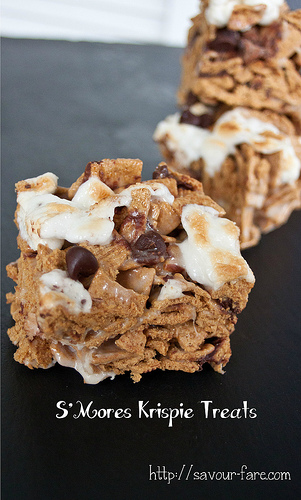 Inspired by Pinterest, where everything is either s'more related or a dessert mashup
Ingredients
2 (16 oz.) bags mini marshmallows, divided
1½ sticks (12 Tablespoons) salted butter
pinch salt
1.5 (12 oz.) boxes of Golden Grahams cereal
1 12 oz. bag semi sweet chocolate chips
Instructions
In a large pan, melt the butter. Add all but 1 cup of the mini marshmallows and the salt, and stir over low heat until the marshmallows are melted. Reserve the remaining marshmallows.
In a large bowl (or in the pan where you melted the marshmallows, if it's big enough), toss the Golden Grahams cereal with the marshmallow mixture until the cereal is coated. Add all but ½ cup of the chocolate chips and mix until the chips are evenly distributed throughout the mixture.
Grease and line with parchment a 13X9X2 inch pan. Press the marshmallow mixture into the pan, making it as even and flat as possible. Sprinkle the reserved chocolate chips over the mixture, and the reserved marshmallows over the chocolate chips.
Place the pan under the broiler (watch for the parchment burning) for about 30 seconds, or until the marshmallows are toasty brown. Chill thoroughly before cutting into squares, but serve at room temperature.
*I try not to get political here, but if you're in California, please consider voting in favor of Prop 30 and Prop 38. They won't both be enacted, but the schools are pretty desperately in need of funds, and these kids are the future doctors, business owners and teachers in California.