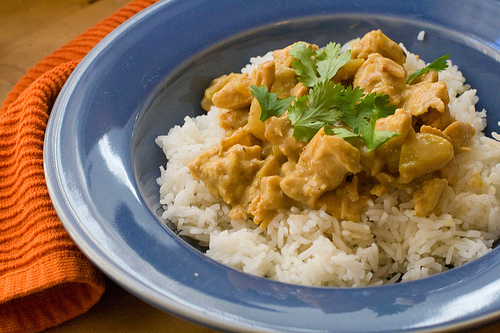 I grew up in the kitchen. From a tender age, I watched my mother cook dinner every night, and began "helping", by stirring a sauce here, adding a pinch of herbs there. But soon I began branching out on my own. I have a very clear memory of pulling the kitchen chair over to the counter so I could make myself a peanut butter and jelly sandwich, which is a staple for any kid. As I got older and I was allowed to do crazy things like use a knife or turn on the stove, my preparations got more elaborate (grilled cheese!). And then there was the night I actually cooked dinner for my entire family. And this is what I made.
Chicken curry. Not an authentic, subcontinental masala, but a simple, 1960's version of the classic, cribbed from my dad's old Better Homes and Gardens cookbook. The recipe calls for chicken that has been previously cooked, so not only is it another great use for leftover roast chicken, it also is a great recipe for an adolescent me to cook without running the risk of poisoning my family with undercooked chicken. The rest of the ingredient list includes pretty standard and nonthreatening pantry ingredients — apples, onions, butter, flour, milk, chicken broth, and curry powder (I always use Sun brand Madras curry powder, which is the same kind my mom kept around when she was growing up).


This can be dressed up and served with a whole host of condiments — bowls of chopped scallions, raisins, toasted coconut, sliced bananas, mango chutney and dry roasted peanuts — or it can be served simply, over rice for an easy weeknight dinner. It's an easy recipe to remember, and an easy recipe to master. And it's great to teach your kids.
Now it's the Nuni who pulls a chair to the counter to watch me cooking. And I let her stir. And when she's old enough to use a stove and a knife, I'll teach her this recipe.

Chicken Curry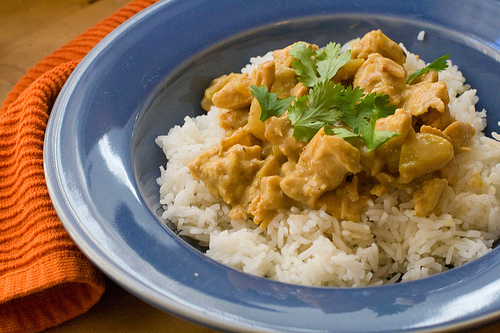 Ingredients
2 T butter
1½ c. finely chopped apple
½ c. chopped onion
1 clove garlic
2 T flour
2-3 tsp. curry powder
1 tsp. salt
1 c. milk
1 c. chicken broth
2 c. cubed cooked chicken
Instructions
Melt butter in a large saucepan.
Add apples, onions and garlic. Cook over medium heat, stirring frequently, until onions are translucent, then add flour, curry powder and salt and cook for a couple of minutes.
Add milk and chicken broth and cook, stirring periodically, until the sauce has thickened, about 15 minutes
Add chicken and heat through. Serve over rice.
Notes
Adapted from Better Homes and Gardens