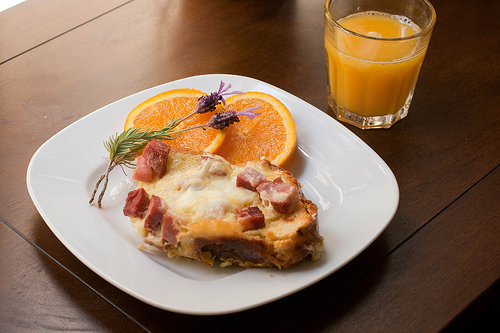 I don't really understand the marketing of Mother's Day. I see all these floral pastel cards and delicate lacy handkerchiefs and early morning breakfast in bed and advertisements for "brunch" and "afternoon tea" with fussy hats implied. Let me set the record straight. I am a mom, and I know a lot of moms. An informal survey of what our ideal Mother's Day would look like involves 1) sleeping in; 2) a pedicure with some celebrity gossip magazines; 3) sushi; 4) chocolate and 5) lots of wine. Maybe this holiday doesn't sell so well on a greeting card, but it sounds pretty awesome to me. Too awesome to be an also-ran Mother's Day. Maybe I will name it something else, like "Saturday". And it will fall once a week.
If your Mother's Day veers towards the more traditional, or you're trying to fill the time between pedicures, sushi and wine, try cooking brunch at home, and avoid the overpriced and overcrowded restaurant brunch options. (For more on this, see Brooke of FoodWoolf's insider's take on the restaurant Mother's Day brunch. If you're not feeling confident in your hollandaise sauce, or you're a late sleeper yourself and don't want a giant fuss in the morning, this is the brunch dish for you.

It's a variation of a baked french toast dish that you might have seen before — eggs, dairy, a rich bread. But instead of going the sweet route, like most baked french toasts, I go savory, and make it French toast, with the addition of ham and gruyere cheese, reminiscent of a croque monsieur. The dish can be assembled the night before, and in the morning, all you have to do is pop it in the oven, put on a pot of coffee (Moms like coffee, too), arrange some fruit on a plate, and serve it with a smile.
It won't hurt if it comes with a spa gift certificate, a bottle of champagne and a box of chocolates, either.

Savory Baked French Toast Croque Monsieur (with Ham and Cheese)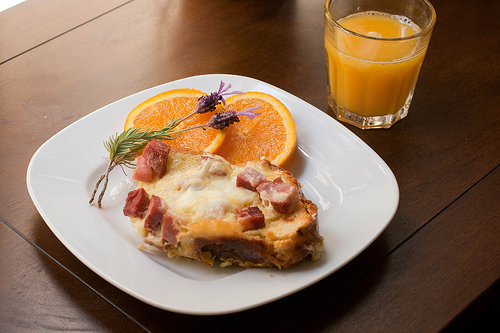 Ingredients
1 loaf challah bread
6 eggs
1 c. milk or half and half
8 oz. thick cut smoked ham, cut into cubes
5 oz. gruyere cheese, grated
Instructions
The night before:
Slice the challah into approximately 8 slices, and lay them in a flat layer in a 10x13 dish.
Sprinkle the ham cubes and cheese over the challah.
Mix the eggs and milk together, pour over the bread, ham and cheese. Cover and refrigerate overnight.
The morning of:
Preheat the oven to 350 degrees. Bake the french toast, uncovered for 30 minutes, or until the liquid is absorbed.
Notes
inspired by my friend
Kas
's sweet baked french toast