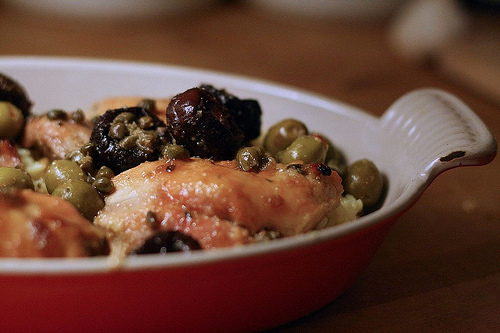 When I was a teenager, I used to spend hours reading through my mother's cookbooks. (OK, I still do that. When I'm over at my parents' house my mom and I will curl up on the couch with a pile of cookbooks between us. My husband thinks we are weird.) I liked the ones with gorgeous photos (The Best of Gourmet: 1987
), or glimpses of my mom's childhood (Better Homes and Gardens Junior Cook Book
) but my favorite reading cookbook was hands down The Silver Palate Good Times Cookbook
. Its detailed drawings, urbane quotations, and side snippets about canapés and life in New York City added up to glimpses of a glamorous life where people dined at Le Cirque, dug clams in the Hamptons and ate shad roe at catered parties.
Years later, I moved to New York, and although the Silver Palate was long gone (save for a somewhat sad line of raspberry vinegar and hot fudge sauce most readily available in the food section of Filene's Bargain Basement), I was eager to sample that glamorous New York. Sadly, I found I did not like Shad Roe, I knew nobody willing to share their grand Hamptons house, and my apartment was far too small for the type of party that merited catering. I did eat at Le Cirque though – it was mildly disappointing – my duck was overcooked.
What I had from that glamorous New York of the early 80's was the cookbooks themselves – the Silver Palate Good Times Cookbook and its sister, the original Silver Palate Cookbook
. Full of recipes with retro appeal that contain those hallmarks of glamorous 80's food – lots of olive oil, lots of garlic, lots of capers, and lots of complexity without a lot of esoteric ingredients. (As a side note, when did the 80's become retro? Was it around the time when the Cosby Show started airing on Nick at Nite? If I still enjoy watching the Cosby Show without irony, does that mean I'm old? I still want to be Claire Huxtable when I grow up. Only with fewer children.)
Chicken Marbella may be THE classic Silver Palate recipe. Chicken pieces are marinated (in a lot of garlic, olive oil and capers, of course) with olives and prunes, and then braised in white wine (a nice Chardonnay – is that not the quintessential drink of the 80's?) The thing is, although the flavors are BIG and BOLD and not really trendy (where is the miso?) it's a classic for a reason. Despite how weird the combination sounds, Chicken Marbella is delicious – it hits the right balance between salty, sweet and tart. And it's a total breeze to make as well.

I usually don't make this on a weeknight, since it has to cook for 40 minutes, but there's no preparation time – it's all done the night before (which also makes this a great dish for dinner parties.) The night before you want to cook the Chicken Marbella (or the morning of – it really doesn't matter), combine olive oil, vinegar, oregano, garlic, capers and add in the chicken to marinate.

When you're ready to cook, preheat the oven to 350, throw the chicken and the marinade, into a baking dish, top with brown sugar and add white wine or vermouth. We rarely drink white wine in the winter in our house, and I hate to open a bottle just for cooking. When I'm faced with a recipe that calls for white wine and I don't have a bottle open already, I use white vermouth instead – it stores longer than wine, adds a nice herbal note, and is relatively inexpensive. Plus, I always have the makings for a martini in the house. I would not, however, recommend substituting red vermouth for red wine, as red vermouth is significantly sweeter than dry red wine. Bake for 40 minutes. At this point your entire kitchen will smell like Chicken Marbella. That's a good thing. The brown sugar melts and forms a lovely crust on the top of the chicken which removes any need for browning before the braise. The prunes plump up and take on a tang from the vinegar and the wine.
I like to serve this over something that will soak up the juices. Couscous is a good option, but my favorite is rice pilaf. When the chicken comes out of the oven, I arrange it on a platter on top of the rice, then pour over all the juices. I usually serve it with a light green salad – bitter greens are particularly good to cut through the richness of the chicken.
Chicken Marbella can be great served at room temperature, and travels beautifully for lunch the next day. A little glamour can really brighten up the workday.
Chicken Marbella -- A Modern Classic
Ingredients
⅓ c. olive oil
⅓ c. red wine vinegar
1 c. prunes
½ c. olives – Spanish olives are best, with the pimento stuffing
½ c. capers, drained
2 T oregano
3 T minced garlic
1¼ lbs boneless skinless chicken thighs, trimmed of large visible pieces of fat.
⅓ c. brown sugar
¾ c. white wine or vermouth
Instructions
Instructions
Mix all the ingredients for the marinade in a bowl or large Ziploc bag. Add the chicken and toss to coat. Marinate overnight or at least eight hours.
When you want to prepare the chicken, preheat the oven to 350 degrees.
Pour the chicken and the marinade, with all its components into an ovenproof baking dish. Sprinkle the brown sugar thickly over the top of each piece of chicken. Add wine, being careful not to disturb the brown sugar.
Bake 40 minutes or until chicken juices run clear when pricked with a fork. Remove chicken to a platter with some rice pilaf or another starch, and pour remaining juices over the top. Serve with a simple green salad, making sure each portion has some chicken, some prunes and some olives.