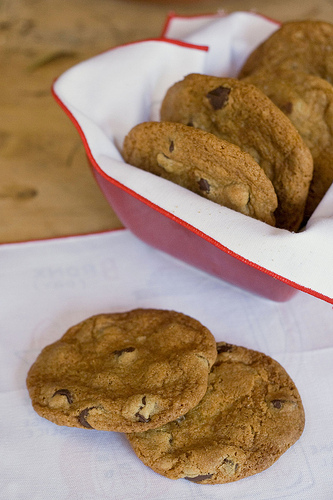 The Nuni has been quite complimentary lately, perhaps working under the theory that flattery will get you everywhere. She rarely turns off the charm – her father is greeted at the end of a long day with "Nice shirt, Dad!" and I can't get dressed without a running commentary from "Those are pretty earrings mama" to "I LOVE those shoes! Those are my FAVORITE shoes. They are SO shiny." Of course, sometimes she takes it a bit far, like when she said, right in the middle of Trader Joe's, "I like your boobs, mom." The compliment that really makes my heart go pitterpat, though, is when, after eating something I've made, she turns to me, face serious, and says "You're a really good cooker, mom."
I am a good cooker. I work long hours in my day job, I commute an hour each way, I clean my house, converse with my husband, read to my daughter, and I still manage to get a home cooked meal on the table for dinner six nights out of seven. It's not always something fancy — sometimes it's as simple as a quick casserole or an omelet. Do I always feel like cooking dinner at the end of a long day? No. But to me, there is value in providing a home cooked meal. It is healthier for my family's bodies and our bank account. It teaches my daughter creativity and self-reliance. Cooking is a fundamental human activity, and it makes me feel connected to generations of people all over the world. But most of all, I cook for the joy of feeding people I love. Food can provide memories and comfort and sustenance. It can be surprising, and eye opening. And it can give people, in the memorable words of Shauna James Ahern at IFBC, "joy in the belly." And it is tremendously satisfying to be able to provide that.
And that is why I write this blog. I don't have a gimmick, or a niche. I'm not cooking my way through a cookbook, or writing about some exotic aspect of my life. I am just an ordinary person who likes to feed people. I write about the food I'm cooking, the recipes I make, because I want to share them with you. I'm under no illusion that it will bring me fame or fortune. No Hollywood Producer is going to come knocking on my door, eager to make a movie of Confessions of an Urban/Suburban Mom with a Garlic Addiction (though if I'm wrong, email me — I have some great casting ideas!) I write about food and cooking so that I can give you joy in the belly, and the tools to create it for yourself. "You" began as my friends and family who live far away, and became people I never met, people I've only met because I write the blog, and you, you who are reading this right now. I try to become the friend who passes on her recipes, who gives you advice in the kitchen, who gives you that extra bit of confidence and savoir-faire you need to get in the kitchen. When I'm writing a post, and taking pictures of the food I've made, I'm cooking for you, and I hope you can take the inspiration and knowledge from this blog to cook for the people you love, to find joy in the kitchen.

Today I've made you chocolate chip cookies. If I could eat only one dessert for the rest of my life, it would be chocolate chip cookies. They were the first thing I remember making as a child, at my mother's side, and they are what I make with the Nuni. Chocolate Chip Cookies are home, and childhood, and love, and joy in the kitchen. These are chocolate chip cookies the way they were meant to be – chewy, with crisp edges and the perfect balance of salt, sweet, and bitter chocolate. They stay chewy for days, if they last that long, and you'll find yourself making them again and again. Like most The Domestic Front recipes, these are easy and quick – they can be made in those few minutes you squeeze out between your other commitments. You can make them with your children, or for yourself. And know, as you make them, that they are made with love, and that you, too, are a really good cooker.
Chewy Chocolate Chip Cookies with Brown Butter and Sea Salt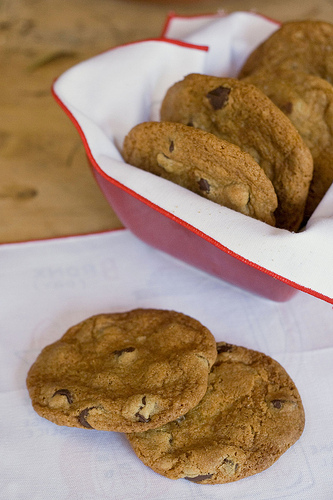 Ingredients
1 stick salted butter
½ cup brown sugar
¼ cup white sugar
1 egg
2 teaspoons vanilla
1 cup plus 2 tablespoons (5.5 ounces) all purpose flour
1 teaspoon baking soda
1 teaspoon salt
6 ounces semi sweet chocolate chips
Sea salt, for garnish
Instructions
Preheat the oven to 350 degrees. While the oven is preheating, melt your butter by putting it in a (metal) mixing bowl in the oven. Let the butter brown slightly (this takes about five minutes in my oven). (If you want to make the dough in advance, you can brown your butter in a saucepan on the stove. I just like to save dishes.)
Add brown sugar and white sugar to melted butter, and stir with a wooden spoon until the sugars are thoroughly soused and the butter is incorporated.
Add the egg and vanilla, and mix until you can't see any more streaks of egg yolk.
Add flour, soda and salt, and mix until all the ingredients are incorporated. Add chocolate chips, and stir until they're evenly distributed throughout the batter.
Stick the bowl in the refrigerator for at least 10 minutes, or until it's firm enough to scoop.
On a large cookie sheet lined with parchment or a silpat, form the cookie dough into balls about 2 inches in diameter, or about the size of a large walnut.
Sprinkle each ball of dough with just the merest sprinkle of sea salt (I use Maldon salt).
Bake for 9 minutes. The cookies may still be soft in the middle. Let them cool for 5 minutes on the cookie sheets, then transfer to a rack.