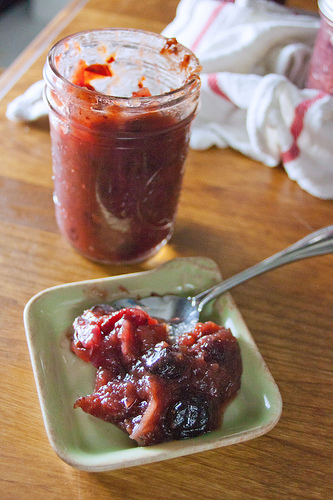 Thanksgiving dinner is delicious, but it can be very, very sweet. Cornbread in the stuffing (and sometimes fruit), waldorf (or jello!) salad, sweet potatoes (maybe even with marshmallows) and of course, pie. By the time you get to cranberry sauce, palate fatigue may be an understatement.
Enter the savory answer to cranberry sauce — cranberry chutney. Still red, still beautiful, and still, frankly, sweet (it does complement poultry!) but vinegar, salt and spices give it a savory edge that is a welcome counterpoint to a sweet Thanksgiving table. Chutney is one of those underappreciated condiments — it livens up everything from hot roast turkey to cold ham to a cheese sandwich. It's far easier to make than jam – no worry about setting, and it's an excellent gift to have handy for the holidays (if your Thanksgiving menu is already set). This makes quite a bit — about 8 half pint jars, and can be used right away, refrigerated for a few weeks, or processed in a water bath for 10 minutes and given a shelf life.

Either way, it's different but not too different (I find that people tend towards traditionalism when it comes to the holidays, and where they might look askance if you suggested eating turkey with say, a hot Indian lime pickle, cranberries in any form resembling sauce is more widely embraced. (I can't help you with the "shape of a can" folks), it can be made in advance, and it's a lovely addition to any Thanksgiving table or hostess gift.
Cranberry Apple Chutney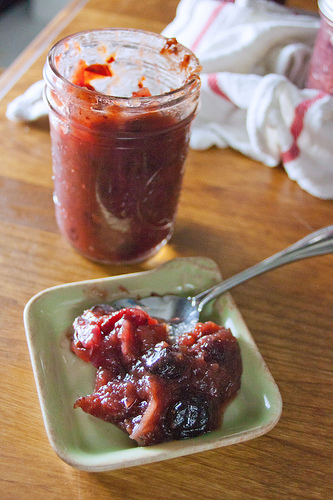 Adapted from Nigella Lawson
Ingredients
1.5 lbs. tart apples, peeled. cored and diced
1 medium onion, peeled and chopped
1 lb. fresh cranberries, washed
8 oz. Medjool dates, pitted and roughly chopped
zest, pulp and juice of 1 large navel orange
1 lb. sugar (about 2 cups)
½ tsp. ground cloves
1 tsp. five spice powder
1 tsp. cinnamon
2 cups white wine vinegar
1 tsp. salt
Instructions
Put the cranberries, apples, dates into a large dutch oven.
Add the orange zest, squeeze the juice, and add the remaining pulp. Add in the sugar, spices, vinegar and salt, bring to a boil and simmer over low heat until a homogeneous mass, about an hour.
Ladle into sterilized half pint jars and process in a water bath (boiling water covering the whole jar) for 10 minutes or store in the refrigerator until serving.