Baking Christmas cookies is a time-honored tradition, but in this busy season, it's nice to have an easy alternative that is no-bake, festive, and easy to make!  This eggnog rum ball recipe check all those boxes – flavored with vanilla and nutmeg, these are like your favorite holiday drink in cookie form!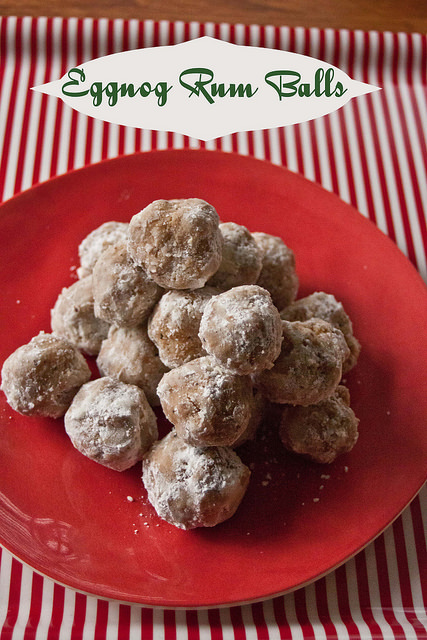 It's officially advent.  For those of you unfamiliar with the Christian tradition, advent is the start of the liturgical calendar, the time of preparation for Christmas, the beginning of it ALL. There is a trend I see towards a minimalist Christmas. Cut the hassle, forget the tree, count calories, draw names in a gift exchange. I understand the pull for simplicity – aren't our lives full enough? Do we need more complication, more stuff? But when I think about advent, and the Christmas season, and the kind of memories I have from childhood, and the kind of memories I want my children to have – I am not drawn towards austerity. The word I want for Christmas is abundance.
We are lucky to have the blessings and the resources we have – the blessings of family, of income, of time together – and in the Christmas season I want to celebrate those blessings. Trimming the tree, visiting Santa, decorating the house, sending cards to friends far and wide, entertaining the neighbors, choosing gifts for our loved ones and those less fortunate than we are, spending time by the fireplace, sipping hot chocolate, baking cookies, opening presents, feasting, laughing, giving — I want ALL of these to feature strongly in my children's memories of the season.
Christmas is, after all, a season of celebration. The "reason for the season" is not malls and office parties and eight million renditions of "Do You Hear What I Hear?", the second most awful Christmas song of all time (the first being, of course, "Christmas Shoes.") But it is giving, and it is celebrating, and it is singing. Whatever your tradition, we are all celebrating this time of year. The miracle of light, the return of the sun, a baby being born into the world. All are the return of hope in in a time of adversity. What's not to celebrate about that?

So on to cookies. Because what is a celebration without cookies?  And in this busy season of abundance, I LOVE no-bake Christmas cookies, like these bourbon balls, which inspired this rum ball recipe.   I've always loved eggnog – it has been an integral part of The holiday. But as I get old(er), my tastes have changed, and drinking what is essentially a glass of custard has become less appealing. Enter these no-bake Christmas cookies. Vanilla, nutmeg and rum, but in a convenient bite sized form. Now that's something to celebrate!
Whatever you are celebrating this holiday season – a child being born to you, a child being born to humanity, oil in the temple, Black heritage, gingerbread lattes, days off of work or just that this damn year is over, celebrate it with abundance. And cookies.

Eggnog Rum Balls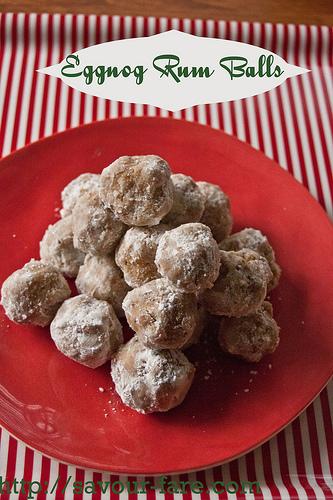 Ingredients
10 ounces vanilla wafers, ground into fine crumbs
8 oz blanched almonds, finely ground
⅓ cup powdered sugar plus more for rolling
6 ounces white chocolate chips or chopped white chocolate
2 teaspoons freshly grated nutmeg (if using ground nutmeg, add another ½ to 1 tsp)
½ cup gold or dark rum
3 Tablespoons golden syrup or honey
Instructions
Combine the cookie crumbs, almonds, sugar and nutmeg in a bowl.
Melt the white chocolate (I do this in the microwave, 20 seconds at a time, stirring between each session).
Stir the rum and golden syrup into the white chocolate. Combine that mixture with the cookie mixture, and stir well to combine. Refrigerate 30 minutes to an hour, or until the mixture has firmed up.
Roll into small balls, then roll each ball into powdered sugar.
This makes about 3 dozen, and they keep for weeks.