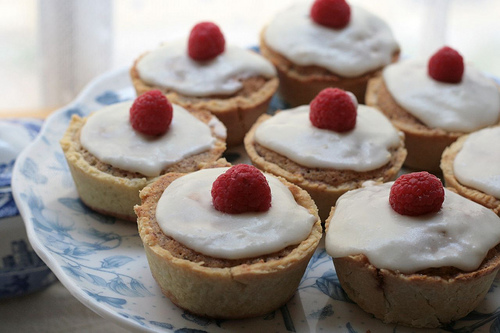 Have I ever mentioned that I am a raging Anglophile? I jealously hoard Colman's mustard, studied abroad in London, wrote my undergraduate thesis on franchise reform in Parliament, and pepper my speech with phrases like "jolly good" and "lovely!" I blame it on a childhood reading the great English children's books — Winnie the Pooh, Mary Poppins, Ballet Shoes, The Lion, the Witch and the Wardrobe, Five Children and It. All of them full of funny names (how many of you know someone named Anthea?) and verbal expressions and best of all wonderful food (usually served at teatime) – Victoria Sandwich, Gingerbread stars, and who can forget Turkish Delight?

Because of this, I look askance at anyone who roundly condemns English cuisine. Overlooking the horror that is mushy peas (I said I was an Anglophile, not actually English), Britain has made many delectable contributions to world cuisine — mince pies, cheddar cheese, Branston pickle and these delectable little Bakewell tarts.
Mini Bakewell Tarts
I give you Jasmine and Annemarie's recipe verbatim here, and I'll note my modifications at the end.
Ingredients
Bakewell Tarts
One quantity sweet shortcrust pastry (recipe follows)
Bench flour
250ml (1cup (8 US fl. oz)) jam or curd, warmed for spreadability
One quantity frangipane (recipe follows)
One handful blanched, flaked almonds
Sweet shortcrust pastry
225g (8oz) all purpose flour
30g (1oz) sugar
2.5ml (½ tsp) salt
110g (4oz) unsalted butter, cold (frozen is better)
2 (2) egg yolks
2.5ml (½ tsp) almond extract (optional)
15-30ml (1-2 Tbsp) cold water
Frangipane
125g (4.5oz) unsalted butter, softened
125g (4.5oz) icing sugar
3 (3) eggs
2.5ml (½ tsp) almond extract
125g (4.5oz) ground almonds
30g (1oz) all purpose flour
Instructions
Assembling the tart
Place the chilled dough disc on a lightly floured surface. If it's overly cold, you will need to let it become acclimatised for about 15 minutes before you roll it out. Flour the rolling pin and roll the pastry to 5mm (1/4") thickness, by rolling in one direction only (start from the centre and roll away from you), and turning the disc a quarter turn after each roll. When the pastry is to the desired size and thickness, transfer it to the tart pan, press in and trim the excess dough. Patch any holes, fissures or tears with trimmed bits. Chill in the freezer for 15 minutes.
Preheat oven to 200C/400F.
Remove shell from freezer, spread as even a layer as you can of jam onto the pastry base. Top with frangipane, spreading to cover the entire surface of the tart. Smooth the top and pop into the oven for 30 minutes. Five minutes before the tart is done, the top will be poofy and brownish. Remove from oven and strew flaked almonds on top and return to the heat for the last five minutes of baking.
The finished tart will have a golden crust and the frangipane will be tanned, poofy and a bit spongy-looking. Remove from the oven and cool on the counter. Serve warm, with crème fraîche, whipped cream or custard sauce if you wish.
When you slice into the tart, the almond paste will be firm, but slightly squidgy and the crust should be crisp but not tough.
Sweet shortcrust pastry
Sift together flour, sugar and salt. Grate butter into the flour mixture, using the large hole-side of a box grater. Using your finger tips only, and working very quickly, rub the fat into the flour until the mixture resembles bread crumbs. Set aside.
Lightly beat the egg yolks with the almond extract (if using) and quickly mix into the flour mixture. Keep mixing while dribbling in the water, only adding enough to form a cohesive and slightly sticky dough.
Form the dough into a disc, wrap in cling and refrigerate for at least 30 minutes
Frangipane
Cream butter and sugar together for about a minute or until the mixture is primrose in colour and very fluffy. Scrape down the side of the bowl and add the eggs, one at a time, beating well after each addition. The batter may appear to curdle. In the words of Douglas Adams: Don't panic. Really. It'll be fine. After all three are in, pour in the almond extract and mix for about another 30 seconds and scrape down the sides again. With the beaters on, spoon in the ground nuts and the flour. Mix well. The mixture will be soft, keep its slightly curdled look (mostly from the almonds) and retain its pallid yellow colour.
Notes
Kate's Notes: I used commercial almond flour made from unblanched almonds. It didn't affect the texture, and was much easier than making my own. I added the zest of one lemon to my shortcrust pastry, because I love the combination of raspberry and lemon. I happen to have a commercial raspberry jam that I love, but feel free to experiment or use homemade. I also made these in muffin tins -- I cut a circle out of the dough, then rolled the circle even thinner, and trimmed it once in the tins. Put about 2 T of jam in each cup, and 4 raspberries. This was enough to make 12 mini bakewell tarts with leftover frangipane. Once they were cool, I topped them with an icing made from 1 oz. butter, 2.5 oz. powdered sugar and the juice of half a lemon.
The June Daring Bakers' challenge was hosted by Jasmine of Confessions of a Cardamom Addict and Annemarie of Ambrosia and Nectar. They chose a Traditional (UK) Bakewell Tart… er… pudding that was inspired by a rich baking history dating back to the 1800's in England.
Many members of the Daring Bakers had never heard of Bakewell Tarts before, but, thanks to my university days, was familiar with them as jam and almond tarts in a shortcrust pastry. More particularly, I was familiar with these, from Mr. Kipling (the British equivalent of Little Debbie or Hostess):
The recipe Jasmine and Annemarie provided was a far cry from these packaged wonders, with crisp short pastry topped with jam and homemade frangipane, an almond-based cross between cake and custard. Being me, I couldn't resist tarting up the Bakewell, and making a reference to Mr. Kipling's classics, so I added fresh raspberries in addition to raspberry jam and a slick of white icing.
I wouldn't say these were easy to make — I have a generalized fear of rolling — but they weren't difficult either, and the flavor more than made up for the effort. These are a perfect treat to enjoy with a cup of tea and a good book.