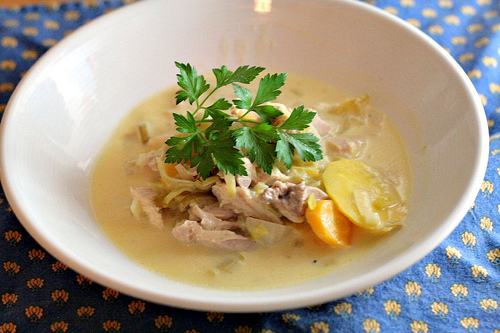 It's officially summer time, and if you're lucky that means vacations! I thought I'd start a little summertime series (of an indeterminate number of episodes) based on places I've traveled. A little travelog in food, if you will. And today's destination is … Bruges, Belgium!
Why would you go to Belgium? It doesn't have an Eiffel Tower or a Parthenon or a Prado (Brussels does have the capital of the EU, but I'm not sure that should rank up there as "tourist destination). What if I told you that Belgium in general and Bruges in particular may just be the ultimate foodie destination? We're talking about a national cuisine that prominently features chocolate, waffles, french fries and beer! Bruges has both a chocolate museum and a french fry museum? What can be better than that?

Last summer, looking for a short jaunt from Paris, where we were visiting family for a few weeks, we settled on Bruges (or more properly Brugge. Brugge is part of the Flemish part of Belgium, and as a result the streets all have long, multiple-syllabic names. It's easy to get lost — a good map is essential). In addition to the aforementioned delights, Bruges also featured beautiful medieval buildings, serene canals, cobblestones galore, green parks, and chocolate shops. Lots and lots of chocolate shops. We found that one of our favorite things to do in Bruges was go from chocolate shop to chocolate shop, buying a few chocolates at a time, and deciding which ones we liked best, at which point we returned to the "winning" chocolate shop and purchased more chocolates. We can be somewhat single minded.

Waterzooi de Poulet (Belgian Chicken Stew)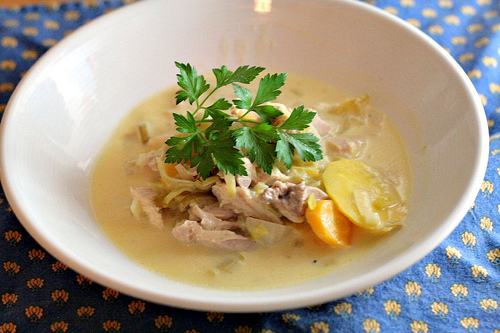 Ingredients
2 large carrots, cut into rounds
2 medium sized leeks, chopped
Salt and pepper, to taste
2 lbs boneless skinless chicken thighs
1½ cups dry white vermouth
1½ to 2 cups chicken broth
½ cup heavy cream
1½ teaspoons cornstarch
6 egg yolks (I save the whites separately in plastic bags -- 2 at a time -- and freeze them for things like meringues and angel food cake)
minced fresh parsley
Instructions
Using a pot large enough to hold the chicken and the vegetables, layer in ⅓ of the vegetables, half the chicken, ⅓ the vegetables, remaining chicken, remaining vegetables. Add vermouth and enough chicken broth to barely cover the chicken.
Bring to a simmer, uncovered, and cook slowly for 25 to 30 minutes, or until the chicken is cooked through. Remove the chicken, roughly chop or shred.
Blend the cream and the cornstarch in a small bowl. Add to the whisked egg yolks. Whisk in some of the liquid from the pot, then add it to the pot, whisking so the eggs don't cook too fast. Return the chicken to the pot, set over medium low heat, and cook until thickened slightly, but don't let it boil.
Serve in large bowls with good French (or Belgian!) bread. Top with minced parsley.
Notes
Adapted from Julia Child/the New York Times
If you can't make it to Brugge this summer, you can bring a little bit of Brugge home. One of my favorite traditional Flemish dishes is Waterzooi, which translates to "watery mess" but is so much better than that. It's the easiest thing in the world to put together — chicken, layered with vegetables, poached in wine and broth, then thickened with egg yolks and cream (hey – there's no butter! That means it's healthy, right?) but the sum is so much more than its parts. The flavor is intense and delicate at the same time, with the savory leeks and carrots enhancing the meatiness of the chicken. The stew is comforting, but not nearly as heavy as you'd expect, given the egg yolks. My toddler loves it. How much more do I have to say to sell you on it?
Well, I'll tell you this. The New York Times did a feature several years ago asking famous foodies the most interesting recipe they had clipped and Julia Child named this one for Waterzooi. This is her recipe, except I've streamlined the ingredients and the process a bit (among other things, Julia specified chopping into matchsticks, and nobody needs that). It's a regular feature in our house, and one of my favorite things to eat. Even more than chocolate. Possibly.
And a few additional travel tips for Bruges:
Top 7 things to do in Bruges:
1) Visit the huge central Markt square and people watch
2) Go to the T'Zand Saturday food market (confusingly, not in the markt square. Near the train station)
3) Try at least 3 new types of beers
4) Visit Chocolate Shops (see above)
5) Take a Canal Boat Tour
6) Make your way to Minnewater, a beautiful park
7) Take a stroll in the Beguinage
Top 7 things to eat in Bruges:
1) Chocolate (see above)
2) Fries, preferably dipped in mayonnaise
3) Waffles
4) Speculaas (speculaas are like Belgian gingersnaps. If you like this sort of thing (which I certainly do), one topping you can get on your waffle is a speculaas flavored paste, which is like gingerbread Nutella).
5) Mussels
6) Beer
7) Waterzooi