This post is sponsored by Serve from American Express. Sign up for Serve and receive $10 credit towards your first use. Comment below within the next 7 days for your chance to win an extra $100 credit to your account!
When I first moved to L.A. 6 years ago, I left my group of girlfriends behind in New York. I needed some friends, stat, so I joined a book club. Six years later, these ladies have become my group. We've seen each other through weddings, divorces, childbirth, house fires. We meet every six weeks or so at each other's houses, to eat snacks, drink wine, and even, occasionally, discuss a book. The size of our groups waxes and wanes — people leave the area, or get busy. People have other commitments, or go on vacation. But once a year we splurge and hit the town — no reading obligations, no hosting obligations. Just our sparkly shoes and the company of good friends at a great holiday dinner. That meeting is always the best attended of the year. These women have become such an important part of my life, I wanted to give you glimpse.

This year, we hit Church and State, a bistro in a section of downtown L.A. surrounding by shipping depots and mysterious dark warehouses. That means it's hip, yo. When you stumble on the restaurant (in a former shipping dock, natch) you feel like an explorer stumbling on a lost civilization.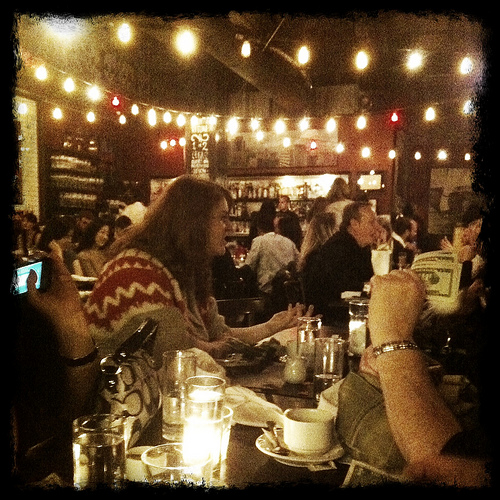 Inside it's a party. There are lights (Edison lights, again, natch) strung from the ceiling, exposed brick, and the buzz of conversation from people enjoying good food and good company. I began with a mocktail (It's surprising what great drinks you can get when you tell a good bartender you can't drink any alcohol right now, but can he make you something spectacular? This one had fresh sage) and our evening began.
We sat at a long table and enjoyed hours of great conversation, swapping seats and catching up. One of our members just had a baby after several weeks of bedrest and we were happy to see her back in the world. Another had just returned from a five week trip to China and Laos. We were so busy talking it was hard to remember to go back to our seats to eat.
The food was great though — Church and State does a Sunday night prix fixe dinner. Which began with an amuse bouches of agnolotti, followed by braised short rib and a quinoa salad followed by a main course (I had a Berkshire pork chop served with a giant slice of potato poached in olive oil until it was creamy, which was as good as it sounds) followed by a selection of desserts to share. I'm eating for two (some days it feels like 20) and even I was full. Not too full to eye the giant gingerbread Eiffel tower near the kitchen.
Another tradition for our holiday party is a white elephant book swap. Some years we're polite and everyone keeps the books they unwrap, but we allow "stealing" (an item can be stolen twice before it's out of commission). This year we were brutal, and every book but two were swapped out of the game. (I ended up with Mindy Kaling's new book, and yes, I had to steal it twice (there were two copies) to get it into my hot little hands.)
Then the time came to settle the check. Most of us brought cash, but we literally counted it seven times, because we kept getting the wrong number. Even with a prix-fixe dinner, drinks and extras added up to different amounts, and it was terrible to keep track.
I was lucky enough to have received $250 from Serve by American Express to take my girlfriends out to dinner, and I had made arrangements to reimburse several of them what they paid for the meal. Serve is an electronic payment system that can be funded through linked accounts or a credit card, and it's an easy way to send money between people. Plus, it's backed by American Express, with their years of financial services experience and fantastic security. As I said, Serve had credited me $250 to share with friends (and to write this post) but I really did think (as we were counting up the check AGAIN) that it would have been so much easier to have one person pay with a credit card and have everyone else send money through a service like Serve. The mobile app makes this even easier — allowing you to divide up a dinner check and send funds requests to various people. Definitely a plus for dinner with friends.
My experiences with Serve were nothing but positive. I even locked myself out of my account by entering the wrong password (see? Great security.) and the customer service people were fantastic when I called to reset it (without me mentioning I was a blogger, or writing this review. I had to set up the Serve account on my computer, but I was able to use the mobile app to reimburse my girlfriends right after dinner — all I needed was the email address associated with their Serve account. And once there's money in your account, Serve issues you a card that you can use as a debit card and withdraw funds at any ATM (some fees may apply). It's a great way to make sharing money between people work.
We eventually got the check paid and said our goodbyes, until our next meeting in January. Fun girls, fun night.

Remember to sign up for Serve and receive $10 credit towards your first use. Comment below within the next 7 days for your chance to win an extra $100 credit to your account! Official sweepstakes rules and regulations may be found by clicking here. I was selected for this sponsorship by the Clever Girls Collective, which endorses Blog With Integrity, as I do.